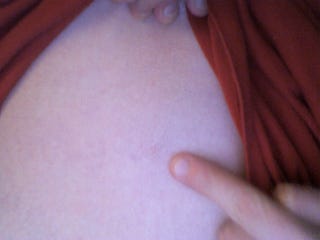 We get a massive amount of tips in our inbox each week. Some are pretty interesting, but don't get published for one reason or another. (NSFW)
It's usually because they're just so absurd or really lack even the most tenuous of news angles to give them the go-ahead. Other times it's because they're just absolute horseshit. But every Friday until we get sick of running them, we'll present to you some of these not-so-shiny gems. All items should be treated as [Sic'd]. Enjoy...
Deadspin Regrets Running The Unsubstantiated Rumor And Is Hopeful The Family-Oriented Sponsors Flock To Jackson/Rice:
The rumor that you have printed about Sidney Rice and Tarvaris Jackson allegedly getting involved with some underage women at a local St. Paul high school is untrue. Both of these players have come to me to see what we can do to get this changed.
The Minnesota Vikings and the NFL are very concerned about player conduct issues and our reputation in the communities that we serve. Even the hint of scandal can be very harmful to a player and also could affect the endorsements that he may/may not receive from "family-oriented" sponsors.
To this purpose, I am asking for your help. Is there someway that we can get that removed from your pages? It was posted last year anyway but it still pops up if someone does a google search on your website for their names. Any help from you would be greatly appreciated.
Kim Klawiter
(TOP PHOTO: Drew Magary's Third Nipple. Yes, the one from that bet. Hey, he's a Vikings fan. He also does not sleep with underage girls and is searching for family-oriented sponsorship.)
Peter King Sound-Alike Is Ruthless On Speaker Phone
work with someone that has regular contact with King. They had speaker phone on & it sounded like Peter but he was yelling & celebrating "WE GOT EM! FINALLY!" on Owens getting released and finished his giddy celebrating with "If A-Rod has to retire it would make this day even better"
I wasn't supposed to be listening and I can't be SURE it was King but the voice sounded right and the Owens & A-Rod hatred matches up too.

Strong Enough For A Man, But Made For A Slap-Hitting, Crooked-Hatted Outfielder
I figured out why Pierre is so lame. Look closely at the Manny Ramirez reunion picture. Look in the background at Pierre's locker. Look at the top shelf. Is he using Secret deodorant?!! Strong enough for Pierre, but made for a woman!

I'll Forward This Right Over To Him, Jeff
Dear Oscar De La Hoya,
I am a big fan of boxing and you are my all time favorite. You are a very talented athlete indeed. I wish you continued success in all your future endeavors. I collect sports memorabilia and would be honored if you would send me an autographed photo of yourself for my collection. My address is Jeff Tiffey 102 Knollwood Drive Council Bluffs, Iowa 51503 USA. Thanks for your time and I look forward to hearing from you.
Sincerely, Jeff Tiffey
Pete Gaines: Ed Hightower Would Like To Kick Your Ass
Dear Editor,
On your site, Deadspin.com, there are several pictures which include Dr. Ed Hightower, who is a NCAA referee as well as a Superintendent of the Edwardsville Community Unit School District # 7, in Illinois.
On behalf of Dr. Hightower and the district, we respectfully request that you remove this content from your website.
Some of the depictions are frankly disturbing as they depict Dr. Hightower with a gun;
I look forward to your response and action.
Sincerely,
Bill Miener
Oh, For Fuck's Sake
I'm sure this has already bombarded your inbox because the proliferation of information is fast these days, to say the least, but I caught this on Rick Reilly's Twitter this morning-
RickRiellyJust reading this endless Simmons mailbag. Do we really need a sports equivalent of every damn thing? Seriously. Knock it off.
I find this rather ironic, because his stupid twitter is full of gems like:
-So A-Rod has a cyst now as well? Jeez, this guy breaks down like a used Daihatsu!
-But seriously, who's gonna collar this guy now? He drags down more people from behind than Andy Sipowicz!
-So the Skins aren't interested in TO? C'mon, Dan Snyder! You spend money like Elton John at the wig shop!
And those hilarious comments are just from yesterday.