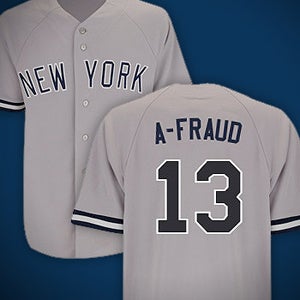 The Major League Baseball censors have struck again: Now you can't even buy a Yankees jersey with the name "A-Fraud" on the back. Will the assault on the Bill of Rights never cease?
Darren Rovell reports in his CNBC Sports Biz column that MLB.com is banning the wry Alex Rodriguez nickname from replica jersey orders on its web site, presumably joining "Bar-oid" and "Jeter Sucks Donkey Penis" among the things you can't get sewn onto a jersey.
But good news: You can still get "Sucart."
MLB.com spokesman Matt Gould told CNBC that the league does not allow fans to personalize products with anything that is deemed inappropriate, derogatory or profane. Fans haven't been able to personalize their jerseys on the site with the word "steroids" since 2005, but as of this afternoon, fans can get A-Rod's drug of choice, "Boli," on the back of jerseys. They can also get "Sucart," the last name of A-Rod's cousin, who has been part of the story.
Guess from now on you'll just have to settle for the handmade versions you find on eBay.