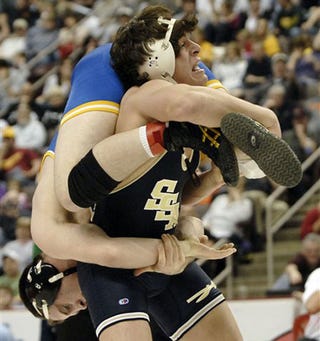 Got an image you'd like to see in here first thing in the morning? Send it to tips@deadspin.com. Subject: Morning crap.
Caption: Shady Side Academy's Roman San Doval, front, wrestles against Line Mountain's Jon Fausey, behind, in the PIAA wrestling championship AA semifinal round in the 189-pound class Friday, March 6, 2009, in Hershey, Pa
This photo is apropos of nothing, but I found it amusing for reasons that will never be fully understood. Plus, it's the warmest day my town has had in months and I'm stuck inside watching college basketball with you peo... I mean ... sweet, it's Championship Week! (Actually, I am getting revved up for March Madness.) Plus—semi-competitive international baseball! Maybe some tennis! Someone's got to be playing golf somewhere! There's probably some sort of ice sports going on?
The February drought is over folks. No more messing around.
Oh, and P.S. Watchmen sucks.