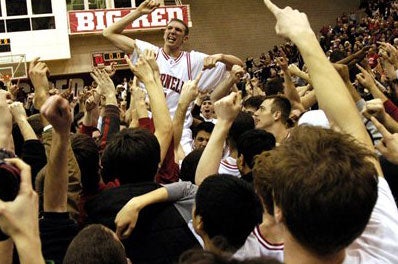 One of the great things about college basketball is that no matter how bad your season was, every single team gets another chance to redeem themselves with one glorious run in the last week.
Unless your team is in the Ivy League, of course, but no one feels sorry for those eggheads. Cornell has secured the first NCAA bid of the year by finishing off their regular season league crown. But in every other conference, each and every school—no matter how pathetic—can hang on to that fleeting, desperate hope of running the table in their conference tournament and getting that automatic bid. That's why there's no need to ever expand the field of 65, because no one is ever truly eliminated until now.
Three more conferences will give out their bids today—Atlantic Sun, Big South, Ohio Valley. And while other teams in the big conferences are still fighting for their regular season championships and higher seeds, and while Pitt-UConn and Duke-UNC will probably be great games, it doesn't really matter who wins. None of their seasons are ending this weekend and it's the do or die action that really gets fans' blood pumping.
Cornell tops Penn, repeats as Ivy champ [Philly Inquirer]
NCAA Tournament Tracker [Rivals]