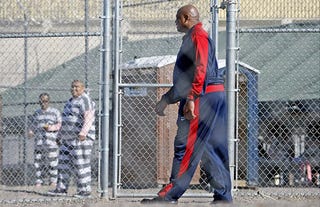 Charles Barkley gave a press conference today from inside the Maricopa County jail, as he began his three-day sentence for drunk driving. Now that's how you enjoy a day off.
Apparently, he gets to wear his sweats instead of a uniform (since he's technically on "work release") and he's got a book to read, so that's nice. I would say that this must be a humbling experience for the round mound of downtown, but I don't think it's possible to humble Charles Barkley.
Seriously, being in jail—even for a day— is no joke, but something tells me 'ol Chuck is going to be just fine.
Sir Charles — I Only Blame Myself [TMZ]
Unnecessary Roughness: History of athletes in hot water [NY Daily News]
* * * * *
That's it for me, folks. Today's big winners (so far): Pitt, Florida, Michigan, and the good people of The Netherlands. Big losers: Kentucky, Marquette, the D.R., and Mounties. (U.S.A.! U.S.A.!) This turned out to be a pretty good day of sports game contests and there's more to come if you want it.
_______ will be here tomorrow? Have fun tonight—but don't be like Chuck. (And don't go see "Watchmen." I really can't stress that enough. Terrible, terrible film.)