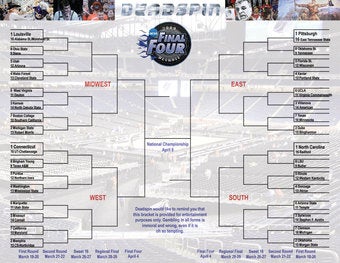 Look, there are a lot of dumb guys out there who think they're better than you. So are you going to let them keep thinking that....or are you going to do something about it?
You could join the Deadspin Pants Party NCAA Bracket Smasher Awesomeness Pool, correctly pick the winners of 63 NCAA tournament games, and then everyone will know who the real smart guy is. Glory will be your eternal reward as well as a free post on Deadspin, per tradition, and maybe some other prize from the Gawker Media phone closet.
Plus, you will have dozens of internet friends for a minimum of three weekends. And isn't that what really matters?
Deadspin Pants Party Group Page [ESPN]
Download the Deadspin Bracket [PDF or JPG]