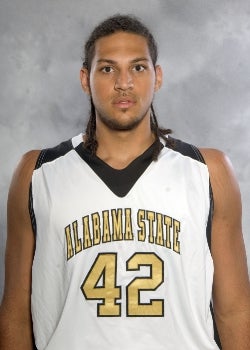 In case you've forgotten, Alabama State won the SWAC this year, which means that their 7-foot-1 center, Chief Kickingstallionsims, has made it to the NCAA Tournament at last. Look out, Rick Pitino.
Actually, his full name is Grlenntys Chief Kickingstallionsims, Jr., and the Hornets have to get by Morehead State in Tuesday's play-in game before earning the right to face Louisville and the pit-bull defense. We've mentioned Mr. Kickingstallionsims before, but we never thought he'd be in the spotlight with Clark Kellogg and Bobby Knight tripping over his name. Things you should now about Kickingstallionsims: He's a senior, averaging 8.8 points per game, and has not attempted a 3-pointer all season.
ESPN even has some video of Kickingstallionsims in action. The Hornets (22-9) are looking to win their first NCAA Tournament game since 1993. I just hope that the Honeybees are attending the game.
Hayles Scores 17 As Alabama State Bests Jackson State [ESPN]