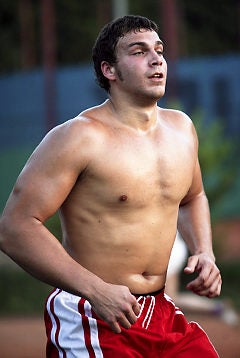 The assault case against Serbian national basketball player Miladin Kovacevic continued its inexorable slide toward absurdity today, further tarnishing the name of Binghamton University, which should be basking in the NCAA Tournament glow right now.
Kovacevic is a former Binghamton basketball player who beat a classmate into a coma during a bar brawl this past May. He then fled to Serbia using an illegal passport obtained at the Serbian consulate in New York, where the Serbs have been refusing to allow him to be extradited. The whole thing has caused somewhat of a minor international incident. There have been claims that the Serbian government has paid off the victim, Bryan Steinhauer, not to testify. A pretrial hearing in Belgrade was postponed today when witnesses would not testify via video link.
Here's a Q&A with Kovacevic from his freshman year. Excerpt:
Q: Favorite class and why...
A: Philosophy, because we discuss some of the main existential questions that have been shaping mankind.
The victim, who was in a coma for six months, according to the Daily News, says he has no recollection of the beating. Hillary Clinton has even become involved, while meanwhile, Binghamton won the America East championship on Saturday, earning the Bearcats' first bid in the NCAA Tournament. Binghamton switched over from Div. III in 1999.
Local newspapers really do not like this guy.
But Binghamton fans take heart: One of your most noted alumns is Tony Kornheiser. They'll never take that away from you.
Binghampton, Morgan State Earn First NCAA Tournament Berths [Bloomberg.com]
Serbia Case Against Fugitive Binghamton Basketball Player Miladin Kovacevic Postponed [New York Daily News]