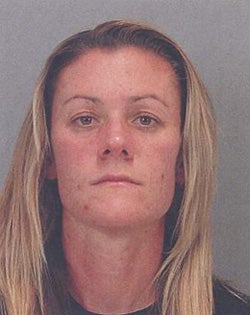 The shocking truth: There may be lesbian physical education teachers in San Francisco Bay Area high schools, and they're diddling with students. And according to one law enforcement official, it's technology's fault.
Megan Sainsbury, a 31-year-old PE teacher at Prospect High in Saratoga, was arrested in Santa Clara County on several misdemeanor counts of child annoyance, for allegedly having a sexual relationship with a 17-year-old student. Plus, Sainsbury is a college field hockey coach. And I thought that sport was totally straight.
Sainsbury is an assistant coach with the University of California field hockey team. She also played at Cal, setting school records for assists (34) and points (90). She graduated in 1999. From the San Jose Mercury:
The misconduct alleged in the documents occurred from October 2007 to January 2009. According to court records, Sainsbury and the student kissed and touched, but there is no evidence they had sex. They allegedly exchanged text messages of a romantic nature. Sainsbury bought the teen gifts, including a cell phone, to entice the girl to continue their relationship, a Santa Clara County sheriff's report contended.
Sainsbury is the third South Bay PE teacher to be arrested for inappropriate relationships with female students in the past two weeks. The other two are facing felonies. What the heck is going on? Well, here's one opinion:
You probably noticed that several teachers have been arrested on these types of charges lately,'' said Santa Clara County Supervising Deputy District Attorney Mike Fletcher, head of the sexual assault team. "But teachers are no more likely than doctors, lawyers or newspaper reporters to commit these crimes. Sex crimes affect a wide cross-section of demographics. I think it's just a fluke.'' That said, Fletcher added that he believes the use of technology, such as texting in particular, can intensify a relationship between a coach and student.
And suddenly, the days when female teachers went after boys seem so quaint and old fashioned.
Prospect High Teacher Charged With Inappropriate Relationship With Student [San Jose Mercury]