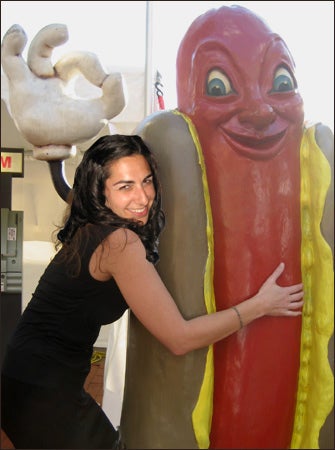 Our only regret is that he didn't live to witness Subway's "Five-Dollar Foot-Long" ad campaign. Here's the late Geremi Gonzalez and his classic penis prank, brought to you via Tampa Bay Baseball Outsider.
Carter Gaddis, longtime baseball writer for the Tampa Tribune, now covers the Tigers for MLive.com. But his new blog is where you'll find the fun stuff. Here's a story from the day that new Devil Ray Adam Piatt met teammate Gonzalez. Excerpt:
Anyway, he was very much alive that afternoon in Baltimore. As Piatt hung out with his new teammates on the couch, Gonzalez sauntered out of the shower room completely naked except for a hotdog bun wrapped around his, um ... unit. I didn't look too close, but it seemed to me there was mustard and relish, as well. Holding his "hotdog" in his right hand, Gonzalez walked straight over to Piatt and said, "My friend, welcome to the Devil Rays. You want a hotdog?"

Piatt reached up to shake his hand, then realized what was actually in Jeremi's hand and pulled back real quick. The whole place fell apart laughing. "I guess my friend doesn't like hotdogs," Gonzalez said, and he wandered back into the shower room.
Gonzalez was the player who was struck and killed by lightning in 2008.
You've heard of Fuck You money? When longtime print writers migrate to the web, sometimes you get Fuck You journalism. Not that there's anything wrong with that.
What It Really Means To Be An Insider [Tampa Bay Baseball Outsider]
Baseball Writer Starts New Blog With Penis Story [Sports by Brooks]