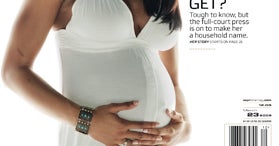 WNBA.com caught up with ESPN The Mag EIC Gary Belsky to discuss the cover story on Candace Parker and that infamous "C cup" lede that's gotten some people fired up
Belsky stood by his decision to run it, saying that "it was our writer and Candace, two women, talking about it [C cup boobs] and they felt comfortable", " hetold the website. "It's not the worst thing in the world in a men's magazine to talk about things like that [C cup boobs]. Plus, I understand that some young men are interested in things like that[C cup boobs]."
That's true. Young men are also interested in fast cars, setting things on fire, and videos of Latino teenagers in school girl uniforms fighting in a classroom. But I guess squeezing all of those things into the opening paragraph would make it a little busy. Next time!
Belsky also stands by the decision to put Parker on the cover, even though she's very, very pregnant — a first for a men's sports magazine.
"We don't have any problem when a young man becomes a dad so we shouldn't have any problem when a young woman becomes a mom even if it derails her athletic career for a few months. We are talking about women who are serious athletes so it wouldn't derail their career for too long...I have a couple of nieces who are very good athletes and this cover tells them and every other girl out there that there is nothing that can keep you off the cover of ESPN The Magazine if you are a woman and a good athlete. That's the ultimate message. "
That is the ultimate message — and a good one — but hopefully it won't be misinterpreted by Belsky's nieces as "Uncle Gary encourages us to have lots of unprotected sex."
Discussing The Candace Parker Cover With ESPN Magazine Editor-In-Chief Gary Belsky [WNBA.com]