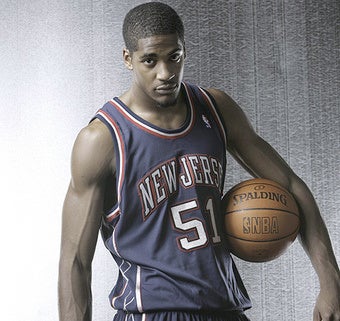 The Nets backup probably thought that Carl Landry's shooting would spare him from having the saddest NBA story of the day. He thought wrong, but that's what destroying a cell phone store gets you.
Sean Williams was at the Park Meadows Mall outside of Denver yesterday, when police say he got into an argument with a clerk at a cell phone store. Williams allegedly "picked up the computer monitor and threw it, destroying a printer and other equipment in the process," reportedly causing about $1,300 in damage. He was asked to spend the rest of the afternoon in jail, but the good news is that he missed his team's 25-point drubbing at the hands of the hometown Nuggets later that evening.
The only headlines Williams has made so far this year came when he got kicked off the Boston College campus for trespassing, but this should definitely help keep his name in the papers—especially since his basketball playing ability is not. You don't suppose that has anything to do with his rage issues, do you?
Nets player throws computer, is jailed [Denver Post]
NBA player arrested after altercation at Lone Tree cell phone store [9News]
Can You Hear Me Now?
Earlier: Sean Williams Knows How To Make An Entrance (And Exit)