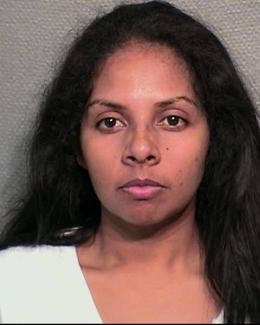 OK, I'm working on an office pool for this, and will have brackets up shortly. Big high-end prostitution bust in Houston, and the client list may include several professional athletes.
Deborah L. Turbiville — whom police are calling the Heidi Fleiss of Houston — and her husband, Charles Fletcher Turbiville, were arrested and accused of running a prostitution ring which included background checks on customers and Internet booking (the only way to go, really).
"She's the Heidi Fleiss of Houston," Houston police Sgt. Mark Kilty said. "She was the one all the big players go to. If you come to town and you're a big player, you call her. She screens you and she knows who you are and then you're good to go." While police are still trying to determine how large the operation was, Kilty said the client list totals more than 1,500 people. Their client list includes professional athletes, doctors and lawyers, according to KHOU Channel 11. "She probably had the biggest escort service in Houston," Kilty told the Houston Chronicle.
The ring operated in part out of a luxury apartment complex "between West Loop and Chimney Rock," which is, in a bit of bonus irony, right across the street from the grounds of St. Mary's Seminary.
Police have not disclosed any of the client names. "It was Web-based," said Assistant District Attorney Craig Still. "Log in, make your appointment, then follow it up with a phone call." He said the Web sites - including www.houstongirlfriend.com, www.htxgfe.com and www.viviansfriends.com — displayed photos and details of the women. The sites have been taken off line.
Kilty said most of the accused call girls implicated in the alleged scheme were in their early 20's, moved frequently and were college-educated or attending college. "They work and they're partying and they go to school," he said. "And some of the girls were single mothers, trying to make some money."
Hey, one thing we're sure of; Pudge Rodriguez is innocent. He's new in town.
Police Make Arrests In Alleged Prostitution Ring [Houston Chronicle]