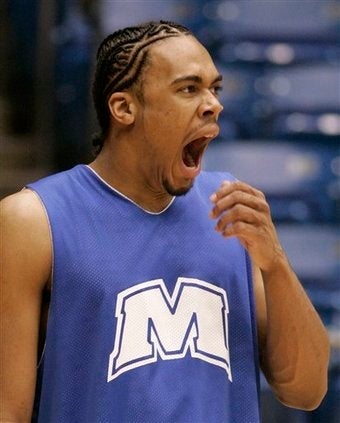 The fine folks at Storming The Floor would really, really like you to watch tonight's NCAA play-in game, even though you probably think it's pointless and immature. See if they can convince you otherwise.
You may be spending the next couple of days twiddling your thumbs, filling out brackets, and tapping your toes, waiting for the NCAA tournament to start. The time between Selection Sunday and the first round is a wonderful tension-builder.
Of course, it's worth noting that the tournament actually, officially begins tonight.
The play-in game has been studiously ignored since the first one was played in 2001. The extra day of play was created when the Mountain West conference formed, forcing an extra auto-bid into the field. The NCAA kept the number of at-large bids constant, so the non-seeded first of the first-rounders was settled permanently in Dayton, Ohio.
There's a good reason the game is usually ignored by basketball fans who are rabid for tournament action. A quick look at the records of some surprise auto-bid winners gives ample evidence:
• '03 UNC-Asheville 14-16
• '04 Florida A&M 14-16
• '05 Oakland 12-18
• '08 Coppin State 16-20
The play-in usually spares us from having to watch a team with a losing record be ground into dust by one of basketball's elite programs. Which is a great jumping-off point for our five reasons you should watch this year's game.
1. Both teams are competitive. Alabama State played Auburn close in December, losing 77-72 on the road. They then proceeded to romp through the SWAC, losing only two games in league play. They'll enter the game with a 22-9 record. Morehead State won a roadie at Central Florida of Conference USA in the non-conference season and won 12 games in the Ohio Valley. They knocked out future NBA player Lester Hudson and UT-Martin on their way to the auto-bid.
2. Get an early look at U. of Dayton Arena. Dayton's arena is considered one of the best college hoops venues around. In addition to hosting the opening round this year, the floor on Blackburn Court will also host traditional first and second-round games, including the tourney openers for #1 overall seed Louisville, and their Big East rival and fellow top qualifier Pittsburgh.
3. The names rock. Morehead State is always good for a juvenile snicker, of course. They'll also be bringing Maze Stallworth and Brandon Shingles to the Dance. Alabama State boasts the ironically-named Ivory White. But the piece de resistance is the last-chance NCAA appearance by All-Namer Chief Kickingstallionsims, who has finally made it to Dayton in his senior year.
4. Erin Andrews is always there. For some of you horndogs, that's the only reason you watch basketball at all. Don't pretend it isn't.
5. It's your religious duty. Saint Patrick may have driven the snakes out of Ireland, and he may look the other way while you have a stiff pint or seven, but one thing the patron saint of the Emerald Isle will not tolerate is the shirking of tournament games on his feast day. It's a well-known fact that the man loved a good donnybrook on the hardwood.
So, there you have it. Your five reasons to at least glance at the action while you're out turning your liver green. Slainte!
— Eric Angevine (Storming the Floor)