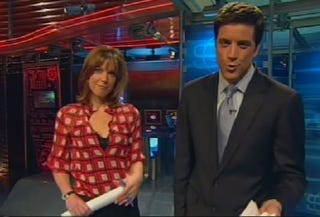 Like Josh Elliott here, we are mesmerized by Hannah Storm and her 1980s TV wardrobe. Although Josh seems to be imagining the Daisy Duke shorts as well.
If you've been paying close attention to this — and I know you have — this is not the first time that our Hannah has rocked the Daisy Duke. Now if only the late Waylon Jennings were still around to narrate some some of the SportsCenter highlights.
Does this compare with her Jennifer Aniston look? You be the judge.
At least the outfit won't be criticized by the ESPN ombudsman.
————-
That's it for today, folks. As always, thank you for your continued support of Deadspin. Your NCAA Div. I men's tournament office pool doomsday clock is at 41:05.36 ... 35 ... 34 ...
Could Hannah Storm Be Passing Erin Andrews As ESPN's Media Darling [Awful Announcing]