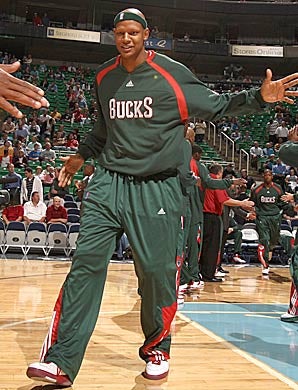 Bucks' officials are confirming that Charlie Villanueva sent out a Twitter message during halftime of their game with the Celtics on Sunday. It's a Twitter war folks, and we are on the front lines.
The first-ever Tweet by a player during a game? PR In Sports says yes. From the Milwaukee Journal Sentinel:
Villanueva, whose Twitter ID is CV31, wrote this on his Twitter account: "In da locker room, snuck to post with my twitt. We're playing the Celtics, tie ball game at da half. Coach wants more toughness. I gotta step up."

Apparently he did. Villanueva scored 19 points and snared seven rebounds to lead the Bucks to a 86-77 win over the Celtics.
Fanhouse had something on this on Sunday. Here's Villanueva's response to them.
The Bucks are calling this "an isolated incident," but I don't know. In the rush to become the ultimate Twit in the NBA, there's no telling where players will Tweet next. Hospital during childbirth? Houston brothel during sex? On the bench during the game? While playing the game?
"Just stole the ball from T-Mac, pausing coast-to-coast to post with my twitt. Wait'll you see this dunk. Oh shit .. Stern. Gotta go."
Update: It wasn't an NBA player, but we have childbirth Twittering.

Charlie Villnanueva Official Site [CV31.com]
Villanueva 'Tweeted' At Halftime [Milwaukee Journal-Sentinel]