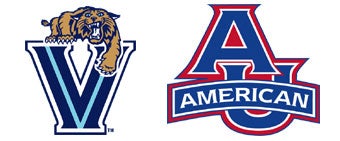 East Region: No. 3 Villanova (26-7) vs. No. 14 American (24-7)
When: Thursday, 7:20 p.m., EDT
Where: Wachovia Center, Philadelphia, Pennsylvania

VILLANOVA WILDCATS

1) Home Sweet Home Villanova plays most of their home games at The Pavilion. The 6,500 seat arena is located just outside Philadelphia on the campus of the university. John du Pont, of the wealthy du Pont family in Philadelphia, funded the construction of the facility in 1986. The arena was originally called John Eleuthère du Pont Pavilion but was later shortened after du Pont shot and killed Olympic wrestler David Shultz. Oops. The Wildcats put together a perfect season this year at the Pavilion going an impressive 13-0 and extending their winning streak at the building to 28 straight games. Villanova also plays a limited number of home games at the Wachovia Center in Philadelphia, where the Wildcats will open on Thursday vs. American.
2) A Bit of Experience Villanova has a unique resume of tournament experience. The Wildcats appeared in the first ever Final Four in 1939 losing to Ohio State. Ironically, Villanova and Ohio State are the only two programs to participate in the NCAA tournament at least once every decade since the 1930's. Villanova's 13 "underdog" victories are more than any other program. Despite numerous appearances in the tourney, the Wildcats have only won 1 National Championship following an epic 2 point victory over heavily favored Georgetown in 1985. To this day Villanova remains the lowest overall seed (8) to win a National Championship.
3) A "Big" Problem The Wildcats are known for their strong guard play and ability to maintain a fast- paced offense throughout the game through individual player speed and quick ball movement. While this has worked well this season, it has helped to hide Villanova's weakness: the fact that they are without a true center. At 6'8" Dante Cunningham has taken on the role of Nova's "big man" and has improved greatly over his time at Villanova. However, at a whopping 230 lbs., Cunningham hardly qualifies as the legitimate big man the Villanova program is lacking. Nevertheless, Cunningham has quickly established himself as one of the strongest forwards in the Big East averaging 16 points per game. Look for Cunningham, along with guards Scottie Reynolds and Corey Fisher, to set the pace for Villanova. — CRyan (3:10 To Joba)
1) American University: Cradle of Coaches While it's no Miami of Ohio (heck, AU doesn't even have a football team), American has produced some prominent coaches. Gary Williams cut his teeth at American and his successor and former assistant, Ed Tapscott, now coaches the Wizards. Williams' predecessor, Jim Lynam, coached the Clippers, Sixers and Bullets in the 80s and 90s. Not bad for a team that used to play home games in a building named after a Saudi arms dealer.
2) Nick Hendra Salutes His Half Inflated Dark Lord Sophomore guard Nick Hendra is the son of Tony Hendra, a former editor of National Lampoon who wrote the screenplay for The Great White Hype and appeared in This is Spinal Tap as the band's manager. Hopefully, dad can impart some wisdom about performing in front of hostile crowds to his son, who's essentially playing a road game. NB: Nick, who averages 6.5 points per game, wears 21 instead of 11.
3) You're Still Not Getting off the Georgetown Wait List AU has only one starter taller than 6'5" and two shorter than 6'0", so Villanova is the best matchup American could hope for. That is, if the Eagles didn't have to play the Wildcats in Philadelphia. If AU wants to win, forward Brian Gilmore has to lock down Dante Cunningham by the basket and Eagles shooters, who led the Patriot League in field goal and three point percentage, have to be lights out. A victory would be the biggest event in school sports history since the 1985 men's soccer final, when American lost to UCLA in eight overtimes (Eight! Suck it, UConn). A win would also help in the fight against AU students' Georgetown Inferiority Complex. — Bobby_Big_Wheel
Join the Deadspin Pants Party Group Pool [ESPN]
Download the Deadspin Bracket [PDF or JPG]