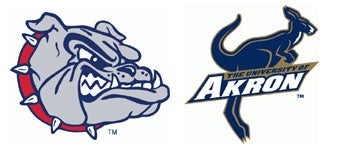 South Region: No. 4 Gonzaga (26-5) vs. No. 13 Akron (23-12)
When: Thursday, 7:25 p.m., EDT
Where: Rose Garden, Portland, Oregon

GONZAGA BULLDOGS

1) The Rose City, Home Away From Home Gonzaga plays Akron in the first roundin Portland, OR. This is practically a home game for Gonzaga, who plays the University of Portland once here every year, outnumbers the Pilot fans in their own gym, chants "You're not Jesuit" at UP after they win, and hasn't lost a game in Portland this millennium.
2) Making the West Coast Proud: Gonzaga has gone out in Round One each of the last two tournaments (including last year's upset by Davidson). The year before that was the only year Gonzaga had ever made the Sweet 16 from a top 8 seed, despite being seeded #3 twice, and #2 once. Every other time they advanced into the second weekend, Gonzaga was a #10 or lower. This year, they're a #4!
3) Duke-like Popularity: Even with last year's Conference PoY, Jeremy Pargo, returning for senior year, and Coach Mark Few sharing Coach of the Year last year, Gonzaga did not supply the PoY or the CoY this year, making 2009 the first year since 1999 that Gonzaga had not been awarded either or both of these conference honors. Despite being one of only two teams (Memphis) in the whole of D1 to run the table in their conference, Gonzaga only supplied two players ('shroom farmer Josh Heytvelt and shampoo antagonist Matt Bouldin) to the West Coast 1st Team. Probably because the other teams aren't Jesuit. — Johninho
1) The Basketball Portion Of The Profile On their third try in a row in the MAC Championship game, the Zips broke through and reached the tournament. Two years ago, they would have beaten Miami for the MAC title had they not withdrawn early from the First National Bank Of Doug Penno. But this year they vanquished Miami, along with Bowling Green (grumble), Toledo (who at one point was up 12, but couldn't hold on as Akron tied the game at the end of regulation then won on a buzzer-beater in the second overtime), and Buffalo (this game was not interesting, I'm told) to reach the tournament for the first time since 1986, when a plucky man named Bob Huggins led the Zips—then in the Ohio Valley Conference—to the tournament, most likely between swigs.
2) Frankenstein Never Scared Me. Marsupials Do. 'Cause They're FAST. I've never quite understood the "Fear The Roo" meme. Then again I never marauded around as an expert of Northeast Ohio higher institutions. Heck, I didn't even know that part of the state had schools until 2004. But sure enough, the fear of Akron's mascot—which I guess is some kind of kangaroo—has allowed area banks to offer Fear The Roo Banking. The downside is you can only write checks to purchase Vegemite.
More Like "Fear The Syph!" In a 2008 study done by Trojan Condoms on sexual health, UA ranked 85th out of 139 leading colleges (PDF). Not great for a university whose town is nicknamed the Rubber Capital of the World. I guess this is what happens when free contraceptives handed out by the university health center are manufactured by Firestone. (Timely humor!) — Matt Sussman
Join the Deadspin Pants Party Group Pool [ESPN]
Download the Deadspin Bracket [PDF or JPG]