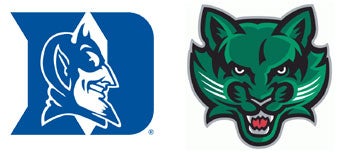 East Region: No. 2 Duke (28-6) vs. No. 15 Binghamton (23-8)
When: Thursday, 9:40 p.m., EDT
Where: Greensboro Coliseum, Greensboro, North Carolina

DUKE BLUE DEVILS

1) ELL-E-UT Elliot Williams has changed the entire makeup of this team. When he was the 12th man, this team was a slow, low scoring team that would have loved to walk the ball up and down the floor and score 65 points to beat you. Now that Williams has been added to the starting lineup this team scores more but more importantly also plays better defense. Williams is a shut down defender who can guard anyone in the country one on one. On the offensive end he allows Jon Scheyer to play shooting guard on offense, which has subsequently increased his scoring per game. Williams is 6'4" so the defense has to put their bigger guard on him, which allows Scheyer to be guarded by a less physical, smaller defender.
2) Three's Company Duke is famous for having the big three. It started with Hurley, Hill and Laettner and now we have Henderson, Singler and Scheyer. Outside of Chapel Hill and Excitement Video, this may be the best threesome in America. Coach K was quoted earlier this season saying, "In March, it comes down to your top 6 or 7 guys." Well, if Coach K is right, he has to like his chances. The inside game isn't great with Lance Thomas and Brian Zoubek but if you add Kyle Singler to the mix, it's not horrible. I know Singler likes to shoot more three pointers then layups but the kid can rebound. Henderson has developed a jump shot but is still one of the best one on one offensive players in the country. He can finish over anyone. Jon Scheyer could always shoot.
3) From way downtown The one thing the Dukies need to watch out for is falling in love with the three pointer. When Duke runs their offense and takes the time to get a good look at the hoop they are as good as anyone in the country. They play really good defense most of the time and the only time they really get themselves in trouble is when they decide they are going to try to win the game from long range. They are a shooting team but they need to do it within the offense. The Coach K factor is a huge advantage. It will be interesting if Coach K and company can keep these guys focused and remind them it's not all about the 3 point shot. — Verb (Jumping Offsides)
1) What is a Bearcat anyway? They actually do exist, sort of. The actual name of a Bearcat is a binturong, which is neither a bear nor a cat. Talk amongst yourselves. They are relatively small and eat mainly fruit (suck on that, Nick Lachey). It's natural habitat is the rainforest of Bangladesh, Bhutan, Burma, China, India, Indonesia, Laos, Malaysia, Nepal, the Philippines, Thailand and Vietnam. Anyway, BU abandoned its colors (red, white and blue) and mascot (the Colonials) in 2001 upon their move up to Division I. The rebranding effort appears to have worked. Since the move, the Bearcats have led the America East in attendance six of eight seasons (the last six in a row).
2) Who are these Bearcats, specifically? Second year coach Kevin Broadus' controversial recruiting efforts (chronicled here) appear to have worked. All five Bearcats starters average 10+ ppg and conference leading scorer DJ Rivera checks in at an even 20. Junior F Rivera is a transfer from St. Joseph's (prompting GW fans to chant "A-10 reject" at him in a game early this season), Junior G Malik Alvin arrived from UTEP via junior college, Junior G Tiki Mayben comes from UMass and Senior F Reggie Fuller is a juco transfer. Regardless of where they came from, the Bearcats can play, winning the America East regular season and conference tournament with decent non-conference wins against Rutgers and Tulane. They start an athletic, three guard lineup with the only player over 6' 4" being Fuller at 6'9". They'll get up and down the floor, attack from the wings, press and trap and need to stay away from the 3-ball (33% on the season). It will be interesting to see if they have anyone who can handle Gerald Henderson. The Bearcats enter Round 1 on a 10 game winning streak.
3. Who were some Bearcats? As everyone should know by now, Binghamton kindly gave us Tony Kornheiser. But what you may not know is that Binghamton has also provided society with such luminaries as Paul Reiser, dissident feminist Camille Paglia, Billy Baldwin, founding member of Sonic Youth Lee Ranaldo and ESPN personality Karl Ravech. So, not bad. — Mark Franceski
Join the Deadspin Pants Party Group Pool [ESPN]
Download the Deadspin Bracket [PDF or JPG]