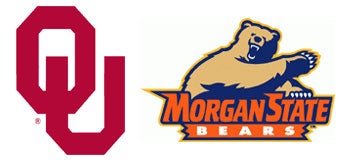 South Region: No. 2 Oklahoma (27-5) vs. No. 15 Morgan State (23-11)
When: Thursday, 9:40 p.m., EDT
Where: Sprint Center, Kansas City, Missouri

OKLAHOMA SOONERS

1) Trendy If you're an OU fan or you're planning on picking the Sooners and like me, you get caught up in trends and history then pay attention: Jeff Capel was recently asked at a press conference if he's ever seen or been a part of a team that was so dominant for the first 30 games or so of a season and then struggled to finish like this OU squad. He said, "Yeah, my senior year at Duke." (Yeah, did you know Capel played at Duke and I guess he hit this famous half court shot against a rival team or something?) That Duke team was an elite squad for most of the year, struggled at the end of the regular season and then lost in the opening round of the ACC tournament to a big underdog, just like OU. Well, how did they end up doing in the Dance? "We got a two-seed in the South and lost in the second round." Yikes.
2) What's that sport with the round orange ball? It's no secret that Oklahoma is a football first state, but the basketball program has done more than just produce a coach that talked on his cell phone more than a 14-year-old girl. The Sooners have four Final Four appearances with the last being in 2003. OU has 20 combined conference titles and ranks second all-time in tournament wins without a national championship. (Illinois is first.) I don't know if that's necessarily a stat to take pride in, but I guess that means they've won a few tournament games. One of the most impressive streaks the Sooner basketball team had was a stretch of 25 consecutive appearances in postseason play that was broken in Capel's first year. The Sooners rose to national prominence in the 1980s under coach Billy Tubbs and three-time All-American Wayman Tisdale. OU was the favorite to win the 1988 tournament with future pros Mookie Blaylock, Stacey King and Harvey Grant, but Danny Manning and the Miracles made an incredible run and beat the Sooners in the national title game in one of the bigger upsets in tournament history (and OU's only appearance in the title game). And that was after OU had beaten Kansas three times already that season. Damn you Danny Manning. Damn you.
3) That's not the only thing that's gone cold As you watch OU in this year's tournament, you'll probably have one major nagging question about the team—why in the eff does Tony Crocker wear a long sleeve shirt? Rumors went around that Crocker got a nasty tattoo that the university was embarrassed of, but that's not true. The reason is because Crocker suffers from a strange condition that slows his body from keeping warm. Evidently he's developed a similar condition that's made his shooting stroke go cold. After hitting 7 of 11 from downtown against Colorado Feb. 7, he's shooting just 26 percent (7-27) from three since. And that's not good for OU seeing as Crocker is one of the Sooners' main marksmen. When he hits, OU is dangerous. When he doesn't, opponents pack the paint to handle Blake Griffin. If Crocker isn't warm–either way–then OU may be sent packing early. — Royce Young (Daily Thunder)
1) The Bozeman Factor One thing Morgan State has going for it is that head coach Todd Bozeman has been to the NCAA Tournament before. Bozeman was the head coach for Cal back when Jason Kidd "studied" at Berkley. He led the Golden Bears to three tournament appearances, including a Sweet 16 in his first season. Of course, maybe having Bozeman as your coach isn't always a good thing. After admitting he paid $30,000 to the parents of player Jelani Gardner, Bozeman was forced to resign from Cal in 1996 and was effectively blackballed by college basketball for eight years. He was also accused of making lewd phone calls to a former Cal student and, more recently, of assaulting a restaurant employee for mistakenly giving him ham sandwiches.
2) Lax Power Morgan State was the first historically black college to have a lacrosse team. Founded in 1970 by Chip Silverman, the Bears lax team dominated D-II opponents for half a decade. In 1975, Morgan State pulled off the greatest D-II lacrosse upset ever, knocking off No. 1 Washington & Lee. After the big win, Silverman retired and Morgan State never posted a winning lacrosse season again.
3) State Dominance Morgan State has never made the NCAA Tournament before, but the Bears will not cower in the face of adversity. This season, they have already beaten in-state rivals UMBC, Maryland-Eastern Shore, Towson and Maryland. No, that is not a typo. Morgan State beat Maryland 66-65 back in January. Solely because of that victory, the Bears earned the right to call the Terrapins their in-state rivals. — Jacob E. Osterhout (Storming The Floor/Examiner.com)
[Ed. note: How great is the Morgan State Bear? "QUIET YOU!"]
Join the Deadspin Pants Party Group Pool [ESPN]
Download the Deadspin Bracket [PDF or JPG]