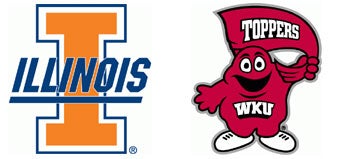 South Region: No. 5 Illinois (24-9) vs. No. 12 Western Kentucky (24-8)
When: Thursday, 9:55 p.m., EDT
Where: Rose Garden, Portland, Oregon

ILLINOIS FIGHTING ILLINI

1) They're not that bad offensively. Fine, fine, so the Big Ten isn't exactly stacked with a bunch of Bo Kimbles and Kiki Vandeweghes. Sorry: We play defense in the Big Ten. (Even if it's just because we're not all that good at recruiting anymore.) Bashing the Big Ten has become vogue on the East Coast because, well ... because it's the Midwest, and when the hell has the Midwest ever given us anything that matters? (Obama's from Hawaii originally: Doesn't count.) It's a blue collar league, and no one represents this more than Illinois, the team that somehow won 24 games even though they went without a field goal for almost 14 minutes on national television and, mostly, scored only 33 points in a loss to Penn State. This is not Bruce Weber's most talented team, not to any stretch, but they do have some scorers, particularly Mike Davis (who's like Marcus Liberty but faster, taller, a better shooter and more aware of his surroundings) and Demetri McCamey (who's like Nick Anderson, but sleepier). Sometimes the shots don't fall, but the Illini play stifling, obnoxious defense, which means even when the shots aren't falling, they can keep it close. That's not so bad, is it? Why is that such an affront again?
2) We're missing our most important player. Chester Frazier's numbers on the year: 5.7 PPG, 4.8 RPG, 5.3 APG. Not inherently impressive, unless you have a big "half a triple-double" fetish. But he's the senior leader who, through will and ability to be thrown against walls at high speeds without fracturing anything, carried a team of somewhat limited talent (essentially the same team Illinois had last year, minus their two top scorers) to the best season since the Dee Brown/Deron Williams/Luther Head monster. Even though he can't shoot. Now he really can't shoot: Weber and company are keeping details on Frazier's hand injury secretive, but no matter what they spin, Frazier's not playing in this tournament. It's a cryin' shame: Frazier is exactly the type of player college basketball needs more of, and it seems cruel to deny him the tournament he spent so much energy dragging his callow, sometimes sluggish team toward. This is not the team that won 24 games, not with Chester out.
3) Please, no more Jordan references. Yes, yes, MJ's son, Jeff Jordan, does play for the Illini. He's a quick, slashing, lefthanded sophomore point guard who came to the team as a walk-on because, well, because he can't shoot. (At all.) He plays oppressive defense, though, and is, not surprisingly, a fan favorite. (He also can jump higher than anyone else on the team. Shockingly.) He's probably in line to be the team's Chester Frazier in two years. Because his name is Jordan, there's a quiet chuckle from the announcers every time he comes in. When this happens — and you'll hear the chuckle every time — count the number of seconds until Michael's name comes up. I've yet to see a national broadcaster make it longer than a minute and a half. — Will "Emeritus" Leitch
1) Remember last year If it were not for some guy named "Stephen Curry," last year's squad, would be the most talked about Cinderella team in 2008, with a One Shining Moment to boot. If you need refreshing, that team went on to the Sweet 16 and gave UCLA all it could handle. Well, Ty Rogers (who nailed that One Shining Moment versus Drake), Tyrone Brazelton (who scored 33 in that game and issued the assist to Rogers), Courtney Lee (the 2008 Sun Belt Player of the Year and 1st round pick currently swishing baskets alongside Superman) and then-Coach Darrin Horn (who got South
Cack-a-lacky to the NIT this year) moved on, but things remained the same. 24-8, 14-0 at home and they beat the Big East Champs and overall top-seed Louisville.
2) Same formula, New parts New coach Ken McDonald (a former assistant to Dennis Felton and Rick Barnes) became the fourth coach in Hilltopper history to win 20 games in his first season and the second coach to win the Sun Belt tournament on his first attempt. Two key reserves from last year's team stepped up and took over: Orlando Mendez-Valdez, a senior who was named as the 2009 Sun Belt Player of the Year, and AJ Slaughter, a junior who was named to the All-Sun Belt Conference 2nd team and was the 2009 Sun Belt Tournament MVP. Backcourt play always seem to be a key come Tourney time, and OMV and AJ fit the bill. Experience also is a key, something the likes of Steffphon Pettigrew, Jeremy Evans and DJ Magley can provide. New additions Anthony Sally and Sergio Kerusch also help.
3) A Nation watches and dances Western Kentucky is located in Bowling Green, which will have 50,000 people cheering them on. But, that is not counting 80 million people halfway around the world who will be rooting for a bench-warming big man. The only player from the Philippines that is currently on a NCAA Division I Men's Basketball roster plays for Western Kentucky. Japeth Aguilar, a senior who transferred from Ateneo de Manila University, is looked upon to be the future of Philippine basketball. Filipinos are devoted basketball fans who even have a specific cable channel purely devoted to the sport. To see how good he really is and how important he is to us, I pooled together these highlights. And if you are still unconvinced as to how big basketball is here in the country, maybe this will help shed light. — JP Manahan, proud Filipino
Join the Deadspin Pants Party Group Pool [ESPN]
Download the Deadspin Bracket [PDF or JPG]