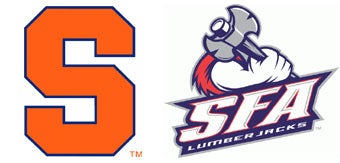 South Region: No. 3 Syracuse (26-9) vs. No. 14 Stephen F. Austin (24-7)
When: Friday, 12:15 p.m., EDT
Where: American Airlines Arena, Miami, Florida

SYRACUSE ORANGE

1) Sweep The Legs If you're looking for the weak link in Syracuse players, look no further than their cruciate ligaments. The Orange feature not one but two key players who missed extensive time last season due to torn ACL injuries. Andy Rautins, the team's three-point specialist, missed all of last season after tearing his ACL while playing for the Canadian national team. America's Sweetheart, Eric Devendorf, missed most of the 2007-2008 season when he ruptured his ACL against East Tennessee State. Both have recovered to become two of the top playmakers on the team. Their resurgence must make incoming recruit Brandon Triche feel good about his chances for success...he tore his ACL two years ago.
2) They're Free, So You Better Make 'Em On paper, Syracuse is an awful free-throw shooting team (63.9%), ranked 303rd in the nation. But to be fair, we're actually a decent free-throw shooting team that also happens to allow center Arinze Onuaku to shoot, and miss, free-throws from time to time. Onuaku is awful from the charity stripe. How awful is he? He's shooting 30% for the season (36 of 120). Jim Boeheim actually said "[Arinze] literally can not make a foul shot now, so he has to come out of the game" in regards to Onuaku's late-game liabilities. Take AO out of the equation and Syracuse shoots 70% from the line, good for middle-of-the-road. We'll take it.
3) Familiarity Breeds Fast Breaks When Syracuse teammates Jonny Flynn and Paul Harris take the floor together, you get the feeling they know each other's tendencies as well as they know their own. They should...the two played together at Niagara Falls High School. Harris transferred to Notre Dame Prep (Mass) for his final year but the two remained friends en route to their Orange reunion. However, they're not the only set of high school teammates on the roster. Sophomores Rick Jackson and Antonio "Scoop" Jardine both hail from Neumann-Goretti High School in Philadelphia. While Jardine was considered the better prospect, Jackson has emerged as a solid presence for the Orange this season. — Sean (Troy Nunes Is An Absolute Magician)
STEPHEN F. AUSTIN LUMBERJACKS
1) Be Gentle, It's Their First Time The Lumberjacks have never been to the NCAA tournament before. Since this is their first time, let's get to know the school a bit. SFA was founded in 1923 as a teacher's college in
Nacogdoches, TX. Notable alumni of the school include former NFL fullback Larry Centers and current NFL linebacker Jeremiah Trotter, as well as Bum Phillips, Don Henley, and a member of Earth, Wind and Fire. Man, ain't Wikipedia grand?
2) He Ended the Season With Zero Blocks SFA starts a 5'3" Junior guard by the name of Eric Bell, who may be the shortest player in D1 this year. He averages just 3.6 points per game, but takes care of the ball and gets it where it needs to go. In the Southland championship game, Eric the Half a Bee dropped nine dimes on the evening, which is a terrible waste of ninety cents. Hasn't Eric Bell heard there's a recession on?
3) You Play to Win the Game You may remember the college hoops world was all a-twitter when North Dakota State's Ben Woodside scored 60 points in a single game. Lost in all the folderol was the fact that their
opponent, Stephen F. Austin, actually won the game. It was a 112-111 defensive slugfest in which our new pal Eric Bell scored eight whole points. — Eric Angevine (Storming The Floor)
Join the Deadspin Pants Party Group Pool [ESPN]
Download the Deadspin Bracket [PDF or JPG]