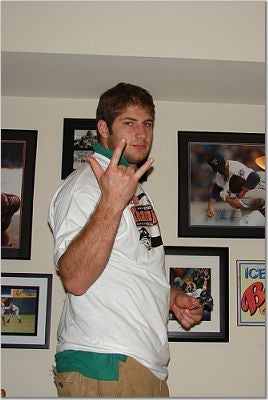 Redskins tight end Chris Cooley has taken to his blog (and his Facebook status) to let the world know that he's not getting traded. Especially not to Cleveland. Barf.
Since Jay Cutler is doing everything in his power outside of banging Pat Bowlen's wife in the middle of Invesco Field to show his displeasure with the current Broncos' regime, plenty of trade rumors have sprouted. Cutler to Detroit. Cutler to Minnesota. Cutler to Chicago. Cutler for McNabb. Then there was the scenario which had the Broncos shipping Cutler and tight end Tony Scheffler to the Skins for Cooley and quarterback Jason Campbell. Another three-way scenario had Cooley heading to Cleveland and the Broncos getting Brady Quinn. That one, more than anything, had Cooley a little annoyed:
Trade talk is a weird wake up at 6:30. Obviously something was said between teams to cause this internet trading shit storm. I would be pissed if I got my ass shipped to Cleveland. But seriously, when the internet is the first news I hear about something this big I would hope it to be speculation. Really, it could have been a couple owners bullshitting and joking around about guys and someone leaked it. No big deal. I would be blown away to hear anything more. It is nice to read extreme skins posts about not wanting me to go. Thanks!

By the way, I do get to hang out with John Elway a little bit this weekend at the Dulles Sports Expo in Chantilly VA. I'm gonna bring a ball and ask him to smoke one for me.
As of now, Redskins fans can breathe a sigh of relief that their popular tight end isn't going anywhere. Maybe instead they should have some concern about his planned ball-smoking activities with John Elway. That sounds like an injury waiting to happen.
Trade? [Cooley's Blog] (via Fan Nation)