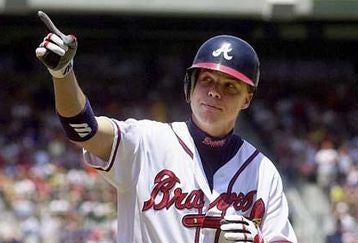 If you play for the Braves and you're going to be at war with a city, it might as well be a Canadian one. On the whole, Chipper Jones would rather be in Atlanta.
Chipper Jones, feeling a bit assholish due to a strained oblique he suffered during the World Baseball Classic, told the Atlanta Journal Constitution on Monday that the week he stayed in Toronto reminded him of several prostate examinations in quick succession, or words to that effect.
Jones, who also played in the inaugural WBC in 2006, said he won't play again if the format isn't changed. "Just way too many days off," he said. "We stayed in Toronto for a week and played three games. I don't know if you ever stayed in Toronto, but it's not exactly Las Vegas. To say that we were plucking our eyebrows out one at a time would be an understatement."
Toronto bloggers, being the gentle souls that they are, totally forgave him and wished him all the best.
• Alright, look, I don't know... if you don't like a city, I guess you don't like a city. But still. Y'know, fuck you, Chipper. I'm 99% sure you weren't even trying... Yeah, because Atlanta is practically fucking Vegas— just, instead of casinos and whores it's got waffle houses and meth labs. Totally the same. [Drunk Jays Fan]
• And fuck you too Chipper. Here is hoping for some reason he has to come back. Please let him come back. Funny how other athletes come here and don't seem to complain. Not enough hot spots for ya Chipper like there are in Atlanta?? Downtown Atlanta is a real thriller. Here's hoping Bobby Cox gets to him and talks some sense into him before he opens his trap again. Somewhere I bet JP is laughing or cheering him on. [Toronto Sports Media]
• First of all, Chipper is in the NL, so not used to the neighbourhoods of the city. Second of all, he is on a team with unfamiliar teammates that don't really want to go out with a hitless wonder from a city with clearly the worst night-time downtown core in the league. [Blue Jays Baseball Blog]
• Maybe Chipper wasn't so chipper about his stay here in Hogtown because he sucked so bad: He went 0-for-10 with six strikeouts in three games for Team USA. Just for the record Chipper, this is the kind of stuff you could have been doing while you were here. Get cultured my boy, and don't waste so much time plucking. [My Hogtown]
And Chris Bosh even chimed in, via the National Post.
"Me and Chipper should have hung out," Bosh said at the Raptors' practice on Wednesday. "He should have called me. I'd have shown him a good time."
Chipper Jones Not So Chipper About Toronto, Toronto Not So Chipper About Chipper Jones [My Hogtown]
Chris Bosch Defends Toronto's Honour Against Chipper Jones [The National Post]
Chipper Positive He Will Heal Under Braves' Care [Atlanta Journal Constitution]