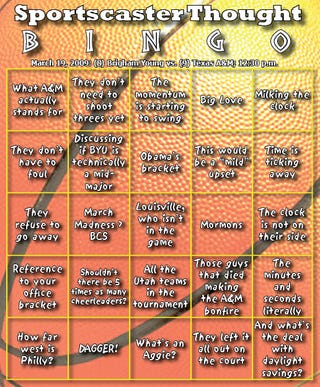 Your live blogger for this game will be Stephen from the defunct Cousins of Ron Mexico. These days he can be seen scribbling at The Big Lead and Major League Jerk.
*****
Good afternoon everyone. As you might be able to tell from the headline of this post, I'm here to type quickly about the collegiate basketball contest between BYU and Texas A&M. I am well aware this is the game that is causing you to lament being stuck at work this afternoon. For that I'm sorry. Don't think this live-blog is my attempt to shove that fact in your face.
This is a rematch of last year's first round match up which A&M won by 5. This year, they're the same seeds and pretty much the same teams.
BYU is lead by Upstate New York's pride and joy, Jimmer Fredette. Glens Falls' favorite son is the Cougar's second-leading scorer at 16.2 ppg. I saw Fredette play multiple times towards his high school career, but not nearly as many times as my father and brother did. They followed him around like they were filthy hippies and he was The Grateful Dead.
As for the Aggies - none of their players are from anywhere near my hometown. They've won 6 straight including an upset win over Missouri two weeks ago. BYU is coming off a loss last week to Mountain West superpower, San Diego State. Whoever wins today gets UConn on Saturday.
Let's live-blog!
12:31 - Hello. BYU wins the tip and Jimmer controls. 1 possession, 1 three for BYU. A white kid scored.
12:33 - After two quick - scratch that - three quick baskets for AM, they're up 6-3. AM is going inside successfully early. And now a 3.
12:35 - 9-3 AM. BYU is missing everything early.
12:35 - 11-0 run and we've got our first timeout. And our first Geico ad. Sweet.
12:36 - I keep scrolling up to save the post, but the Save button is at the bottom. Gawker software is so backwards. Also, everyone is wearing slippers.
12:38 - We're back. Jimmer just missed a 3. My ties to the Mormon community are becoming strained.
12:39 - What did I just say? Jimmer with the steal and bucket. I honestly have no idea how his in-traffic finger rolls translated to major college basketball. A&M with another 3. They're up 14-5.
12:40 - Chris Miles scored for BYU and we're headed to another commercial. 14-7 A&M.
Anyone else hate Coke Zero commercials? (Why don't they make the entire plane out of the black box?)
12:42 - Richard Hamilton has been remembered.... back to the game.
12:43 - Another layup for A&M. Another missed 3 from BYU. Another bucket for A&M. They are now 8-8 from the field.
12:45 - Charge on my boy. Followed by him dribbling the ball off his foot. Jumper by A&M. 9-9. Ridiculous start for the Aggies.
12:47 - With 12:56 to go in the half, A&M finally misses. Of course they were fouled. Derrick Roland hits both free throws. 22-7.
12:48 - Jimmer draws the foul and Glens Falls gets its first mention of the day. Knocks down both FT's. BJ Holmes answers. 10-10 for the Aggies.
12:49 - A&M officially misses a shot. Brian Davis collected the board and scored. We head to our third commercial with BYU trailing by 26-8.
12:51 - The Taco Bell commercial with the faux-preggers guy. It's that a metaphor for how you feel after you've eaten TB? A "food baby" as Juno would say.
12:52 - And CBS cut away from the BYU game. Am I supposed to live blog CS North-Memphis? Suss? AJ? Anyone?
12:53 - LSU-Butler is on my other CBS. Does no one at WRGB care that my favorite Mormon is playing?
12:54 - According to the ESPN GameCast, BYU hit 2-three's out of the TV timeout. 26-14, A&M.
12:55 - I am now live-blogging the GameCast. The Aggie's took a TO after the back-to-back's. Apparently, I'm missing commercials. Instead I had to watch an exciting steal and dunk in the Cal State-Memphis game. Where are all the white people?
12:57 - Jonathon Tavernari hit another three. 32-19, A&M. I think I'm going to take this opportunity to grab a beer.
12:58 - I misspelled Bryan Davis' first name earlier. I apologize. He has 12 points and his team leads by 11.
1:00 - They went to a TV TO, says GameCast. A&M is shooting a blistering 14 of 18 from the field. BYU is a bit less accurate.
The fact that CBS cut away from my game is very disappointing.
1:04 - I forgot about the whole "TV on the Internet" thing. Yeah, I am a schmuck.
1:05 - The Cougars are back within 8. I need a bigger monitor.
1:06 - Chris Miles missed a short jumper off the glass. A&M is dominating offensively inside. 34-24. Another offensive foul on BYU. This one was Lee Cummard's second. He looked angry and awkward as he took a seat.
1:08 - BJ Holmes hit a three a few short moments ago for A&M. Put back and foul for Noah Hartsock after a miss by Fredette. 11-point game.
1:09 - I never noticed how much swagger Tony Stewart had until just now.
1:10 - I'm being razzed in the comments and BJ Holmes hit another three. Where's Pete Gaines?
1:13 - Three for BYU. Big block by A&M and Jimmer draws a block. Jimmer missed a free throw? That doesn't sound right.
1:15 - Fredette missed both freebies. I wonder if he was shaken up when he hit the ground. 40-30, A&M.
1:16 - 52.7 seconds to go in the half. Chinemelu Elonu just hit two FT's to put A&M back up 12.
1:18 - And we're headed to the half. Texas A&M 42, BYU 30.
A&M cooled off a bit after a great start, but they're still 17-30. BYU would be getting blown the eff out if it weren't for the fact that they're 6-8 from distance. My illegitimate brother is 1-5 from the field. Not a good start to the tournament by my extended-pretend family.
1:22 - Random non-game related note: Len Bias Cocaine Surplus lives with my (real) brother.
1:23 - This AT&T half-time show features some ugly dudes. And it looks like they're broadcasting from a phone booth. And they randomly cut to commercials while people are talking.
1:25 - For future hecklers - I'm from The Big Lead. I'm oblivious to your criticisms.
1:28 - Elonu has 7 rebounds and 3 blocks at the half. The inside play of A&M might be too much for BYU.
1:29 - If you had told me 5 years ago I would turn out to be a BYU homer, I would have thought you were crazy. Now, here I am touting Mormonism like it's going out of style.
1:34 - Jim Calhoun won't coach in UConn's opening round game due to illness. /Broken news!
1:35 - Not to self: Remember to make "dumb dumb dumb dumb dumb" joke in second half.
1:37 - Memphis better not lose to a 15-seed. They're in at least one of my Final Fours.
1:39 - This is the assassin leading BYU with 9 points at the half. You should all be terrified.
1:40 - The CBS stream went to a commercial as the first half began. Tavernari picked up his 3rd foul while we were gone. He sits and BYU misses another bunny.
1:41 - And we've got our first highlight of the second half. Bryan Davis hit a shot with his back to the basket and the foul. Of course, he had landed by the time he shot, but that's neither here nor there.
Josh Carter with the three. A&M is up 47-32 with just under 18 minutes to go.
1:43 - If BYU wants to win, they are going to need to score more. Lee Cummard drew a foul. He is a beautiful man. He hit both free throws.
1:45 - Chris Miles inside and one! You can tell I'm excited because of the exclamation point. Of course Miles missed the freebie. I put too much pressure on him. Obviously.
1:46 - BYU is within 11. Jimmer drove and drew the foul. He's got such great touch inside. (NTTAWWT) BYU within 9.
1:48 - Two straight buckets (including a three from Josh Carter) and the Aggies are up 14 with less than 14 minutes to go. All BYU has to do is outscore A&M by 1 each minute and they'll tie the game. It's that simple.
1:50 - Cal State and Memphis are tied right now. Conventional wisdom tells me that the 15-2 game shouldn't be closer than the 8-9 game.
1:52 - 52-38, 13:42 on the clock. This game lacks "game pressure." I could have told you that.
1:53 - Buckets on both ends. Nothing spectacular. Just some good Mountain West - Big XII basketball. The way God intended.
1:54 - Awesome tip by Davis. And I just saw that somehow a "Y" got on the end of A&M in the post title. I blame Daulerio.
2 free throws for Jimmer and it's a 56-42 ball game. Make that 58. Bryan Davis is killing them down low.
1:56 - Another missed bunny. Things are looking bleak in the land of Joseph Smith. Jimmer with the tough basket. Followed by a dunk by Derrick Roland on the other end via alley-oop.
1:58 - Cummard is starting to work inside. We're past the 10 minute mark and headed to commercial. A&My leads 60-46. Time is running out.
1:100 2:00 - I thought you could use some Muse this afternoon.
2:01 - Lee Cummard hits two free throws. Two players have apparently changed teams. Yes, that was a race joke.
2:03 - 8:41 to go. BYU trails by 12. A&M is getting every loose ball. BJ Holmes just hit two from the line.
2:04 - Lead to 16 and a time out. Movie I'd like to see made: Harold and Cummard. Another freaking Coke Zero commercial. I can feel myself slimming as I type.
2:08 - OK, it's about time for a BYU run. Right? Not yet. We just came back from commercial, saw a foul (Hartsock will shoot two) and we're back to commercial.
2:09 - Bryan Davis has 18 and 10. He's averaging 10 and 6 on the season. Good for him. I went to high school with a kid named Brian Davis. He loved Beavis and Butthead. Cummard hits one of two. 15 point lead for A&My.
2:10 - Davis to the line. He had an assist on the previous trip. He's wearing one of those tight t-shirts. I wonder if Affliction makes basketball gear?
2:14 - Donald Sloane with the tough layup. Cummard answers with a jumper. Still a 15 point lead... make that 17 on the dunk by Elonu.
2:15 - Jackson Emery flopped and took his 4th. Dumb dumb dumb dumb dumb.
2:16 - Jimmer has been completely shut down in the second half after a slow first half. Casa de CRM is gloo
my right now. I better open the blinds before I grab my next beer. BYU is 0-6 from deep this half.
2:17 - Tavernari with his 4th. 72-57 with 4 and a half to go.
2:18 - Jimmer goes to the hoop with no regard for human life. He'll shoot two.
2:19 - Bilas keeps bringing up two missed threes from earlier in the half. No team could come back from such a setback. BYU had it down to 13, but Carter just hit two. Tick tock.
2:21 - Hartsock with the offensive foul. Davis drew the charge. 4:09 left and BYU is now pressing. A&M easily beats the pressure.
2:22 - Very strange Axe commercial with sweat-spraying armpits. Thank you streaming video.
2:24 - Why is part of the West bracket played in Philadelphia? Shouldn't it be played... I don't know... in the West?
2:25 - Bryan Davis to the line. He gets 1-2. He's got a season high of 21. Jimmer with the floater in the paint. 14-point game. Bilas just called Jimmer a gamer. He immediately misses his next shot.
2:26 - 2:36 left in the game. 75-61. *Le sigh* I wonder if Definitely, Maybe is on HBO right now?
2:28 - Sloan at the line. We're just counting down the seconds now. Sloane is one of 5 A&M players with double-figures.
2:29 - Jimmer buries the three. A&M runs down 30 seconds and draws the foul. Sloane back at the line. Hit the first. Missed the second. 13 point game.
2:30 - Jimmer has come alive, but it's way too little, way too late. 77-66 with just over a minute left.
2:31 - A&M runs it down to just under a minute then Sloan took it to the basket where it was goal tended. Ball game. Almost.
2:33 - Shot clock violation by A&M. Davis will finish with 21 and 9. Cummard 17 and 6. Jimmer missed a floater at the buzzer for the exclamation point. That's two years in a row A&M finished BYU's season in an 8-9 match up.
Well, thanks for the memories guys. It's been fun typing through a not-quite-a-blowout. Better luck next year Jimmer.