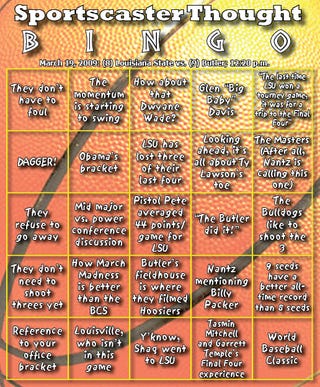 Your live blogger for this game will be Chuck Myron of the NBA blog Time Stops For No One. He also works out of his own car.
*****
Total Deadspin meltdown in 5, 4, 3, 2 ...
Well, here we go. A.J. and Suss will no doubt be spending the next two days having heart palpitations as we, the unwashed masses who live blog, have been given the keys to the site. But don't worry guys, you're in good hands. I've learned much about this basket-ball and the NCCA Marching Dance Madness since emigrating from a small Estonian yak-herding village two weeks ago. Plus my yak is a surprisingly good typist.
So we have a pretty classic NCAA Tournament storyline coming into this one. Big-conference school with ax to grind over seeding goes up against an undersized small-conference team that even goes so far as to play in the same building where "Hoosiers" took place. Butler, though, despite its slightly inferior seeding, isn't much of an underdog considering it's been to the tournament each of the past two seasons, winning at least once both times, while LSU has sat out since 2006. Of course, that was the year Big Baby, Tyrus Thomas, and other players with aspirations of becoming backup power forwards in the NBA made it all the way to the Final Four. Garrett Temple and Tasmin Mitchell are still around from that team, while Butler relies on youth, starting three freshmen and a sophomore. That sophomore is Matt Howard, Horizon Conference Player of the Year. LSU has its own conference Player of the Year, SEC honoree Marcus Thornton. Each team has the conference coach of the year, too.
So who does it come down to? Maybe Xavier knows. The Tigers fell to the visiting Musketeers in Baton Rouge this season, but Butler went to Xavier and won.
On to the starting lineups! (Cue flashing lights and laser display)
No.9 seed BUTLER BULLDOGS
Coach Brad Stevens
G Ronald Nored
G Shelvin Mack
G/F Gordan Hayward
F Willie Veasley
F Matt Howard
No. 8 seed LSU TIGERS
Coach Trent Johnson
G Garrett Temple
G Bo Spencer
G Marcus Thornton
F Tasmin Mitchell
C Chris Johnson






2:33 p.m., LSU 75, Butler 71 (Final)
Well, that was deflating. A tie game with five minutes to play turns into a free-throw shooting contest. Same thing in that Memphis game, it looks like, as the Tigers survive 81-70. And with Texas A&M closing out their win, there are only 60 more chances for that One Shining Moment. Which, by the way, I've never brought myself to listen to all the way through. And I'm pretty sure I'm not alone in this.
2:30 p.m., LSU 75, Butler 71 (Final)
Johnson misses the first, eliciting oohs and aahs from the crowd and pained gamblers alike. But he makes the second. Spencer steals the in-bounds pass, and it's done!
2:28 p.m., LSU 74, Butler 71
Both free throws are made, and Hayward misses a three. Veasley follows with a tip with 5.4 seconds to play. Johnson to shoot 2 with 4.5 seconds to go.
2:26 p.m., LSU 72, Butler 69
Mack brings' em back to within three with 11.6 to play.
2:24 p.m., LSU 70, Butler 66
Mitchell hits them both, and Hayward nails a 3-pointer. Butler commits the foul with 19.3 remaining. Oh, come on, Kellogg, give up the ship. It's as good as o-vah! (Famous last words!)
2:23 p.m., LSU 68, Butler 63
Hayward blocked by Johnson, Howard commits his fifth foul, and with 35.7, it looks like it's all over. For the game, and the Kellogg-Howard bromance, too.
2:21 p.m., LSU 68, Butler 63
Thornton with the miss, Howard with the make, and it's a four-point game with one minute to go. Howard "clobbers" Chris Johnson, as Nantz says, and Johnson is to shoot two. 46 seconds to go. Makes one of two.
2:19 p.m. LSU 67, Butler 61
Mitchell with a wide-open jumper. It's a long two, though, because of a foot on the line. And Howard to the line where he hits one of two. Howard leads all scorers with 20. Thornton drives on Howard on the other end, though, and makes the layup, and Thornton picks his fourth steal as LSU takes control with under two to play.
2:15 p.m., LSU 63, Butler 60
McDonald's is picky about its ingredients? Look, the only thing that ever gets picked out of McDonald's ingredients is a chinch bug. And that, my friends, is your requisite Caddyshack reference! And Memphis trails 64-63, by the way. Mack to go to the line after a foul on Thornton, his third. He hits both, and Hayward boards a miss. Butler can tie it as we're under three and a half.
2:12 p.m., LSU 63, Butler 58
Thornton and Howard are back in the game as Ronald Nored goes to the bench with four fouls for Butler. Thornton nails a long 3! Howard gets locked in a tie-up and the possession arrow gives it to LSU. Cue Dickie V possession arrow rage now!
2:08 p.m., LSU 60, Butler 58
Howard's bloody knee gets him sent to the bench, and we get treated to some gross-out footage as Zach Hahn comes in cold off the bench to take Howard's 1-and-1. He hits 'em both. This is a good one! LSU gets a quick bucket and it's a two-point game with under five minutes to play.
2:06 p.m. LSU 58, Butler 54
Howard misses the front end of a 1-and-1. We find out that Howard was bleeding from his right knee, but someone, maybe Kellogg, put a makeshift bandage on it. Spencer gets a transition lay-in off a steal by Brandon Bass's brother. Howard makes another, then gets thrown to the floor on the other end. Kellogg is not amused!
2:04 p.m., LSU 56, Butler 54
Thornton collided with Howard on the play, which is of course rich with symbolic possibility should Butler win this one. No foul on Howard, by the way. Thornton sitting on bench tying his shoes as CBS returns.
2 p.m., LSU 56, Butler 54.
We're at the 8:01 mark, two shots for Thornton after a foul by Nored that might well have been called on Howard instead. He makes one of two. Marcus Thornton with the putback now for LSU and he goes down. And the arena becomes even more silent. 7:15 to go, and everyone holds their breath while they watch a Hershey's commercial.
1:58 p.m., Butler 54, LSU 53
Hayward nails a 3, followed by a little scrum for a rebound between Howard, who is back in the game obviously, and Johnson that results in a jump-ball and Kellogg nearly having to get up and intervene. Nored tips it in to give Butler the lead.
1:55 p.m., LSU 53, Butler 49
Star watch: Kellogg's girlfriend Howard has 17 for Butler, while Thornton has 15 for LSU. And in Philly, CBS dutifully shows us the blowout that Texas A&M-BYU is becoming. But it's a one-point lead for Northridge! My bracket is about to go straight to hell! Yay!
1:52 p.m., LSU 53, Butler 49
Thornton prompts Nantz to say "dipsy-doo for two." Yech. And then Johnson slams it home for LSU, and it's back out to a four-point bulge. Huh-huh, I said bulge, huh-huh.
1:50 p.m., LSU 49, Butler 47
Tas Mitchell draws the third foul on Howard, now. Nantz wonders aloud about whether Howard should sit. Kellogg doesn't think he should, but Matt Stevens calls him to the bench anyway. "How dare he!" Kellogg says under his breath. Mitchell misses both free throws. 12:07 left.
1:48 p.m., LSU 49, Butler 47
Howard makes one of two at the Thornton nails a fade-away 3 to put LSU up by 4. Thornton has 18 now. Veasley, Temple, and Johnson all have three fouls, fyi. Howard draws the foul and Kellogg is in full-scale bromance mode. He hits 'em both.
1:45 p.m., LSU 46, Butler 44
Butler rebounds a miss, and it's an alley-oop to Veasley and the Bulldogs have their first lead! It's a short-lived one, as Thornton sticks one to put LSU back in front. Howard feeds Nored and Butler leads again! 3-pointer for LSU! They're in front! Good lord! This got interesting in a hurry!
1:42 p.m., LSU 41, Butler 40
Kellogg just called Howard "a dominant low-post presence." The kid is 6-foot-8, 230 pounds. As an NBA fan, this disturbs me to no end. Almost the same way Kellogg's NBA career itself disturbed me.
1:40 p.m., LSU 41, Butler 40
Alert Bill Simmons! It's a "This is Your Country" Chevy ad! And from now on, I'm not calling this a blowout in the making, even when it is a blowout in the making. Butler knows how to make a run. They're on a 7-0 push right now, and Chris Johnson is on the bench with three fouls for LSU.
1:38 p.m. LSU 41, Butler 40
But wait! Butler gets a shot inside by Howard, an offensive foul on the other end, and Mack hits another three. Boy, that small school from Indiana sure is scrappy. Howard makes a transition (!) basket and it's a one-point game!
1:36 p.m., LSU 41, Butler 33
Mitchell drains a J, and Butler can't hit on the other end. A silly foul on Ronald Nored, and LSU has an opportunity to start breaking it open. Johnson drains one from about 12 feet.
1:33 p.m., LSU 37, Butler 31
Howard gets a bucket inside to make it a four-point game as we begin the second half. He has a look at another and .. rolls off the rim. But he's got 10 points in eight minutes. And, as a shaggy-haired white guy, the affection of many, many women.
1:31 p.m., LSU 35, Butler 29 (Halftime)
A little local flavor: The loudmouth, obese white guy in the car dealership commercial that just ran felt obligated, this being South Florida, to shout "Se Habla Espanol" in a terrible gringo accent at the end of the ad. Just another perk of living in "paradise."
1:27 p.m., LSU 35, Butler 29 (Halftime)
See how I deftly avoided making a crack about that guy who heckled him in the press conference a few weeks ago? See how tasteful I can be? Not everyone in the blogosphere is smug and snarky! Just most of us.
1:26 p.m., LSU 35, Butler 29 (Halftime)
Breaking news: Jim Calhoun will miss the UConn game today with some kind of illness. We're not sure exactly what it is. George Blaney will coach in his stead.
1:22 p.m., LSU 35, Butler 29 (Halftime)
The crowd at Kansas City for the Memphis game doesn't look too strong, either. What do you mean, no one wants to blow $100 just to knock off work and watch guys you've never heard of play for a school you don't care about? What, is there some kind of recession going on, or something?
1:19 p.m., LSU 35, Butler 29 (Halftime)
A check of the stats shows Thornton has 13, Mitchell 10 for LSU, which is shooting 50 percent. Howard and Mack both have eight to lead Butler. The Bulldogs are shooting only 34 percent, but 36 percent from behind the arc. Memphis leads 34-31 at the half in their game, btw. By the way, those KFC Famous Bowls look like the only thing they are famous for is making you visit the other famous bowl. Yikes!
1:14 p.m., LSU 35, Butler 29 (Halftime)
So how 'bout that? A six-point game at the half was not what we were expecting soon after tip-off. Advantage Butler. Except, of course, that they trail by six, which is not much of an advantage. We're getting treated to some coverage of CS-Northridge vs. Memphis, which is a two-point game. Go, Whatever Nickname Northridge Has!
1:11 p.m., LSU 35, Butler 29 (Halftime)
An airball for Howard, but he boards a miss on the other end. Then does "a textbook job" of setting up in the post to draw the foul. It's another 1-and-1. I wish the NBA would add these 1-and-1's. Shaq would have averaged five less points a game every night. Howard nails 'em both again. Tas Mitchell hits one with about 17 seconds to go. Hayward puts up a 3 at the buzzer and its ... good!
1:08 p.m., LSU 33, Butler 24
Mitchell assists Thornton, who sinks one to end a 6-0 Butler run and improve his game-high point total to 13. Another quick timeout. Under a minute and a half to play before the break.
1:05 p.m., LSU 31, Butler 24
Kellogg points out (see, he can play this game, too) that LSU is unbeaten when they score 70 or more. Howard puts up two more. Traveling on LSU, again. Mack gets to the rack and his layup prompts an LSU timeout. 2:05 to play first half.
1:03 p.m., LSU 31, Butler 20
By the way, have you noticed how many times I've used the phrase "Nantz points out" in this blog? He should, like, call the Final Four or something. Howard re-enters as LSU hits a pair. Thornton with another steal and a bucket. And now Howard at the line for a 1-and-1. Makes 'em both.
1:01 p.m., LSU 27, Butler 18
Nantz points out that Butler is one of only three schools to have the same starting lineup all season. Mt. St. Mary's and North Dakota St. are the others. None of this helps the team hit its free throws. Avery Jukes misses a pair. Timeout with 3:58 to play in the first half.
12:58 p.m., LSU 27, Butler 18
Mack with a 3, and Thornton answers. Thornton picks off a pass and is fouled as he goes in for the lay-up. He hits both. Somewhere the Van Gundys are watching and lamenting this offense that has ruined what had been a tidy clankfest.
12:55 p.m., LSU 20, Butler 15
Terry Martin, LSU's sixth man, hits a 3. I designate him the sixth man because he's the only LSU player off the bench to average more than 2.7 points a game. Center Chris Johnson hits a J and it's a 7-point bulge for LSU. Jukes hits one for Butler to make it a five-point game. Where did all these points come from?
12:51 p.m., LSU 15, Butler 13
Let's not forget the cast of CBS sitcoms sitting around and pretending to watch the games. Those are classics! But it's a putback and Butler's within two!
12:50 p.m., LSU 15, Butler 11
Butler's currently on an 8-2 run. TV Timeout with 7:57 to go in the first half. Just so CBS can show the Taco Bell cross-dressing nacho commercial. Ah, capitalism and sports!
12:47 p.m., LSU 15, Butler 11
Butler is just 1-for-9, as Nantz points out. Kellogg says it's because they're pressing, but I think it might just be because they suck. Nantz points out it's a 4-minute stretch without a field goal for either team. Everybody sucks! But Hayward nails a 3 and suddenly it's a close game.
12:44 p.m. LSU 15, Butler 8
Attn Big Jim Slade: The yak is especially friendly, but only when you're around, if you know what I mean. And CBS gives us our first whiparound! Looks like BYU is having the same problem Butler is against Texas A&M. And go CS-Northridge, with an early 17-16 lead on Memphis!
12:42 p.m., LSU 15, Butler 8
Two free throws for Butler, then a steal, and Wayward Hayward (sorry kid, but you know I could have gone a step farther, too) clanks another three-pointer. But he blocks a shot on the other end, which leads to a traveling call on LSU. Butler ball.
12:38 p.m., LSU 15, Butler 6
Howard sits down again with two fouls at the 13:34 mark in the first half. Spencer has three free throws. OK, Suss, what happens if my affiliate switches away from this one to a game that isn't a 30-point blowout? Two of three for Spencer.
12:36 p.m., LSU 13, Butler 6
Tasmin Mitchell hits a shot inside, and this one is in blowout watch already. But Willie Veasley hits a 3-pointer, thank goodness, and Butler has its first field goal with under 14 minutes to play in the first half.
12:34 p.m., LSU 11, Butler 3
It's been pointed out several times in the lead-up to this one that LSU has lost 3 out of 4 coming in, but Butler hasn't exactly been playing great, either. Besides their 3-point shooting woes, their second-leading scorer, Gordon Hayward, has averaged only six points per game in his last three games.
12:28 p.m., LSU 11, Butler 3
Matt Howard, Butler's top scorer, hits two free throws, and promptly Butler takes him out of the game. Curious. 15:54 to go, 1st half.
12:28 p.m., LSU 9, Butler 1
Shawn Van Zant into the game for Butler. Cue bad Skynard jokes! (I think. I don't know all these classic rock names.) By the way, Butler relies heavily on 3-pointers, but has shot only 23 percent since a two-game losing streak in February.
12:26 p.m., LSU 9, Butler 1
Three possessions, three turnovers for Butler. Shelvin Mack draws a foul and Butler will not be shut out. One out of two free throws for Mack.
12:22 p.m., LSU 9, Butler 0
Bo Spencer with the first five points. Now Mitchell with a jumper that goes. Quickly those with Butler on their brackets turn as green as the empty seats. Thornton with a lay-in and its 9-0! Timeout!
12:20 p.m., pregame
Jim Nantz and Clark Kellogg are your announcers, folks. It appears most will be relying on their call, because Greensboro is not exactly riveted for this one. Lots of empty seats for the tip.
12:19 p.m., pregame
So I wonder what commercial will emerge as the most annoying of the tournament? My money is on an old standby ... the CBS Masters promos. Did anyone ever realize the golf demographic is just a little bit different from the basketball one?
12:13 p.m., pregame
Seth Davis tells us that "sometime in our lifetime," a 16 will defeat a 1. What happens if I get hit by a bus moments before my alma mater, East Tennessee State, pulls off a miracle against Pitt tomorrow? Does my family get to file some kind of grievance against Davis? My fiancee wants the proceeds from your book, Seth. Fork it over!
12:10 p.m., pregame
And ... we have Gumbel! Who knew the sight of either Greg or Bryant would be a reason for excitement?

12:06 p.m., pregame
So my local CBS affiliate here in Fort Myers, WINK (yes, really), is doing a live report from the arena at Florida Gulf Coast University, where the women's team is practicing for its NIT game. This is of course justification for the 10-minute local news window before the games start.