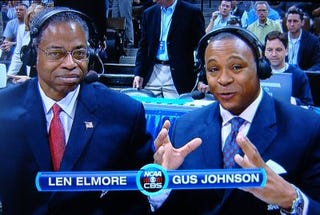 So the whole Gus-Johnson-in-handcuffs story turns out to be a "show's over people, nothing more to see here" type of deal, it appears. The CBS sportscaster wasn't arrested, and no charges were filed.
The case, however, technically remains open after Johnson was detained in the back of a police car in the wee hours of Saturday morning after a verbal altercation with staff at Memphis' Blues City Cafe. The Big Lead broke the story on Wednesday and obtained the police report, which told how Johnson became verbally abusive and argued with manager Daniel Reed of the Beale Street eatery over the service and the food, causing an employee to flag down a nearby policeman. Reed declined to press charges.
Johnson, who was in town to call the Conference USA championship game between Memphis and Tulsa, isn't commenting.
So the moral of the story, I guess, is don't eat at the Blues City Cafe if you're a sportscaster prone to excitability. In an aside that is both humorous and sobering, Memphis Bengal, author of the blog Sportsfrog, agrees. Bengal is an attorney who lives in Memphis, and has some insights on the restaurant in question, and the notorious Shelby County Jail.
1. The Blues City Cafe is supposed to be famous for its ribs, steaks, and tamales. Frankly, it is overpriced and underwhelming fare. And the service flat sucks. Whatever it was that ticked off Johnson, I believe it. He is not the first, nor the last, to become surly while there. It's a tourist trap, more or less. Next time, Gus, ask a local where to eat downtown late. Blues City won't make the top ten such options. While we are here, it IS indeed a bitch move to contact the cops when your customer is unhappy, however vociferously, with the service, but, hey, it's about what I would expect from that particular restaurant.
2. That said, the last part of Big Lead's notation is important. Johnson was NOT taken a few blocks over to 201 Poplar. That is the city jail. And while they have cleaned it up to some extent (I am an attorney, but on the civil side, not so much the criminal side of the street), it is still no place a self-respecting adult male wants to be taken at 1:00 am on a Saturday morning. And Johnson looks a little too close to the potential spoon zone for his own comfort.
Funny, but Tom Cruise didn't seem to have these problems when he filmed a scene at the Blues City Cafe for The Firm.
This is all turning out rather well for CBS. Since no charges have been filed against Johnson, all the story has served to do is raise his profile a bit the day that the NCAA Tournament begins. Bloggers are making note of his March Madness broadcasting schedule, and reminiscing on some of his classic calls, such as Princeton-UCLA in 1996.
So the story has merely added some flavor to the tourney, which you'd expect from an incident at a Beale Street eatery. If you're going, however, you're probably better off skipping Blues City Cafe and walking across the street to BB King's.
In Which Gus Johnson Learns Not To ... [Sportsfrog]
March Madness Preview: Why You Should Watch Whatever Game Gus Johnson Calls [Sports Judge]
Gus Johnson Madness: One of the True Highlights of March Madness [Midwest Sports Fans]
Gus Johnson's Unfortunate Night On Beale Street [The Big Lead]