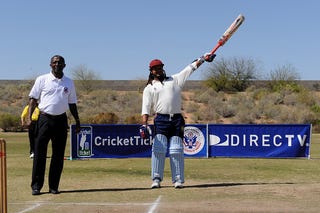 I'm told that's not racist. That's the name for the a left-arm spinner.
Ramirez was part of a DirectTV promotion in Arizona where he and his bum hamstring suited up in cricket gear. See all the photos right here. If you'd like video to accompany your Manny cricket photos, you can watch that here.
And if you'd like more photos of Manny from closer range, go here. And here's a photo of an elderly Charles Manson, just cuz:
Oh and apparently the design has changed again. Perfect timing! So now your Morning Crap italicized call to action is featured here:
Got an image you'd like to see in here first thing in the morning? Send it to tips@deadspin.com. Subject: Morning crap
Adjust the way you read, accordingly. Who's ready for the site to blow up today?