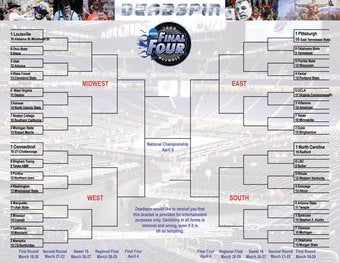 I haven't even filled out my bracket yet, so obviously it's not too late for you to sign up for the Official Deadspin Bracket Smashing Contest, throw in 63 guesses and seek fame and fortune.
However, before the deadline passes and the tournament officially begins, I would like to take this opportunity to second the wise and powerful words of mister MJD. If you fill out multiple brackets with multiple scenarios, then you are a weakling. Aside from being impractical and counterproductive, it just announces to the entire world that you are not a man or woman of your convictions. No one is in this for the money. You're doing it to prove that you're smarter than everyone. But if you think you're a hero for calling that Morgan State over Oklahoma upset (seriously, I love that bear) then why did you pick the Sooners in four other brackets?
It's because you are gutless. And those without guts deserve no glory. So own your choices.
* * * * *
Just FYI, we still have a few tourney previews left to publish and despite the timing issues we will get to those eventually, but I just want to take a second and thank everyone who contributed this year, particularly the folks at Storming The Floor and Rush The Court (no relation) who did some heroic fill-in duty. (Apparently, UConn has no fans in Deadspin-land?)
That is all for now. The games will soon wash over you in a flood of nylon and potato chip grease. Savor this day, my friends.
Join the Deadspin Pants Party Group Pool [ESPN]
Download the Deadspin Bracket [PDF or JPG]