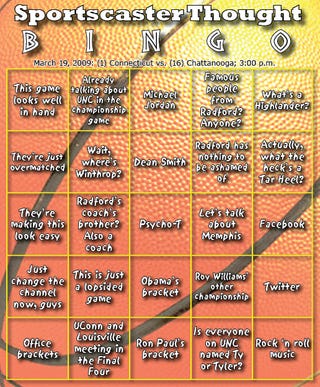 Your live blogger for this game will be Joe Novak of the blog Keys to the Bus. His wife named their dog after a character from Harry Potter.
*****
Hey, hey, hey.
So here we go with North Carolina vs. Radford. I'm glad you've decided to point your Web browsers here this afternoon. If you're anything like me, it probably took everything you had to pull yourself away from the Florida Panthers flasher video - I've watched it about 100 times now and have it bookmarked just in case this game gets boring.
If you're like me and don't know a damn thing about the Radford Highlanders, here's some info from the Inter-scapes. The Radford Highlanders were the Big South champs and have won 12 of their last 13 games. This, of course, means they'll end the season having won 12 of their last 14. They dominated the Big South on their way to the conference title, but otherwise haven't really played anyone - much less beaten anyone of note this season - losing to Wake Forest by 22 and West Virginia by 35.
The match-up to watch will be Tyler Hansbrough on the inside versus Radford big man Artsio "the Best of Belarus" (seriously) Parachouski. Radford's offense revolves around the big Belarusian, so if he can have some success against 2008 AP Player-of-the-Year Hansbrough, it could make this game slightly interesting.
As for North Carolina, it looks like Ty Lawson will be sitting out with a toe injury. Even without him, the Tar Heels should have enough firepower to make this nothing more than a warm-up for LSU. I mean, Hansbrough is no Eric Montross, but I hear he's pretty good. Besides, they've gotta win, otherwise the President is going to be pissed.
As an aside, how do you injure your toe? Nasty toenail clipper accident? Tripped and fell while doing a field sobriety test? Kicking a dog dressed in an Florida State shirt?
What? I can't be the only one who has a wife who dresses their dog. I told the wife that she could dress the dog, but only if it was in a Detroit Lions jersey, I never thought she'd find one, but lo and behold, she did. Because I haven't embarrassed myself enough already, here's the video of it chasing a football. I swear, she catches much better than Mike Williams ever did.
So anyway, I've got the CBS feed fired up on low quality so it stops buffering constantly. It's a little blurry and reminds me of college days, drinking a 40 of King Cobra then heading to the basketball game at Eastern Michigan. After Earl the Squirrel left, it was the only way to douse the pain and help deal with the memory of our last trip to the tournament...but I digress.
Let's get to the game.
2:55 p.m.
I thought this game was supposed to start at 2:50. Now CBS is saying 3:01. Enjoy Northern Iowa/Purdue in the meantime. Booooo.
3 p.m.
Woo hoo, the game is starting! Geez, I think I see like ten fans in red down there in the crowd. North Carolina is basically playing a home game here in Greensboro.
I just saw a commercial for Coke Zero with a bald Kansas fan painted blue. It brought back horrible memories of the Watchmen. I could have gone the rest of my life without seeing radioactive blue dong. Glad I wasted $10 on that.
3:03 p.m. UNC 6, Radford 0
Ellington scores on a breakaway right off the tip nine seconds in.
And another steal and two. UNC up 6-0, that didn't take long.
18:00/firstUNC 6, Radford 3
And the comeback starts, Radford hits a 3!
They've committed four turnovers in the first three minutes though. I think it's time for the Highlanders to slow it down a bit.
16:30/firstUNC 11, Radford 5
Art the Belarusian hits his first shot from the baseline and the announcers got his name right on the first try. I'm shocked.
Hansbrough counters a jumper from inside, tying J.J. Reddick as the ACC all-time leading scorer. Woop-di-do. None of that matters without a title.
16:08/first UNC 11, Radford 9
Radford forces another turnover and scores on the break to come within two.
Reddick drives and damn near gets pulled down from behind. He's going to the line and has a chance to break the scoring record. I was kind of hoping he'd do it on a fast break of something so we could just get it over with and not have to hear too much about it. With him standing at the line, I'm sure the drama will build. Will he make it? Will he not? I'm on the edge of my seat.
14:43/first UNC 13, Radford 11
Hansbrough did it and gets a standing ovation from the home crowd but Radford comes down scores to stay within two.
The Highlanders take the ball away again but get called for traveling for the second time in the game. What do these guys think they're in the NBA?
And another turnover by UNC. This isn't looking so good for the Tar Heels.
13:15/first UNC 19, Radford 14
Kenny Thomas shoots a three from a mile out. Wait, that was an inside pass to Art but it gets knocked out of bounds by UNC. Radford inbounds the ball and hits a 3. How long until they get tired out?
By the way, could someone get Hansbrough a bigger jersey for crying out loud? He looks like Taylor Twellman.
BTW, just in case you missed it, the MLS kicks off today!!!
11:39/first UNC 26, Radford 16
Wayne Ellington hit a three to score his tenth point of the game. Then Danny Green hit another three off of a Radford turnover. Carolina is starting to take control. If this keeps up, I don't know what I'm going to do with the rest of the afternoon. Let's go Highlanders!
10:05/first UNC 28, Radford 18
Radford finally scores, but Carolina is on a 15-7 run.
Hansbrough hits another free throw after getting fouled in the lane. The crowd, of course, goes wild. I swear, there are like ten people wearing red in the entire building and four of them are guarding Tyler Hansbrough.
Hansbrough doesn't know it, but Reddick is going to call to congratulate him after the game. OMG OMG OMG.
6:46/first UNC 34, Radford 22
Turnovers, errant passes, people tripping over each other. This game is sloppier than an Alpha Gamma Delta girl on dollar beer night.
5:00/first UNC 40, Radford 27
Art the Belarusian (I can't spell his name) has his shot blocked and Carolina turns it into another two. Apparently he's only been playing basketball for five years. He's like a Eastern European version of The Air Up There. Hansbrough is dominating this match-up. Who saw that coming?
3:30/first UNC 44, Radford 30
Radford turns the ball over for the 11th time and Danny Green gets a put-back to extend the Carolina lead. Radford came back down the floor and hit a three to stay within sniffing distance.
Did you know that a ninja stole the Coca-Cola recipe and gave it to the Coke Zero people?
1:00/first UNC 51, Radford 32
Apparently UNC is the second-highest scoring team in the nation. None of the other teams made the tournament. What a useful stat. Thanks CBS!
Halftime UNC 53, Radford 34
If it weren't for the big RADFORD across the front of their jerseys, I would think Carolina was playing the Washington Generals. Don't count on that first 16-1 upset happening here, unless Hansbrough and Ellington suddenly catch Jim Calhoun's cancer (what, too soon?)
BTW, I think with a minute or two left, Radford had a white-out on the floor. No wonder they're getting smoked.
Start of the second half UNC 53, Radford 34
I know this is a blowout, so we'll do our best to keep this interesting. Wait, I meant to say I'll do my best to keep this interesting. I need to stop reading Leitch's old posts.
Also, why is Matthew Abaddon from LOST doing the halftime report?
19:00/second UNC 55, Radford 36
It didn't take long for Radford's turnover woes to continue. Art the Belarusian throws it out of bounds ten seconds in.
Thirty seconds later, a rebound literally bounced off of Art and went in. At least something went his way today.
18:00/second UNC 62, Radford 38
Thomas throws up an airball from damn near 30 feet out. Radford, down 21, is just trying anything to get back in it.
Did you know that Eastern Michigan University's athletic teams used to be known as the Hurons?
17:05/second UNC 66, Radford 38
Hansbrough just got thrown to the floor but hit both his free throws. It may be time for Roy Williams (the Carolina coach one) to take him out.
Did you know that the guy who makes Rip Hamilton's mask is an EMU alum?
15:55/second UNC 71, Radford 42
Danny Green hits another three from the corner to put Carolina up 31. On the other end, Art the Belarusian gets fouled by the other Tyler (Zeller) and hits both of his free throws.
For those of you counting, the announcers have no mentioned the fact that Art has only played ball for five years seven times.
Did you know that Radford was known as the Women's Division of the Virginia Polytechnic Institute until 1964?
13:00/second UNC 78, Radford 44
Ellington scores his 20th point of the game on a wide-open shot. Someone may want to guard that guy.
Did you know that UNC's student radio station, WXYC, provided the world's first Internet broadcast?
Holy crap, I think I just saw Darko in a commercial for American Airlines.
11:00/second UNC 81, Radford 46
Joey Lynch-Flohr finally hits a shot. He's been boxed out on what seems like his previous 100 attempts. The Radford faithful go nuts as the Highlanders pull within 35.
Did you know that Jayma Mays from Paul Blart: Mall Cop and Epic Movie is a Radford alum?
10:00/second UNC 83, Radford 46
Hansbrough re-enters the game and the announcers say Roy Williams is probably looking at this game as "a practice situation". That's gotta be good for Radford's morale. Have a fun bus ride back to Virginia.
Did you know that Radford center Artsiom Parakhouski, who is from Belarus, has only been playing basketball for five years?
8:00/second UNC 87, Radford 50
Danny Green pushes teammate Hansbrough out of the way, grabs a rebound and earns a double-double. A few seconds later, Hansbrough and his tiny jersey takes a seat on the bench.
Did you know Radford's official seal has a bee hive on it? There is no explanation for why on Wikipedia. This makes no sense to me.
7:00/second UNC 90, Radford 52
Davis is sent to a line by a guy who looks like my 13-year-old cousin (Phillip Martin).
Did you know that, in general, a dog's mouth has fewer germs and bacteria than a human's mouth?
6:00/second UNC 94, Radford 53
Wow, I just woke up to see Larry Drew part deux toss an alley-oop to the Other Tyler (Zeller). Nice shot! Carolina up by 41.
Did you know that nearly 25 percent of the Belarusian population was killed in World War II and 20 percent of its territory was contaminated by Chernobyl?
Wow, that was depressing. Not as depressing as this game, though.
2:00/second UNC 99, Radford 56
The other Tyler (Zeller) hits a turnaround jumper in the lane to take the lead back to 40. Meanwhile it seems Maryland is up on Cal. It seems like the ACC is living up to the hype.
Did you know that Ypsilanti, Michigan (home of Eastern Michigan University) has a ridiculously falic-shaped water tower? Here's a picture. Rumor is, if a virgin graduates, it'll crumble. I tried my best to not allow this to happen.
1:00/second UNC 101, Radford 58
Mike Copeland dunks to get the Tar Heels over 100. Do we get a free taco or something?
Final UNC 101, Radford 58
And the game mercifully ends. Usually this is the point in the day where I'd go home and take a nap while the wife makes dinner. I won't be able to sleep though, since I spent all afternoon with this snoozefest.
So Carolina marches on and Radford takes their gift bags and heads home. Enjoy the bus ride!