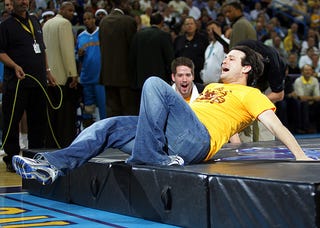 On Tuesday night, the New Orleans Hornets had another halftime spectacle go horribly awry. One of their French Quarter Flyers completely destroyed his ankle during a routine. Photo after the jump — if you dare.
After the latest incident, it's safe to say that the Hornets' halftime routines are cursed. Remember there was the time the mascot almost burned down the arena. Then there was the guy who got his leg caught in the rim. Then, most recently, there was the poor "French Quarter Flyer" who wacked his face face on the rim.
The Blog Of New Orleans said the latest incident was the worst one yet:
Super Hugo came out in the third quarter to perform what looked like a routine dunk performance. That all changed, though, when Hugo switched places with the on-court camerman. The cameraman, who remains anonymous, missed badly on his first dunk. But with some urging from the crowd and the Hornets P.A. announcer, he tried one more dunk. The rest, as they say, is history. Words cannot really describe what happened, so I'll just let these pictures tell the story....[A]fter the games, a lot of the talk among the Hornets players in the locker room was about the incident (it occurred right in front of the Hornets bench). A couple of the players said they thought it was an act but they soon realized that it wasn't.
That doesn't look good at all. But! According to NOLA, Super Hugo is fine, just a little sore, and vows to dunk again, once his ankle is facing the right direction.