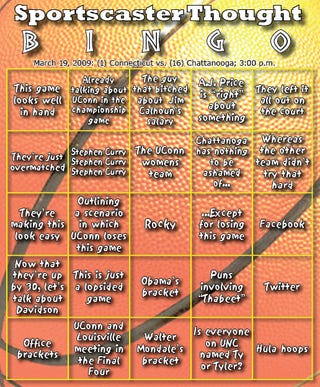 Your live blogger for this game will be Brian Doyle of SportsJudge Blog.
*****
Hello Deadspin, I'm here to continue the second half of the afternoon session with Connecticut and Chattanooga (who, for my typing sanity, will henceforth be referred to as 'UTC'). If you're paying any attention to this game it probably means that you're 1) from Connecticut, 2) from the greater Chattanooga area, if one exists (if you're in the northern reaches of Alabama, welcome to the internet! Don't worry, I'll type slow for you), or 3) you really think this is the year that a 16 seed beats a 1, and uh, good for you.
For those of you who are still mourning Conan O'Brien's move to the west coast, NBC inexplicably replaced Conan with Jimmy Fallon, that guy who spearheaded the worst years in SNL history and couldn't get through any of his lines without laughing. Well, it turns out he's been talking about UTC all week...and will be "rooting" for them today. He even had coach John Schulman and the pep band on last night. Schulman asked him to come sit on the end of the bench. Why would Schulman do that? I'll go ahead and out myself as a Red Sox fan…UTC, please take him.
Notable basketball alumni:
UConn: Ray Allen, Rip Hamilton, Emeka Okafor and um…Travis Knight
UTC: Dennis Haskins. That's right, Mr. Belding everybody! And yes, he really played for them, but only made the squad because he was hopped up on caffeine pills.
Commentator-wise we have young'un Carter Blackburn teaming with Jay Bilas who in turn, if ESPN's coverage last Sunday is indicative of anything, is probably teeming with anger. Okay let's watch some basketball.
*****
5:15 - It's finally over. UConn wins 103-47. On the bright side, if UTC was playing a Big Ten team they probably would've won with 47 points. If you're on the east coast, your local news is next. Be sure to tip your Deadspin editor on the way out.
5:13 - Under a minute! Gus Johnson is on standby in case they need him to call a miraculous finish.
5:10 - UConn breaks the century mark. We're all (/I'm) tortured with another TV timeout.
5:06 - If I stop liveblogging now will Suss track me down, rig a car accident, and tie me up while threatening me with an ax until I finish? Under 4 minutes. 94-47.
5:04 - There's the Mocs pep band. They apparently borrowed their t-shirts from the Wake Forest student section.
5:03 - We have a reference to Obama's bracket and Ty Lawson's toe within a sentence of each other. UCT hits a three to break 40 points and it's 84-42.
4:59 - Stanley Robinson is shooting jumpers and it's now...82-36. Bilas suggests that Nicchaeus Doaks will "fight anybody." May I suggest Kimbo Slice as a warm up? And my goodness Carter Blackburn just said it was fitting that in Philadelphia "Adrien" is putting away UTC. I never realized the Adrian fought anyone in Rocky, never mind putting them away.
4:56 - Now Blackburn not only mentions that someone is from Red Bank, NJ, but that it is 45 minutes from Philadelphia. He must have Google Earth up at all times.
4:55 - Keyron Sheard has fouled out for UTC. He leaves as the team's second leading scorer with 2 points.
4:53 - We're finally under 10 minutes to go. 73-34 UConn. Isn't this why they invented the word for euthanasia?
4:50 - I called my dad to see if he's watching the game. He asked me why I was calling him from across the room, then he told me to get a real job and move out already. So yeah, I guess I'm done with this experiment.
4:48 - I'm pretty sure I'm the only person still watching this game. In the spirit of "Rick Rielly," would anyone stop me if I started liveblogging this game like "Bill Simmins"? I'll only refer to five things: the Shawshank Redemption, Swingers, the levels of losing, my L.A. Clippers season tickets, and calling my dad.
4:45 - Furthermore, Bilas ominously predicts that someone will "tear some ligaments" before the end of this one.
4:43 - Jay Bilas was totally right when he said UTC isn't a typical 16 seed an hour or so ago. Back to a comfortable 40 point lead for UConn. Only 13 more minutes of misery.
4:41 - Carter Blackburn must have majored in geography. Now he tells us how Villanova is its own municipality. Cool. Meanwhile, it's 65-27 and not only is UTC no longer tripled over, but they're not even down 40 anymore.
4:36 - Thabeet needs to get stronger and "improve his base" according to Jay Bilas. Not so much to improve his game, but more to keep him from getting bodyslammed by DeJuan Blair again.
4:34 - 16:50 left in the game as UConn extends the lead to 40 points. 60-20. They've tripled them over. How often does that happen in the second half in a game involving anyone over the age of 8?
4:30 - Is it wrong to want one of the UConn players to get injured for the tournament for still being in this game?
4:27 - Bilas: "Stanley Robinson ought to start wearing a helmet." But then clarifies, "because his head gets so close to the rim." I was thinking it was for a totally different reason.
4:24 - The second half is underway. And the teams trade baskets. 50-20.
4:22 - The Wachovia Center appears to have emptied out a little bit. I can only assume they're trying to make it to happy hour on time. Here's to hoping Marvin Harrison isn't out roaming the streets. No wait, I hope he is out roaming the streets. This is Philadelphia we're talking about.
4:17 - The winner of this game gets Texas A&M, who toyed with the Mormons throughout their game earlier this afternoon. The halftime anchor gets ahead of himself and says Texas A&M has to get to the line against UConn. Hold your horses! This puppy isn't over halftime anchor. There's a reason why they play the game, right? Right?
4:14 - Yet another Sonic commercial. You're wasting your money Sonic. I don't know where the closest Sonic is but I assume it's at least a six hour drive away.
4:12 - And I apologize for mixing up the Mocs nickname. Apparently it used to stand for Moccasins back in the day, but they changed its meaning to Mockingbirds ten years ago. I'll be sure to update my mascot database.
4:09 - In out of town scores, UNC leads Radford by 20, Maryland is up 3 over Cal at the half, and Purdue is doing their best to try and blow this game against N. Iowa. 50-44 Purdue with 5 minutes left, so if you're reading this, don't go over to that game.
4:06 - MMOD has some kid broadcasting the halftime show from the corner of his mother's basement. So at least it's not Greg Gumbel.
4:03 - 31-5 run to end the half for UConn, it's 48-20 as they head to the tunnels.
4:00 - Under a minute in the half and it's 48-18 UConn.
3:59 - Blackburn has a propensity for mentioning each player's hometown over and over again. Stanley Robinson, who "is an incredible leaper" comes up with a block on one end and finishes, disappointing with only a layup, at the other end.
3:57 - I'm glad CBS gave us a boring commentator duo for this boring game. Carter Blackburn mentions 16 seed W. Carolina almost beating Purdue back when he was 6.
3:55 - Thabeet already has 10 points and 8 rebounds and Austrie extends the lead to 20 with free throws.
3:51 - The only remaining question is if John Schulman will wait until the second half to put in Jimmy Fallon. Thabeet comes up with a block and we have a technical foul on UTC coach John Schulman. More commercials, which are probably more exciting at this point anyway.
3:48 - From here on out it appears it will be a Bilas praise-fest of UConn, but in a quiet, emotionless voice.
3:45 - Thabeet gets an easy dunk off the in-bounds pass. On their next possession UConn makes a dozen passes. Clearly Blaney is instituting the coaching mercy rule of "you have to pass the ball 10 times before you can shoot."
3:40 - UTC travels for the second or third time. Bilas reminds us that this is the part of the game "where it can get away" from UTC. The Mocs respond with a layup. What resilience! The Huskies head into another TV timeout up 14.
3:38 - They cut away to Maryland-Cal, presumably for good. Here we go MMOD.
3:35 - UTC responds with a bunch of Belding-esque missed layups, and suddenly A.J. Price has blown this one open with three straight threes, and the rout is on! 28-15.
3:33 - Stanley Robinson may have just broken his tailbone...oh no he's fine. And he'll go to the line to shoot a one and one. Yup, that's the 9th team foul, with 11 minutes left in the half. Hope you plan to be here until 6. He hits 2 and it's 19-15.
3:30 - Which reminds me, UTC's mascot is the "Mocs" which is officially a shoe (not a snake) but their logo is a train and their mascot is a bird dressed up like a train conductor. And there it is, Blackburn says a 16 has never beaten a 1. Of course UTC isn't a typical 16 seed says Jay Bilas, of course they aren't.
3:28 - I said UConn didn't look back right? Gavin Edwards commits an offensive foul off the ball and we head into a Geico commercial with UConn up 17-15. The Mocs are back in this.
3:26 - UTC ends the run by missing and then making a layup. 16-10 UConn! Correction, UTC passed it to the man who hit that three and it's 16-13!
3:24 - Bilas tells us that no other team has a 7 foot shot blocker. What about Chief Kickingstalliongasms?
3:22 - The half-assed press from UConn results in a needless foul. And we have our first Jerome Dyson sighting. That took entirely too long.
3:19 - Suddenly it's 8-8 and UConn is looking to take their first lead of the game (I assume it's their first lead, Gumbel was showing me Cal). Thabeet throws it down to make it 10-8 and UConn never looks back.
3:16 - Gumbel cuts to the UNC game, where it appears that they are also struggling with their 16 seed. That would just about make my week.
3:14 - We head into our first commercial break with our first Rocky reference! 6-4 UTC. I blame Jerome Dyson.
3:11 - Doaks is fouled (look I learned a name!). Heads to the line to give UTC a 5-4, no wait, 6-4 lead.
3:08 - UConn is the bigger team according to Bilas, so they've got that going for them (which is nice?).
3:07 - 2-0 Mocs! Bear with me if I start calling UTC offensive sets like that Ball St. broadcaster. I don't know who these people are.
3:03, Pregame - We're still waiting on this one to tip, so if you haven't seen it, did you know that Gus Johnson walks around wearing t-shirts that say "Rise and Fire"? /shamelessly plugs own article
2:59, Pregame - We have a little bit of time to kill so I'm going to go ahead and use the transitive property to predict the blowout margin of this game. Let's see…UTC lost to USC by 27 who lost to Seton Hall by 2, who lost to Louisville by 17 who lost to UConn by 17. It looks as though we're clearly looking at a 63-point spread by the end of this one, but the folks from Vegas and your local Native American reservation have this one billed at UConn -21, so whatever.
2:55, Pregame - If you overslept or something, Jim Calhoun checked into a hospital earlier today and one of his assistants, George Blaney, will be at the helm for UConn. Here's to hoping Calhoun feels better soon, and no, he still won't be giving any of his salary back.