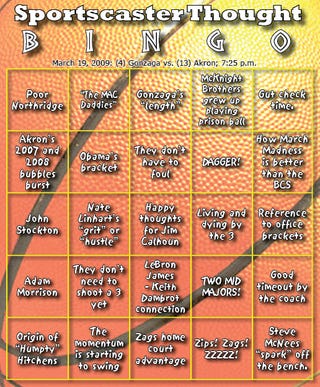 Your live blogger for this game will be Cleveland Frowns from the unabashedly homeristic blog Cleveland Frowns. :-(
*****
Hello Deadspin! Cleveland Frowns here to help you zip and zag your way through tonight's clash between the University of Akron Zips and the Gonzaga University Bulldogs. Intriguing prime-time matchup? The wiseguys don't seem to think so. Vegas has Gonzaga winning by 13 points. It looks like noone else thinks so either. One well-established internet wagering outpost reports that a whopping 88% of the action is laying the points with the Bulldogs. All this no doubt a result a result of Gonzaga's significant advantage in NCAA Tournament experience, NBA-quality talent (like Josh Heytvelt and Austin Daye), athleticism, and size (17 inches across the starting lineup — yikes!).
On the other hand, you'll hear that while the Zips don't have a starter that averages as much as 12 points, or a significant contributor over 6'8, they're gritty gutty gym rats who do boring but potentially important things like keeping their elbows in, rotating on defense, and putting an a$$ on somebody when a shot goes up. Looks like your typical first-round David vs. Goliath stuff, sure.
But Akron head coach Keith Dambrot (who coached LeBron's high school team before joining the Zips) is no large human himself, and probably knows a thing or two about how to overcome a size disadvantage. That has to count for something. As does the potential effect of Gonzaga's sleep-walk through the WCC regular season and championship tournament (Loyola Marymount? The San Fran Dons!).
Do you see where we're going with this? It's true, we're inveterate homers. And/or we have the Zips and the 13 points. Please help us keep these biases in check via the comments here, or by emailing us at clevelandfrowns@gmail.com. Or take the Zips and the points (do it! do it!). On to the zippery-zaggery . . .
7:24 PM: Time for this thing to start already. So, guess this liveblog stuff reads from bottom to top. Kind of like a Japanese novel.
- - - - - - - - -
9:53: Dude splits the free ones. Gonzaga dribbles it out, wins 77-64. Well, as Grandma Frownie always said, "he who gets the push today, lives to push another day." Thanks, Grandma. Thanks, Deadspin. Thanks, Deadspinners. Thanks, K Chambers. Hope you'll check in on us at Frowns from time to time. And don't sleep on the '09-'10 Zips! Zekity-Zippity!!! Humpity!!!!! (Also, congratulations Gonzaga. Best of luck in the Tourney. Beat State.)
9:51: Wow... you guys watching this? Zips down 14 with 2 foul shots with 18 seconds left. Remember, Vegas line, Zips +13.
9:50: Ridiculous 3 for the Zips to bring them within 12. Zags at the line.
9:46: Chief reports from Ohio Brewing Co: "Middle Aged White Males with arms crossed to obscure "fear the roo" logos." Who are they hiding these logos from? All the Gonzaga fans at Ohio Brewing Co.? Sh*t. If these bros get the +13 cover they oughta be poppin those Roo's.
9:45: 1:45 left, Zips down 14. At least they still have a chance to cover.
9:38: Chief just reported from Ohio Brewing Co that Ohio Gov. Strickland and Akron President Proenza are working the room at TV Timeouts. If you're down there, and have the chance, ask what he thinks of the success that the "Controlled-Substances" influenced Heytvelt has had over his constituents.
9:33: Um...Heytvelt for three, Zips down 12 with 6:25 to go. Taking the sting out of this, American/Nova is a final, Nova by 13. Phew! 700 Level Greg, Frowns, everybody wins there. "Where at least we're plus fif-teeeeeeeeeeen." Zips now down 14. 24-4 run for Gonzaga.
9:31: Chris McKnight just threw Heytvelt to the ground. Did we mention that the McKnight brothers grew up playing pick-up games Southern Correctional Institute in Lancaster, OH, where their father is a prison guard. Zips down 9 with 6:57 left. Where's officer McKnight when we need him?
9:28: We just noticed that one of the bingo squares is "good timeout by coach." Wow. We were prospectively satirized.
9:25: Zags up 5 with 7:51 left minutes left. Their biggest lead in awhile. Meanwhile, American (+15) now down 11 with 49 seconds left.
9:15: Yeah, so these Auburn and Minnesota picks aren't looking so hot. Do you see what stupid homers we are? Zips up 1! GO ZZZZZZZZZZZZZZZZZZZZZZZZIPS!!!!
9:13: Emailer Chambers comes through again with some solid crowdspotting: Am liking the "Save a Zlipper for the Zippers" sign. Should have been followed by "Bodybag for the Zags" sign though! Come on college kids, it's not like you AREN'T thinking that way." Zlipper for Zippers. Yes! Get us the Zlippers!
9:08: Nova tied American 55-55. About 4 minutes left. We're glad about this for 700 level Greg.
9:07: Zags hit a 3 to take the lead by one. Necessary timeout by Dambrot.
9:03:30: As if on cue, Hitchens for 3. "That's alright cuz I get things cookin' . . ."
9:03 PM: Christ...they just showed a graphic of Ellington Humpty Hump Humphrey III smoking a blunt, and played the Humpty Dance on CBS.
9:00 PM: Hitchens with a ridiculous dish to Bargo for the flush! "People say yo Humpty, you're really baller lookin!" Sh*t!
8:57 PM: Holy scheit! Bank's open on a three by Chris McKnight!
8:55 PM: Zips up 41-39, 17:33 to go. Sh*t.
8:54 PM: And don't sleep on Digital Underground, either. Don't sleep on the rhythm in Young Hitchens' bones:
8:53 PM: Pretty terrific post by someone called Ray Mernaugh about Zeke Marshall. Dude went to one of Marshall's high school games and based on his post, he payed good close attention. http://macreportonline.com/index.php/20090302676/Basketball/Zips-are-getting-a-good-one-in-7-footer-Zeke-Marshall.html
8:46 PM: Hitchens got his nickname because he used to dance as a baby every time Digital Underground's 'Humpty Dance' came through the speakers. He's a freshman. Aren't the Zips at least legit Sweet 16 prospects next season with Hitchens and incoming frosh, 7 foot blue chip recruit Zeke Marshall, who is reportedly the best recruit to ever sign with a MAC school?
8:42 PM: Our pal Chief of Akron web staple The Chief Source (www.thechiefsource.com) is at the official "Zips Watch Party" at the Ohio Brewing Co. downtown. He reports that the crowd gets especially fired up when Humpty Hitchens touches the rock. Not surprising, but reassuring. He'll surely post photos of this tomorrow.
8:39 PM: Just one more thing re: Heytvelt and shrooms: http://www.clevelandfrowns.com/search/label/Drugs
8:37 PM: F*ck, is there anything dumber than the Controlled Substances Act? Heytvelt looks perfectly healthy to us. Even too much so. And how do we know Heytvelt wasn't just doing some hunting and gathering? He's gotta eat, right? How would he know if they were hallucinogenic. Isn't that relative, anyway? F*ck. So unfair.
8:36 PM: Um...duh re: Heytvelt and mushrooms. We remember this happening, just didn't remember that he was the guy: "Suspended Gonzaga center Josh Heytvelt was charged Tuesday with felony possession of a controlled substance following his recent arrest in nearby Cheney, where police alleged they found hallucinogenic mushrooms in a gym bag in his car."
8:33 PM: Commenter Phillas also makes great points. www.clevelandfrowns.com, new friend. :) wait. >:-(
8:30 PM: Linhart for 3. He looks dialed in. Sweet. He was the MAC Defensive Player of the Year, you know. He has a game high 13 points at the half. Zips up 3.
8:28 PM: Chambers coming again with this: "Gonzaga getting the ball down low and running their offense through Josh Heytvelt, who has more experience with mushrooms than the Mario Brothers." We suspect that we weren't thorough enough in our pregame preparation. Zips up 35-33. Sh*t!
8:25 PM: Someone called Keith Chambers just emailed to tell us that "Bill Cosby's frantically trying to get honorary degrees from both schools just so he can say he's a "Zippity-zaggity" graduate." Good call, Chambers! Where the f*ck is Frownette at with our pudding pops, anyway?
8:17 PM: Holy crap! American's up 10 on Nova at the half. "Well I'm prouuuuuud to bet on American, cause at least their plus fifteeeeeeeeeeeeeeeeeeeeeen!"
8:14 PM: Commenter Johninho just spoke of the "feels-like-it-is-owed-to-them, HIGH seed Gonzaga team." YES! That's the one we're after! Wait...isn't that the only kind of Gonzaga team there's been in recent years? Zips up 3 with 5:44 left in the 1st half.
8:09 PM: Announcer just said "Zips and Zags." Zippity Zaggity! (Giggity Gittity!!! Yeah, we're ready for football season too.)
8:08 PM: Good timeout by Dambrot. You know, his role in LeBron's development is probably pretty underrated considering that Bron basically went from living in his mom's car into Dambrot's "program." McKnight, AND 1! Sh*t. Make the free ones, dude. Zips down 20-22.
8:03 PM: Check off the Dambrot/Lebron square on your bingo card.
7:59 PM: Society of Jesus. That probably meant something a lot different back then. Zips up 1!
7:56 PM: Sh*t. Luigi Gonzaga marched to his own drummer. "He grew up amid the violence and brutality of the Renaissance Italy and witnessed the murder of two of his brothers. In 1576, Aloysius' parents sent him to attend the court of the Grand Duke of Tuscany, Francesco de'Medici, in Florence. Later, accompanied by his parents, he traveled to Spain to join the court of Philip II in Madrid. In Spain, Aloysius decided he wanted to join the newly founded religious order, The Society of Jesus. His father resisted his decision and there followed a struggle of wills that continued after his return to Castiglione in 1584. But Aloysius eventually prevailed. Renouncing his right to the title of Marquis and to the vast wealth he was destined to inherit, he entered the Society of Jesus in Rome on November 25, 1585."
7:54 PM: Zips hanging in there, 13-15. But damn Gonzaga's big. McNight got stuffed on a 3 pointer, and Heytfelt is having his way down low.
7:49 PM: According to Gonzaga's website: Gonzaga is a Jesuit school, and it's named after St. Aloysius Gonzaga. "He is an Italian Jesuit saint of the 16th century. In 1887 when Father Joseph Cataldo, an Italian born Jesuit, founded Gonzaga College in Spokane, Washington, it seemed fitting to name the new school after his fellow Jesuit and fellow Italian, St. Aloysius Gonzaga. Aloysius is the Latin form of Gonzaga's given name, Luigi." Luigi Gonzaga? Mario and Aloysius? Who knew!?!?
7:45 PM: Wait. What is a Gonzaga?
7:43 PM: 3 for the Zips! We can only speculate about what goes on inside the black box that is the NCAA Tournament Selection Committee deliberations, but we strongly suspect that the Zippity-Zaggity element weighed heavily in the analysis, as well it should have.
Does everyone know that the Zips are the Zips because folks say that the Zipper was invented by a Goodyear employee who wanted an easier way to put on his rubber boots?
7:42 PM: Sh*t, Zags are big. Heytvelt just layed it up right over Linhart like he wasn't there, who was MAC player of the year.
7:40 PM: We have tip off!
7:35 PM: WTF? Our Akron Beacon Journal says the game is supposed to be on our TV. We hope it hasn't started yet. Michigan is off to a nice start. Why are we such f*cking homers? The other Deadspin liveblogs are off to good starts as well. There's a nice breakdown of representative Mich/Clemson alums, and the dude who's blogging Nova/American is one after our own heart, as best we can tell from his credentials. Meanwhile, Clark Kellogg just used his national platform to advise the Longhorns to take the ball upcourt. O-H!!!
7:26 PM: Ha! We're live! The Gawker Machine is a technological wonder. We'll start the Japanese Novel thing now. When will this game start? They said 7:25.
7:09 PM: Can we start liveblogging before the liveblog goes live? We just realized that we should invest in the other 7ish action. We're already in on Minnesota (see today's Frowns post for our rationale on that), so there's still Clemson -4.5 Michigan and Villanova -15 over Villanova. So we'll take Clemson +4.5, not just because we're inveterate Ohio-mers, but because we think the selection committee might have been a bit too anxious to get the Blue and Gold back in the Big Dance after such a long drought. The other one is tougher...American, or Villanova? We don't know sht about either of these teams. But we do know that we're going to Vegas this weekend for the tourney's second round, and the second to last time we were there, we stopped to watch the Bellagio fountain show to soak up a little sun and sound after 39 or so hours of being awake inside the same building, and that particular show was to that song "God Bless the U.S.A." You know, "I'm proud to be an Americaaaaan, where at least I know I'm freeeeeee!" In Vegas, at that particular time, watching all the well propped fanny packs pass us by, we had ourselves a moment. So we'll take the points and American.