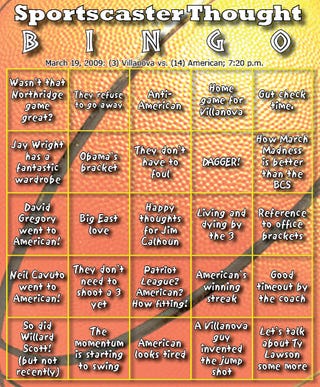 Your live blogger for this game will be Greg Dietz, a perky contributor known as "GreggyD" at The700Level.
*****
I've been pouring over brackets since the teams were announced on Sunday night and I've been counting down the hours to the start of this game. I have to thank Daulerio and Sussman for letting me come onto this interweb site of theirs and letting me take the reins for a little bit. It's an honor to do so. Enough of the formalities though.
The day has been awesome already. Now that everyone has had time to clean out their pants thanks to the Memphis Tigers, we can move onto this game: American vs. Villanova. Seeing as the Wildcats play some home games in this very building, you might say that they have a bit of a home court advantage. Many are saying that this was one of the easier games to pick in their office pool, but that's probably because they just haven't watched American play this year.
American is not a big team by any means, but they can really fly up and down the court. Their speed will make this a very high-flying game because Villanova plays very quickly as well. Derrick Mercer and Garrison Carr man the back court for the Eagles and are listed at 5-9 and 5-11 respectively (I doubt that they're even that big). These guys know how to dish the ball and Carr also made over 100 threes this year. Mercer has a nose for the bucket too and has no fear when penetrating a defense. Nova coach Jay Wright has even gone so far as to compare these guys to AJ Abrams of Texas and Johnny Flynn of Syracuse so you know they have some talent.
The Wildcats come into the game thankful for receiving a three seed and the placement in the Wachovia Center. The team is fairly experienced with Scottie Reynolds and Dante Cunningham forming the core of the squad. They are surrounded by talent with Reggie Redding and Antonio Pena, but the true wild card is Corey Fisher who played excellent basketball down the stretch and has been a nice complement to Reynolds. Cunningham is considered by many to be one of the most improved post players in not only the Big East, but the entire country. His presence down low will be the major deciding factor of this game and he needs to avoid getting into foul trouble.
Who I am: I'm Greg. I contribute to The700Level.com and am very active in the Philadelphia sports blog scene. I'm an avid Philly sports fan so let the heckling begin. My bracket is most likely going to be busted by 9:55 this evening. I was going to do a CoverItLive, but I figured it was easier for you to comment on here.
*****
9:34 POST GAME - I want to thank all of you who joined me. It was my first live blog so I hope I didn't disappoint you too much. I didn't read too much heckling so that either means you liked it or you just felt bad for me. This game turned out to be much better than I was ready for and I thought I was going to keel over as a fan and because of my bracket's destiny at some points.
I kept up with the comments and enjoyed reading what you guys had to say. Deadspin live blogs are always the best and I was happy to take this one. Thanks for showing your faces and I hope to see you again on Saturday when Nova takes on VCU/UCLA (hopefully VCU for my bracket's sake) if Daulerio and Sussman are willing to bring me back. Enjoy the rest of the night's action even though the Zags have suddenly made their game un-interesting. There's plenty of good ball left. Catch ya later.
9:33 GAME OVER - Villanova wins it 80-67 in what turned out to be more of a thriller than any of us expected.
9:32 - AU was just told by Coach "no more fouls." Good to see the fire and intensity in the eyes of Mercer still though. I enjoyed watching him tonight. He just trailed off in the 2nd half.
9:28 - And the desperate heaves come from American. This was much more of a competitive game, but like the Memphis contest earlier, the lesser team just lost their zeal as the minutes and seconds wound down.
9:25 - Villanova by 11 with under a minute to go. America(n) and Northridge players are both going to be pretty gloomy for the next couple of days. Fans all over the country are kissing their brackets as their Final Four selection lives to see another day. Question is, after tonight's performance, how do you feel about Nova in the rest of the tournament.
9:23 - Intriguing game between Clemson and Michigan. Glad they cut to it. Excited to see Akron-Zags soon too. Terrible last shot though. Disappointing end to what was a fantastic matchup.
9:21 - Nova has plenty of time to take it slow, but AU looks very composed on defense. The sign of a truly veteran team.
9:19 - I love that all of the games right now are flat out dog fights. Clemson's trailed their entire game and they're coming back now too. Too many great games to watch. If only MMOD would load on my computer. It's been so slow all day. I feel like I'm running Windows 3.1.
9:16 - 66-61 Nova with 2:45 to go. No matter who they play in the next round IF they advance, Villanova has to get back to basics from the get-go if they want to run because VCU and UCLA are both much better teams than America(n). This thing's far from over though.
9:15 - I credit the lack of AU free throws to Villanova's intelligence under the basket. The fouls have come out front off the dribble. They're not letting AU's frontcourt draw stupid fouls.
9:13 - A person turning in just now would think that Nova has dominated this whole time. A tale of two halves. 62-57 Nova with 4:15 to go.
9:10 - American still has plenty of time to get back into this thing. They just need to stick to their gameplan. Many smaller teams seem to get overwhelmed and anxious in situations like this. The time on the bench for Carr was probably beneficial so he could collect his head. This is his time to shine.
9:09 - Shades of the Memphis game as Nova comes storming back. DANTE CUNNINGHAM with the rejection. Dikembe Mutombo is waving his finger somewhere and now the low post presence is looking unstoppable. AU can't find their stroke and they need Carr badly right now.
9:07 - After grabbing a tie with only four team fouls, Villanova has just committed three quick ones. Not a smart move. You want to win it with free throws, not go back and forth with a team who is just as good from the stripe.
9:05 - Villanova ties it up on a beautiful Scottie Reynolds drive. 55-55 with 7:30 to go.
9:04 - This game is going to come down to free throws and be extended a very long time with AU in foul trouble already. I've been much more entertained than I expected to be though so no completes here.
9:00 - Villanova is taking the advice of World B. Free and actually driving the lane. Gilmore is exhausted and since Nova has the height advantage, the only defense AU has is fouling in some cases. It's very important that they draw as much contact as possible. 55-53 American with 8 minutes to go.

8:57 - Dwayne Anderson with a HUGE put back. He's had a very nice game tonight. Nice surprise. Just imagine if this team could function like a cohesive unit.
8:55 - Look at the moves the big white boy has! Gilmore is making a fool out of Bryant "Big Country" Reeves.
8:51 - I might scream if I hear Jay Bilas say "that's not his game" one more time. Carr needs to shoot off the dribble. We get it. The clock will slowly become Nova's enemy. It seems like everytime they get back into it, AU has an answer.
8:48 - American leads 53-47. Gilmore is looking strong underneath and holding his own with Dante Cunningham. I don't think anyone expected that.
8:45 - If Temple was playing in that building, it would probably be much louder. Philadelphians think Villanova people are stuck up yuppies.
8:43 - There's still a lot of time left, but every three by Carr is like a dagger to the chest of any Nova fan. Just one shot sucked the air right out of the building.
8:42 - Fisher was lucky to get that pass in there. I'm amazed at the defensive efficiency of AU. The crowd is getting amped up and that definitely will play in favor of the Wildcats. 47-41 America(n) with 14:30 to go.
8:39 - If Villanova wants to mount a comeback and save millions of people from waking up with mild depression tomorrow, they need to start now. I liked what I was seeing, but now stupid mistakes are coming right back to haunt them.
8:36 - Oh hello Scottie Reynolds nice of you to show up! Like the tenacity and pressure on that play.
8:34 - The threes haven't been falling for America(n), but Nova hasn't exactly capitalized on the opportunity after the defensive rebound. Cunningham has to play out of his mind from here on out because the backcourt isn't going to help.
8:31 - I believe I read that AU is one of two teams to have their starting lineup play every game this season. Add that into their senior experience and you have one dangerous basketball team. Reynolds should only be shooting two here. 45-31 America(n)
8:29 - Even if Nova guards the perimeter better, AU is finding a way to work its way inside. If this game gets to a 15 point lead, I'm highly doubtful of Nova's ability to come back.
8:26 HALFTIME - Can American really keep this shooting up? Is Villanova really playing this badly? AU looked like they were on fresh legs at the end of the half and Nova looked like a lost and confused dog. Jay Wright had better said something good in the locker room.
8:22 HALFTIME - After what was a terrible slate of games late this afternoon, these are much more entertaining. Michigan is shocking me right now. I didn't think they deserved a 10 seed and Akron is still holding a small lead. I figure I'm already screwed with my bracket so why not shake it up a little bit?
8:19 HALFTIME - Scottie Reynolds laid a goose egg in the first half and his backcourt mate Corey Fisher has 2 whole points. Nova is good when Cunningham and Anderson are on their game, but they're not getting any help. The AU defense has outperformed what everyone predicted.
8:15 HALFTIME - In other game action, Akron is looking for an upset over Gonzaga. They lead it by 3 with about 5 minutes to go. Somewhere, Adam Morrison's mustache is starting to cry.
8:12 HALFTIME - On a sidenote, I might have to get some Burger Shots after the game is over...
8:10 HALFTIME - At first I didn't think anyone was even watching this game, let alone reading the live blog. This might turn out to be the big upset of the day that everyone was looking for. I had Nova making it to the Championship in one bracket and losing in the Elite Eight in another. I might have to do a lot of crossing out in my pools tonight...
8:07 HALFTIME - This isn't a shooting contest anymore. It's a shooting barrage of a blowout by American. They lead the Wildcats at the half by an astonishing 10 points. Those brilliant lawyers and politicians around the world are laughing at everyone else as they watch brackets crumble all around them.
8:05 - AU is making Villanova look like the 14 seed right now. Mercer is reminding me of Jameer Nelson with the way he is taking over this game.
8:03 - Until now, this Philadelphia crowd has been silent. It's about time they make some noise. You'd think they were playing on a neutral court.

8:00 - I don't know about you, but that Jordan Nike commercial with Richard Hamilton's game winner makes me laugh everytime I see Khalid el-Amin. I completely forgot about the guy.
7:59 - I'm surprised at how many of you guys have Villanova going so far. Didn't think that anyone outside of the Philadelphia area was this high on the team.
7:57 - Dick Enberg loves keeping the N off of American and continuously is saying "nice shot by America" etc. I think he's getting senile. 32-26 American! with 4 minutes left in the first half!
7:54 - I'm pretty sure Carr could pull up from half court and drain one at this point. Incredible shooting prowess. The ballhandling of the Cats has been terrible which is uncharacteristic. The backcourt seems out of sync after lighting it up so many times this season.

7:51 - As much as people (including myself) have been hating on AU's frontcourt, they aren't giving up anything to Nova's big men offensively down low.
7:47 - I'm beginning to see why Jay Wright compared Mercer to Johnny Flynn. The kid is flying all over the court and getting it all done. Fans everywhere are praying that Nova doesn't turn in a Memphis-esque performance tonight.
7:45 - I don't know what Jay Wright is telling his team, but he better tell them to start getting the ball down low. Reynolds can penetrate with the best of them. AU is going to have a field day if Nova can't step up the defense.

7:43 - Halfway through the first half and Nova leads 22-21. Scottie Reynolds is eerily quiet and AU continues to show their long range.
7:42 - AU just took a 1 point lead as Greg Gumbel insists on telling me about Texas.
7:39 - Both teams are shooting almost 60% from beyond the arc to start the game. Nova's numbers will fall off...AU on the other hand looks determined and their shooters have flawless technique.
7:38 - This feed will grow if these two teams keep shooting like this. I am amazed at AU's ability to just stop, pop, and drain the shot. It seems like they consistently have a perimeter shooter open. Villanova is in trouble if that's the case. I think they were relying heavily on the dominant inside presence.
7:35 - You know your team has a height deficiency when your big men look less comfortable in the paint than your point guard. Eventually Reynolds has to get involved if Villanova wants to keep up this offensive pace.
7:34 - Mercer already showing his tenacity when it comes to working in among the trees.
7:32 - Bad angle to look at that 3. And now AU is charged with the offensive foul. Give the Patriotic ones a break!
7:31 - Jay Wright is focusing in on Nova's height advantage. The backcourt has done absolutely nothing thus far. AU has shown very nice ball movement early.
7:28 - I haven't seen Anderson this involved early in a game in quite some time. I feel like I'm watching a team full of Kyle Korvers with some actual defense sometimes. 14-12 Nova early.
7:26 - Nova will need to step up its perimeter defense. This AU team can shoot the lights out. The Wachovia Center is not as full as I thought it would be. Way to support, Philly fans.
7:23 - Dante Cunningham showing some muscle underneath. AU is going to have a tough night if he's on top of his game. 5-2 Nova
7:21 - Nova wins quite arguably the worst tip-off ever and now Anderson opens with a quick 3. If either of these teams get hot from beyond the mark, look out.
7:20 PREGAME - The announcers for our game tonight will be Dick Enberg and Jay Bilas. I was hoping for Gus Johnson before the tournament started, but after today's events, I'm glad he's elsewhere complaining about the catering.
7:17 PREGAME - This should be a fun couple of hours. I'm excited to watch these teams run the court in Philly. Nova is soaking up the homecrowd hype I'm sure