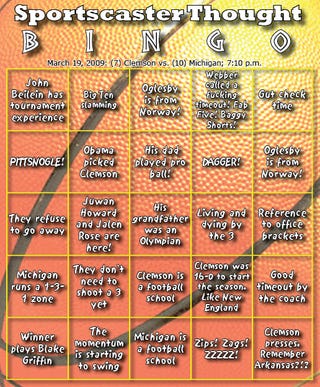 Your live blogger for this game will be Montreal native Daniel Salama, who once upon a pageview live blogged a World Cup game for this very site.
*****
Final: Michigan wins it. Feisty comeback by Clemson, but there was just too much Manny Harris. Thanks Sussman.
0:00 Michigan plays good perimeter D and Rivers misses a running 3 in the corner.
13.1 Michigan barely get it over in time. Good press by Clemson. Novak, a great 3-point shooter but only a 69.8 free throw shooter (and a freshman) steps to the line. He misses the first but hits the second.
27.8 Booker seals off his man, catches a pass and dunks. I can see why he's a pro prospect. Another timeout. Michigan 61, Clemson 59.
37.4 Clemson get an easy layup. Oh thank god. Harris cuts to the basket, draws a
foul and banks it home. Michigan 61, Clemson 57.
0:59 Booker with an offensive rebound. He hits one of two and then Michigan turns it over. Lee with another mistake. I can't believe I said that thing I said two updates ago. Clemson call a timeout. Michigan 58, Clemson 55, Salama Terrified.
1:20 Booker gets away with a clear travel. He scores and then Novak has a corner 3 rattle in and out. Clemson down 4 with the ball.
2:24 Harris swoops to the basket but Grant blocks him. Michigan turns it off sloppily after the inbound. Maybe C.J Lee's first mistake all game.
2:54 Great denial D from Michigan. Culminates in two blocked shots and a shot-clock violation.
3:20 Michigan turns it over. Shit. I'm officially worried.
3:45 Rivers hits a 3 right in his man's face. Suddenly, Clemson are only down 6, 58-52.
4:30 Andre Young hits 2 quick long balls for the Tigers. Michigan 58, Clemson 49.
6:14 Sims hit a 3 after some sweet ball movement and Brando proclaims it a possible dagger. Michigan 56, Clemson 43.

7:07 Harris with a great drive and dish to Gibson. He's freaking people off the dribble, to quote NBA live 2002.
7:58 Michigan uses 32 seconds of shot clock, then gets an offensive rebound. Stu Douglass hits the front end of a 1 and 1. He corrals the rebound. After a blocked shot, they retain the ball. They've been cycling the puck in Clemson's zone for 90 seconds now.
9:28 Booker draws another foul. He hits a free-throw. Clemson get the rebound off the missed second and after a floater falls it's Michigan 50, Clemson 43.
9:46 Booker hits some free-throws. Michigan 50, Clemson 40.

10:04 Clemson is clearly quicker and more physical inside, but few putbacks are dropping.
10:43 Harris wins a face-off against Demontez Stitt. Nicolas Cage predicted it months ago. In a dream so vivid he just knew it had to be real. If only Beilein and Purnell trusted him. Dammit.
11:38 Manny Harris decides to draw a foul and hit 2 free throws.
Soapbox O'Clock: Villanova is starting to come back against American. It's unfair they get to do it behind a home court.
12:20 Clemson starting cause problems with their press/halfcourt defense and score a bit.
13:37 Clemson cuts it to 12 and forces a timeout with a press Michigan can't break.
14:46 Harris breaks down the D and Novak drains a 3. Michigan 46, Clemson 30.
16:00 Rivers hits two free throws. Wikipedia states that the execution-hating governor is now in jail himself. Canny move by him to gain love and admiration of prisoners before becoming incarcerated. Not what Rorschach would do, though.
16:24 Harris with a dunk in transition. Michigan leads 43-28. 16-2 run!
17:20 Oglesby is called for an elbow that, in slow-motion, looks malicious. Douglass hits the technical free throw. He's then ejected! And deported back to Norway! A security guard escorts him to the locker room, and then presumably to Oslo.
17:20 Clemson with an off the ball foul. They're executing worse than that Illinois Governor who issued a moratorium on executions.
18:00 Another huge Sims dunk! Followed by a Clemson turnover and Douglass layup. Michigan leads 36-28.
19: 20 Clemson scores, then DeShawn Sims completes a beautiful alley-oop.
20:00 Second half starting. Considering how many easy misses Clemson has had, the fact Michigan only leads by 3 is scary.
Call from Grandmother: She uses the term "these French people" but manages not to say anything bad about any other ethnicity. She, like Clemson, is not living up to her potential.
at&t at the half: One of the two analysts is a ranga. Neither have anything interesting to say. Still, their laughter approaches self-parodying level, and no one has even made a joke yet.
Halftime: Michigan 27-24. Blake Griffin and Oklahoma are not scared of either team, based on this display. They are, though, terrified of Manny Harris. He has over half of Michigan's points and looks capable of bringing peace to the Middle East.
0:10 Brando slows down Obama's stimulus package with terrible "the bank is open
late" joke.
1:24 Michigan sets airball record; retains lead.
2:00 Another Harris 3 (Please don't go pro) and a Clemson dunk, and it's 25-24 Michigan.
3:30 Misses galore! Graphic informs us that Hansbrough has passed Redick as all time ACC leading scorer. White racists nod appreciatively.
MMOD Commercials: Is the whole Bud Light "drinkability" thing supposed to be ironic?
3:46 Clemson with a block and well executed fast break to tie it at 22. They are much more athletic than Michigan.
5:20 Manny Harris. Great player or the greatest player? He completes an old-fashioned 3 point play.
5:40 K.C Rivers blows an easy layup. He's really struggling. I consider sympathy. Decide against it.
6:30 Michigan shred press again and score after a nice possession. Clemson then hits a 3. Michigan 19-18.
7:05 Shot of pretty Michigan cheerleader is most exciting moment in a while. Michigan leads 17-13.
7:20 Brando calls Clemson's backup point guard, averaging 4.2 points and 2.1 assists, a "phenom."
MMOD Commercials: An inordinate number of commercials involve the elderly. Attempt to reassure them before tradition of putting them on ice flows is adopted in wake of The Harsh Economic Times? Almost certainly.
8:52 Manny Harris with another 3! Michigan 17, Clemson 11. It's easy to update with every basket when they happen so rarely. Decent Brando line about "Manny being Manny" takes us to a commercial.
10:15 Teams trade misses after Michigan hits another 3. Michigan 14, Clemson 11. At this pace, game will barely break 100 points, total.
12:25 Harris scores with panache. 8-0 Michigan run. Michigan leads 11-9.

13:30 Michigan ties it with another 3 (C.J Lee).
14:30 Michigan hits a 3. 9-6 Clemson.
MMOD Commercials: Quantum of Solace commercial reminds me how little I like Kansas' chances to repeat. Too many expectations for both.
15:40 Michigan starting to break the press easily, but Clemson's bigs are stronger and faster. 7-3 Clemson
17:40 The two teams trade threes.
18:27 Michigan now has two airballs on 3 attempts.
20:00: We're off. Clemson scores immediately and troubles Michigan with the press, who then throw up an airball. Good start for the confederacy
Pre-Game: Evening everyone. Solid but unspectacular start to the Madness. This could be a good one. I'm a Michigan fan, but my Olbermann-esque ferocious integrity means a fair and balanced live-blog awaits you.
Now, alumni who perfectly typify their respective universities:
Clemson- Strom Thurmond, who Urban Dictionary describes thusly: "A withered old southern racist fart who once spoke for 24 hours and 18 minutes without sitting down to protest the civil rights act of 1957."
Michigan- Raoul Wallenberg, who Rep. Tom Lantos described thusly: Wallenberg is the archetype of a hero – one who risked his life day in and day out, to save the lives of tens of thousands of people he did not know whose religion he did not share."

Keys to winning that will, in all likelihood, not be the actual reasons someone emerges victorious:
Michigan will win if it can handle the press, despite possessing below average group of guards, and if Manny (Real name: Corperryale) Harris and Deshawn Sims realize how trill they are and play like it.
Clemson will win if both of those things do not occur.