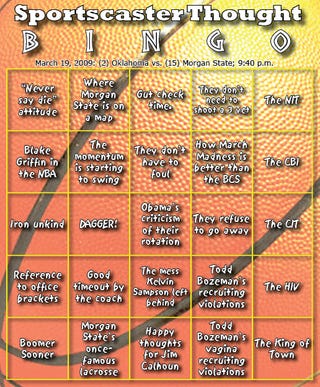 Your live blogger for this game will be Chris Driver, a.k.a. Jerkwheat, CEO of the vintage Deadspin spinoff DeadOn and certified archbishop of The Big Tilde.
YOU ARE LOOKING LIVE AT THE WHEAT HOUSEHOLD IN BUCOLIC FAIRFAX, VA!!!
Or you are watching basketball. I prefer you do the latter, as I am not wearing pants.
I'm pretty sure that Sussman assigned me this game just to remind me of the misery that has been this past basketball season. The defeat of the Sooners at the hands of my beloved Razorbacks on December 30th was the last time I felt good about this basketball season. Aside from the defeat of Texas the following week. But, all downhill since then. Annnnnnyhoooooo, we've got a barn-burning 2-15 matchup here that will hopefully prove to be at least as exciting at this afternoon's 2-15.
2-15 was also the conference record of Arkansas this year.
Fuck, I knew this was a set-up.
I'm not expecting any crippling "formatting errors" tonight, but given my history with the Gawker server I am expecting my post to appear, then disappear, then re-appear in triplicate no less than seventeen times.
If this game gets out-of-hand, I hope none of you mind if I start discussing any of the following: upcoming releases by Mastodon and The Decemberists, the state of the Detroit Tigers starting rotation, other basketball games, famous titties, or satisfying bowel movements that I hath known.
Has it really been three whole seasons since OK ditched Sampson?
MORGAN STATE WITH THE EARLY DAGGER!! 3-2!!! CALL IT!!
Morgan State's PG is nicknamed "Itchy". That is part and parcel with growing up in Baltimore.
Sloppy start here - 5 or 6 turnovers in the first 2:30.
You can't tell me about Blake Griffin's Sam Bradford impression and then not demonstrate it. I feel robbed, CBS.
10:05p -OU 6 MSU 3. This one has been some kinda hideous in its first five minutes.
10:11p - Morgan State has missed their last six shots, yet still trail only by 7 at the moment. And as I say that, they finally score and cut it back to 10-5.
Blake Griffin has 10 of OU's first 12 points. To say they don't have an answer for him would be a slight understatement.
10:14p Morgan is currently shooting 3/14, yet somehow are keeping close. OU 12 MSU 7 with 11:40 to go in the first half.
10:19p Don't look now, but MSU has hit a couple of buckets in a row and we've got a 1pt ballgame with 10:00 left in the first half.
10:22p full court pitch and catch with - that's right! - Blake Griffin and the 1 point lead has turned into 10 in just 2 minutes time. OU 21 MSU 11 with 8:06 remaining in the first half.
The Griffin/Manning Analogy temporarily made me kick my dog. I HOPE YOU ARE HAPPY CBS. Now Canis Wheat is going to kill me in my sleep. Fuck My Life.
In the spirit of Rick Reilly and Matt Sussman, I will now refer to them as Morgan CLANK. Might as well be Costanza out there chucking them up at this point. 5-20 and somehow only 1-5 behind the arc. But it feels like 1-87978398234.
10:28p I flip over to VCU/UCLA temporarily and continue to wish we had hired Anthony Grant two years ago.
10:30p If Morgan State could just hit ONE of these freaking three point shots...
MSU finally hits a pull-up jumper and it's a five point game again. And they proceed to foul OU on a 3pt attempt.
10:35p OU has extended their lead to 32-17 with 3:32 to go in this first half of hellish shooting. The Griffin Fellatio has me spinning the cylinder. MSU is shooting a mind-bottling (that's right) 27%. This seems roughly 13% too high to my eye.
J-No and StevePerry - my ego will not reach Bono proportions. But it will exceed that of Jim's Big Ego.
10:42p Less than a minute to go in this EXCITING first half of basketball. MSU's shooting percentage has now dropped to 26% and they trail 38-21. Blake Griffin impregnated four women and saved three puppies during the timeout.
HALFTIME OU 40 - MSU 21. Blake Griffin has 18 and 6 to lead OU. Morgan State shot 9-34 and are fortunate not to be trailing by 30. That said, if a few of those shots had fallen, we'd have ourselves a much tighter and more interesting ballgame. That said, if I applied myself, I could make something with my life.

YOUR HALFTIME ROCK PART THE FIRST Because you probably need to wake the hell up because it's late.
HAS YOUR FACE BEEN ROCKED THE FUCK OFF? ARE YOU NOW ONE WITH OUR DARK LORD?!?! Cool, now for...
YOUR HALFTIME ROCK PART THE SECOND Anyone see Modest Mouse on Letterman last night? Apparently there is a B-Sides album coming up soon.
If you had 11:01 in the "What Time Will Jerkwheat Screw Up The Formatting" pool, you should contact your local representative to collect your prize.
We've still got some time to burn here - including a whole second half of misery - so I'll hold off on conversation regarding the #5 spot for the Tigers until at least 16:23 remaining in the game. However, if you'd like to discuss bowel movements, let me know. Ever since I changed my diet, mine have been just amazingly satisfying. It's surefire weight loss most mornings.
11:07p "Holmes really not close that time" NOR AT ANY TIME IN THIS WHOLE DAMNABLE GAME.
I see we have interest in the poo-conversation. I don't drink coffee so I can't compare there, but my post 2-egg, veggie sausage, and green tea morning constitutionals are pretty damn epic. I like to think they compare.
Also it's now 46-25 with 17:00 to go. And Itchy is having problem's with Oklahoma's length.
11:14p OU has doubled it up to 50-25. Stoops still has Heupel out there even though he has 485 yards and 4 TDs.
CODE ORANGE ALERT - BLAKE GRIFFIN MAY HAVE AN ELBOW OWIE

11:19p: Canis is getting pissy about not being in bed right now and has begun her nightly strategy of pawing at me and barking for no reason at all. I offer jerky strips to no relief. Blake Griffin shows up and she falls asleep in his lap.
If the MSU players were smart, they would never heed Todd Bozeman's advice regarding "playing it free and easy". It is now 50-31 after MSU hits a couple of threes at last.
I've been taking an Omega-3 swirl for the past few months and I think that might also be playing a role in my bowels of late.

11:24p Three straight OU turnovers, but it remains 50-31 with 13:29 remaining.
So, I guess young Rick Porcello might have a pretty good shot at the #5 spot in the Tigers rotation since Dontrelle continues to be terrible and Nate Robertson continues to exist. Thoughts?

11:28p 53-33 with 12:00 or so to go. DID YOU KNOW? Morgan State has raised their FG% to an ASTOUNDING 27%!!! WERE YOU AWARE??!
I think this is Porcello's 2nd spring on the 40 man. He's only 20 and has a mere 120 innings or so of low minors experience. He's likely starting Saturday against the Yankees though. So that's exciting. Assuming the cut on his finger heals in time.
STATISTICS UPDATE Jamelle Holloway 5/8 115 2 TD 175 Rushing 1 TD
Switzer is taking out Griffin and letting young Jason White play a little now.
11:37p Morgan State is hanging around and refusing to get blown out in spite of their inability to make a friggin' shot. It's 58-42 with just a shade under 9:00 to go. Holmes is actually hitting a few from long-range now.
ALERT ALERT Blake Griffin just got flipped on his noggin and it looked like we were gonna have a scrap for a second. We have an ejection on the Morgan State player who got, uh, tangled up, with Precious Griffin. Nice takedown by Morgan State Nameless Guy. The Russian judge gave it a 5.6.
I see Kige is leading Leitch by 15 with 15 to go. GO BIG RED. And VCU is still hanging around too. But those games' live-blogs don't have Josh Heupel references.
11:43p Upon replay, that was an exceptionally dirty take down and a well-deserved ejection. I give Griffin credit for just walking away from that. It's currently 60-44 with 7 and change remaining.
RIC FLAIR "WOO!" REFERENCE AT 11:48.
11:51p After cutting the lead down to 14 a little while ago, Morgan State has returned to Earth (or at least Earth2) and they trail 71-47 with 3:28 remaining. Kind of a shame that they are gonna wind up losing by 30 potentially because they managed to play it tougher than the score indicates. But shooting 19-68 will do that to a team.
ADDITIONAL GRIFFIN BROTHERS INFORMATION: They currently have 40 points between the two of them (28 and 12) and have missed 2 shots combined. Also, they are working on a cure for SuperAIDS. But not regular AIDS.
11:56p We are at the 2 minute warning, the Griffins now have 46 points and the lead is 77-52.
FINAL SCORE OU 82 MSU 54
Thanks to everyone who joined me in the comments tonight. As the least sexy blogger, it was only appropriate that I presented the least sexy game of the late night session. But you all were already drunk and thought that I looked alright enough considering your BAC, so you slept with me anyway. And for that, I thank you. Now if you'll excuse me, Blake Griffin is going to tuck me in. Interpret that however you like.