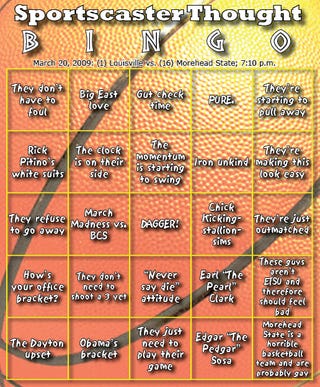 Your live bloggers for this game will be an amalgamation of veteran Deadspin commenters: Stev D, ArkansasFred, dont-forget-where-you-came-from-cheese-mac, and David Hume. They canceled several party invitations for this. The hope you appreciate the sacrifice.
Our strike team has drawn the Verne Lundquist/Bill Raftery match-up. Always entertaining. Lundquist's labored breathing and Raftery's schizo outbursts always make for great entertainment especially if the game gets out of hand. Here are a few fun facts and things to look out for. Enjoy the game!
Among active coaches, Pitino has the third-highest winning percentage in NCAA Tournament games. He also has the most expensive cologne collection.
Player to watch: Morehead State forward Maze Stallworth. A Kentucky native who attracted no interest from either of the state's top two programs. Bonus points: He is sober and not behind the wheel of a $150,000.00 Bentley.
Unfortunately for Alabama State, The Basketball Spirits were not looking down on Chief Walkswithmanysyllables.
Thankfully for Bob Jones University, Morehead State is here to divert your attention away from all the blow job jokes. They still have the market covered on threatening to arrest homosexual alumni for stepping foot on campus, though.
For all you Birdwatchers out there: stop looking at penises. Its Eagles vs. Cardinals; Slice of American Pie vs. Flashy Plumage. I think we all know who wins that battle.
Louisville U and Morehead State are both located in the commonwealth of Kentucky. Kentucky's status as a commonwealth indicates historic recognition of the fact that they are *independent as fuck *and will tar and feather your Tory-loving ass.
Kentucky has a widely recognized reputation as a haven for thoroughbred racing, bluegrass music and bourbon whiskey. From this perspective, Louisville U is ideally located. The Makers Mark, Wild Turkey, Woodford Reserve, Buffalo Trace, Heaven Hill and the Jim Beam (Knob Creek, Booker's, Baker's etc) family distilleries are less than a 90 minute drive from Louisville proper and offer tours and tasting. All of which makes Kentucky's choice of Milk as the state beverage appallingly shameful and a perpetual embarrassment.
Conservative Republican Jim Bunning has served as Kentucky's junior Senator for over a decade. When reached for comment regarding this match-up, he cited Louisville's stifling pressure defense asked if we¹d like to see his collection of the shrunken heads of former interns.
After being unceremoniously dumped on his ass in 2001, Former UL coach Denny Crum, like countless other unemployed layabouts, gave in to the siren call of playing cards for profit. Crum became a professional poker player and currently hosts a poker tournament, the bizarrely-named Denny Crum Poker Open.
Louisville is the alma mater of numerous professional basketball players including former NBA player and NJ Nets coach Butch Beard, which, coincidentally is the working title for Danielle Fishel's forthcoming autobiography.
Everyone on Deadspin is a lawyer!
Morehead State is located on the edge of the Daniel Boone National Forest. For those of you who also went to 10th grade American History after getting baked at lunch, Daniel Boone was a legendary frontiersman and one of the original settlers of the first permanent settlement in Kentucky. His reputation claims that he was an excellent shot, but, unfortunately, functionally illiterate. The irony of this being mentioned in a college basketball preview is not lost on the author.