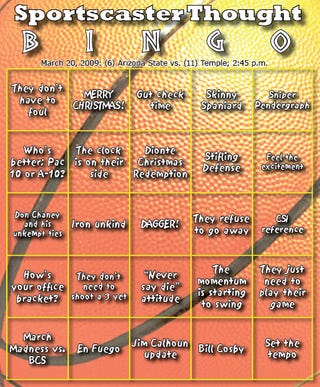 Your live blogger for this game is known in the comments wading pool as Shakey. He's a neat dude.
Why hello there Deadspin, it is me, Shakey, here to do your live blog bidding on this fine Friday afternoon. You might recognize me from the Dayspin comments section and DUAN. We have a magnificent 6-11 matchup of Arizona State versus Temple University as they fight for the right to face the mighty Syracuse.
If you want more information, just mosey on over to the game capsule Dashiell and I put together and you will be bombarded with immense knowledge of these two programs. Enlightened you will be.
So sit back, relax and get your typing fingers warmed up because I expect a comment explosion for this game. Just don't tear me apart like you did to that snooty Dukie horsefucker last night. I have faith in you, and I hope you have faith in me. This is the best weekend of the year, and Deadspin wants to help make your wildest dreams come true. There's no place I'd rather be. Besides the Bahamas. Also, I'll try to post conservatively so it doesn't take ages to scroll all the way down. I know how annoying that is.
You won't find any semi-retarded Pitt fans bragging about dancing with DeJuan Blair, but you will find me answering ANY questions from the comments section. Because I'm a commenter and I've always wanted that. So yes, this is an interactive live blog.
Also, if you want a break from the March Madness...madness going around these parts, it'd be pretty cool if you checked out The Rookies, which is some blog with a whole bunch of nerds or something. Especially CoolHwhip. He couldn't catch a football for all of King Midas' silver.
Oh, and don't go to the other liveblogs. I heard those guys are a bunch of whore-people.
********************************************
19:00: Arizona State has won the tip. This is not a good sign for Temple because that means the ASU center is more athletic then the Temple center. Ruh-roh.
17:54: The skinny spaniard Sergio Olmos scores! That's two more then I expected out of him, because he sucks. Hey, have you ever seen that dude dance? Imagine a giraffe attempting to hump a fire hydrant.
14:51: Harden is swatted by that tall skinny goofy lookin' dude. That wasn't supposed to happen.
12:58: Christmas makes it rain! But Temple's still down. Kuksis took a three point shot that ended up going in as well. I think announcers should say 'Make it rain' more. Pacman ruined it for all of us.
COMMERCIAL: Whew, this liveblogging is tougher then I thought. If I mess up, I blame it on the nerds.
And by nerds I mean LittleWayne'sBleedingHead.
ClintonPortisHead: Question: Which type of bear is best?
A. Black Bear. Fact. Bears, beets, Battlestar Galactica.
11:40: I always imagined Jeff Pendergraph to be white. Huh. Also, Glasser makes a looooong two. Juan Fernandez steps in for Temple. He didn't arrive in the United States until mid-December. Apparently he's really dreamy. But I didn't tell you this.
9:56: Pendergraph looks angry. He translated that anger into a 3 point play. ASU is up by 8.
8:56: Question. Can Temple stop Pendergraph? Answer. No. He's leading all scorers with 11 points.
K-Gun: Shakey, I realize you got a lot going on, but you know- if you were a tree, what kind of tree would you be?
A. Redwood. Because I could be alive forever and laugh at everyone else as they slowly die. Plus people would fear me because I could fall on them.
7:56: Four of four from the floor. Say that four times fast.
COMMERCIAL: Did I just hear that ASU has a transfer from...from...DUKE!?!??!?! BOOOOOOOOOOOOOOOOOOO.
Wilson ChandlerStick Maker:If Arizona State gets up 20, will you let Brian Fellow make a guest update?
A. Sorry. Brian Fellow is in rehab. Crystal Meth.
6:20: Christmas loves shooting the three, and for good reason. Let's see if Harden, Mr. Probable Number 2 pick, has anything to say in response.
COMMERCIAL: Alright Burger King, enough midgets. If wanted to watch them I'd just switch over to TLC. And you don't see me doing that. Because midgets are weird. Also, Temple's on an 8-0 run. Down by 5.
COMMERCIAL: Commercials suck. Watch this instead.
2:31: Harden just got violated. That was like a North Philadelphia mugging. Yet the referees turned a blind eye. Kind of like the cops down here.
1:55: The asshole color dude just said 'IT'S CHRISTMAS TIME' in a pseudo gay tone of voice. Kill him. Glasser has 14. This is impressive as he is white.
37.8: Temple's strategy must be leave the caucasian one open. This may work if Matt Harpring's in the game, but not for this Derek Glasser character. He is en fuego. ASU up by 11. Also, Dukie Eric Boateng has 0 points and 1 foul. Nice contribution!
phillas: Q. French or German mustard on the sandwich? My stomach awaits.
A. Neither. Eat cake.
HALFTIME: Temple has killed Derek Glasser. Interesting strategy. He has just been brutalized. John Chaney approves.
HALFTIME: It's halftime, and ASU is up 35-26 over Temple. Derek Glasser has 17, Jeff Pendergraph has 11 and ASU has dominated the poor Owls for most of the game. Only an 8-0 run fueled by Dionte Christmas' jump shot has kept Temple in the game. Since it's halftime, we need some entertainment up in here. How about Neil Young's Like a Hurricane?
Also, because Temple can't seem to stop a short white dude, why not a little inspiration.
K-Gun: What is the average flight speed of a coconut-laden swallow?
A. Walking at an extremely slow pace.
HALFTIME: Let's get ready for the second half, you shankapotomis's.
This liveblog brought to you by Brian Fellow. THAT'S CRAZY!

19:36: Temple starts the second half off by chucking the ball into the stands. That omen is probably not good.
18:07: Temple's Lavoy Allen has some rebounding skills. Unfortunately, whenever he grabs an offensive rebound Semaj Inge ends up missing. He's 0/7. Temple's missed it's last 13 field goals. They suck.
17:13: Dionte Christmas with the steal and 3 point play. I'm pretty sure the PBP guy just professed his gay love for him.
16:00: PBP: "IT'S CHRISTMAS TIME"
Color: "Oh, no you don't. Don't start with me." thinking: I'm going to straight up bitch slap this dude one of these days.
Oh yeah, Olmos with the slam. Temple down by 4!?!?!
14:45: Pendergraph says 'I can do that too, except cooler and with more flare'. He flushes it down. Temple down 6. The problem is, no one else can score but Christmas. I think I highlighted this flaw in my tournament capsule. Christmas has 19, the next highest Owl is Olmos with 6.
COMMERCIAL: Great transition back to the game CBS. Is a 7 year old running your replays? Or at least Kige Ramsey? Jeff Pendergraph is absolutely tearing the Temple frontline apart.
13:44: James Harden just fouled Christmas as the Owl was taking a 3 pointer. Harden has 2 points. Um, isn't he supposed to be super good? Rock You Like An Iracane said he reminded him of Gilbert Arenas. Maybe Rock doesn't think Gilbert is very good.
Travis Halfner the Man: Question - I have 61 minutes until I can leave the dungeon that is my cubicle. What can I do to kill the time without actually having to work?
A. Read my shit.
COMMERCIAL BREAK: Glasser's in pain. Looks like assaulting him was a good decision.
11:45: Harden travels. Guess he wants to play like LeBron James. Unfortunately, that is not his name so it doesn't work quite as well.
10:23: Kuksis gets that 'ole shooters roll. Olmos answers with the ugliest jump hook I've ever seen. That's the Rosie O'Donnell of post moves right there.
Samer Ocho Cinco: Kill one fuck one marry one:
Paul Rudd, Jason Bateman, and Nathan Fillion.
A. Who do you think I am? John Amaechi?
Haven't you heard this is a no homo zone. If you're talking with a lisp then your cover's blown.
9:20: Pendergraph is a monster man. Olmos is quite terrified.
8:00: Harden's 0/6 with 2 points in his first tourney game. You hear that? That's his draft stock splattering into a million pieces.
6:49: Temple's actually playing well, down by 3. Dionte Christmas' soul has been taken over by Michael Jordan. MJ has nothing better to do.
"It's starting to look a lot like Christmas" -PBP guy
Someone needs to tase that fool.
6:26: This game has started to heat up. The PBP guy just said, after a Christmas foul, "That'll be a Christmas gift, Jimmy." Who do you think you are, Candace Parker Sec-
never mind.
5:23: Unfortunately, there have been no goofy white man backflip dunks. I am slightly saddened by this. But we still have time. Maybe Olmos can make some Sportscenter magic. Also, Harden still hasn't made a field goal. He's turned into Bo Outlaw.
4:00: Harden makes a three. This is not a good sign for the Owls. SLAMALAMADINGDONG by Ryan Brooks.
Brazil Thrill: Wouldn't this game be a lot cooler if ASU had a white point guard named Jerome Kwanzaa?
A. Very much so.
3:20: Arizona State is up by 7. James Harden has finally shot out of the sucky funk he was in. Now let's see if the other cold invidual, Semaj Inge, can make a free throw. Did you know his name is James spelled backwards!!!?!?!?11!!!?!!! On another note, the Philadelphia Inquirer reports that his parents may have thinking problems.
2:33: James Harden is at the line again. He's scored the last 7. He also has a really sweet beard.
2:18: Pendergraph has picked up his 4th foul. Maybe he should tone down the Beast Mode.
1:39: Harden takes a horrendous jump shot that could have come off the fingers of Ben Wallace. Too bad Temple can't rebound. Temple down 5.
58.5: Temple's pissing the game away. CAN YOU FEEL THE EXCITEMENT!?!?!? Harden misses the front end of a one and one. Maybe he has a concussion.
39.7: It's fouling time. Glasser's at the line though, and he sinks both. Temple failed in killing him, by the way. Temple can't make a layup, ASU ball.
27.1: Temple's down by 7 with little time remaining. Say good bye to Christmas, Owls fans. That is not a pun, I swear.
24.8: This game's almost over why not watch some youtube videos?
Thank you Coolhwhip for the vids.
FINAL: Arizona State University defeats the Temple Owls 66-57 and another 6 seed has prevailed over an upstart 11. The Dionte Christmas era for Temple University is over. Next up for ASU is a 3-6 matchup with the Syracuse Orange. This is Shakey for Deadspin Sports signing off. I love you all.
Remember to check out The Rookies. We don't bite.
Oh yeah, I also have to answer Piniellas Pinata's question.
Piniellas Pinata: Question: How many bukkakke videos did you have to make with Sussman to get this live-blog?
A. It's a 2 year contract with an option for a third year. 2 videos a month.
Bye folks.