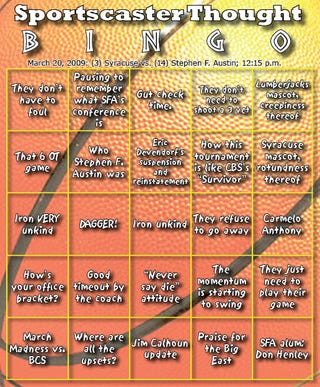 Your live blogger for this game will be Steve Krakauer of Mediabistro's TVNewser. No, I did not offer this game to him in exchange for a profile story.
Five years ago today, the Syracuse Orange (not "men") won their last NCAA tournament game. For the program of Derrick Coleman, John Wallace and Carmelo Anthony, that's a long time. And for an alum like myself who has only seen 'Cuse play in the NIT since graduation, this game means a lot more than a usual 3-14 matchup.
Before we get to the games, a quick word about me. I'm an editor at TVNewser.com, writing about non-sports. But we have a bracket pool too – Wolf Blitzer is involved! That's sort of how we roll.
But on to the Orange and the Lumberjacks. Syracuse is led by potential lottery pick Jonny Flynn, who was the Big East Tourney's MVP despite losing in the finals. But the person everyone loves to hate is Eric Devendorf, who is a Gerry disciple and has a bum ACL. And, oh yeah, he may or may not have hit a girl in the face. Here's "Unforced Eric."
And then there's Stephen F. Austin. Their campus is in Nacogdoches, Texas. It's their first year in the tournament. They're the 2nd ranked team in scoring defense. And their starting point guard is 5'3'' "on a good day." Onto the live blog...
—-—-—-—-—-—-—-—-—-—-—-
2:09: Ian Eagle: "It wasn't pretty, but Syracuse is on to the 2nd round." So true. 59-44 final score. They just barely covered! Thanks for checking out the live blog...good to be here. As long as they can stop turning it over every other minute and stop the flu that's apparently going through the entire team, Syracuse should be ready to take on ASU/Temple next round.
2:08: During the 6 OT game, Syracuse had 16 turnovers. Today, they have 21. Maybe SFA are just better defenders than those UConn guys. Or something.
2:06: Rick Jackson just can't end this game without one more turnover. SFA hits a three just so they can have more than Syracuse. One more turnover for 'Cuse? Sounds good. 59-42, 39 seconds left.
2:02: Hey look, North Dakota St. may beat Kansas. I had that in my bracket. That game is close and exciting. This isn't. But hey, Kris Joseph just hit SU's 2nd three-pointer! It's 59-39 with 2:25 left.
1:59: Eagle: "The body language for Syracuse...(long pause)...not where they'd expect it to be, for a first round match up." Yes, that's an understatement. Devendorf turns it over again, as the under four minute time out hits. Now would be the time to bring up the six OT game and how they're probably tired, announcers.
1:57: The "Jacks" cheerleaders are probably having a little too good of a time for being down by 17. Syracuse is up 56-37, but can't be happy with how things are going in the 2nd half. It's getting ugly out there. Someone needs to flip a guy over his head.
1:54: 16 turnovers now for Syracuse. Boeheim looks dumbfounded and Ongenaet, sitting next to him, tries to seem interested (despite "flu like symptoms").
1:51: The senior citizen, Akpan, now has 12 for SFA, but his teammates aren't contributing. 56-47, seven minutes remaining.
1:48: Well, after five years without a win in the NCAA tournament, Syracuse is headed toward one today. That last win was a 2nd round victory over Maryland, before they ended up losing in the Sweet 16 to a weak Alabama team. Since then it was first round losses to Vermont, Texas A&M and then some NIT action.
1:45: It took awhile, but Eagle finally tells "who is Stephen F. Austin?" He's "widely considered the father of Texas." Syracuse can't make threes either, although Devendorf almost does, but his toe was on the line. 54-35, 8:30 left.
1:42: Wow. 11-0 run by SFA, before Flynn ends it with a great ball fake ("cupping and holding!" says Spanarkel) and drive to the hoop. Paul Harris has 14 rebounds.
1:40: After showing both mascots (and really, what the hell is SFA doing with that Lumberjack guy?), a funny comment from Eagle: "That's like a before-and-after for Jack LaLane." 50-33, 10:45 left. Jacks making a run.
1:38: As a side note, let's talk for a minute about the Duke Blue Devils. Apparently I needed to have gone to Duke for the comments section to start blowing up (which was great last night, by the way). And for those who hate Devendorf, is he REALLY more hateable than Paulus?
1:36: Apparently SFA power forward Nick Shaw had a game this year where he had 19 rebounds and zero points. That's fantastic, but, well, you need to score points to win. But now Syracuse is missing and it's 50-30, 12 left.
1:34: The Lumberjack's are 0-14 now from 3. They are forcing a few turnovers though. Just got Flynn to turn one over now. 50-26, 14 minutes left.
1:32: Rick Jackson scores again. This may be his best game of the year (probably helped by playing more since Ongenaet and his roommate have the flu together). 48-24, Syracuse.
1:31: Hey look, the Survivor's are playing basketball! It's like they're part of the tournament or something!
1:27: The only way SFA is going to score is by stealing the ball from Devedorf. Which they do again for the breakaway layup. Jonny Flynn just absolutely shakes off the little guy with a sweet ball fake and pull up jumper. It's 46-24, 'Cuse.
1:25: The second half begins much like the first — Onuaku scores three quick buckets. It's 44-22 with 18 minutes left in the game.
1:22 (Halftime): Currently on MMOD there's this beautiful sweeping helicopter shot of Miami. Why? Not sure, but it's better than that frantic coach on the MMOD halftime shows.
1:20 (Halftime): Let's take a peak at the Worldwide Leader in Syracuse/SFA live blogs. Pat Forde writes: "This looked like a bad matchup on paper — sketchy shooting team with a limited inside presence against big, zone-playing power — and it's lived down to expectations. Skittish Stephen F. Austin has missed layups, dropped sure alley-oops and generally failed in every way possible to get the ball in the basket agains (sic) Syracuse...Viewers are free to find another game to watch." Ouch.
1:14 (Halftime): Here's a video of the Syracuse players after practice yesterday. Devendorf talks about what he learned from "that experience" earlier this year, and talks about the song Georgetown fans made about him (which probably is NSFW).
1:10 (Halftime): Syracuse is led by Flynn and Jackson with 10 points each, and the team is shooting 62.5% from the field. Paul Harris has pulled down eight rebounds so far, and unlike the 10 players used by SFA, 'Cuse has used just six so far (plus Joseph for a second or two). Devendorf leads the team with four looks-of-confusion.
1:07 (Halftime): Let's take a look at the box score. First, Stephen F. Austin: They're 0-11 from 3 and shooting 27% overall. They're starters have made just four shots, but then there's super, duper senior, Benson Akpan, who's 4-4 off the bench.
1:03: Well we go to halftime with Syracuse missing shots, just like SFA. It's 38-22 at the half. For those who took the under and Syracuse, it's looking pretty good for you right now.
1:00: Eagle says the question coming out of the Big East tourney was: "Would Syracuse have anything left in the tank?" But really? Is there anyone who thought Syracuse wouldn't be able to muster some energy? Meanwhile, Kris Joseph enters the game for 'Cuse (freshman from Montreal), 'Cuse up 38-22 with 25 seconds left.
12:57: Well Eric Devendorf has now given up two turnovers to the 5'3'' (or, as Eagle said he was told by the school, more like 5'1'') guy, Eric Bell. It's not like SFA can then go and score, but it's still mildly embarrassing. But then again, so is Devendorf.
12:55: Since I only researched the starting 5 on SFA, had to go and find who their leading scorer is. For those who care, it's Benson Akpan, with eight points right now. 36-18, 'Cuse.
12:52: Syracuse is not very good at free throw shooting. They are 304th (yes, there are that many teams in DI) in the country, but it's mostly the fault of Arinze Onuaku and Jackson.
12:50: Syracuse is legitimately not even guarding SFA right now and they're still missing shots. Eagle says the last miss came because "he couldn't believe how wide open he was." Usually not a good excuse for a missed shot.
12:48: Ian Eagle describes watching a game on TV and a game on his computer, at the same time, as an "unbelievable smorgasbord." Glad he's so easily impressed. It's 27-14, 'Cuse.
12:45: Well it's gotten a bit closer — 24-12, Syracuse. Meanwhile, I've moved to MMOD while CBS is looking in at this North Dakota St.-Kansas close game.
12:43: Ian Eagle says Boeheim was "effusive when we talked to him about Jackson yesterday." This comment makes him laugh.
12:41: 20-6, Syracuse. For what it's worth, SFA has more rebounds than field goals. And Rick Jackson's starting to look like he's Thabeet.
12:39: Just to attempt to jinx this impending blowout, let's look to round 2. Syracuse would play the winner of Arizona St./Temple. Temple was a popular upset pick.
12:37: SFA just missed a breakaway layup. 18-4. Despite the fact Syracuse will likely play just six players for most of the game, they'll probably have their starters out by midway through the 2nd half.
12:36: Hey look, SFA has a field goal! It's from Josh Alexander...now they're 1-9 from the field. 14-4, Syracuse right now.
12:33 - Eagle says Ongenaet's roommate, the walk-on senior and fan of the jumping jack, Justin Thomas, can't even leave his hotel room because of the flu. What's going on down there in Miami?
12:29 - 10-2 Syracuse, and the Lumberjacks have still yet to make a field goal. That's now almost six minutes in. I'm torn — as a Cuse fan I want to see the win, but clearly this may not be the most interesting game (and...live blog) of the afternoon. CBS producers likely itching to get to a competitive game.
12:27 - Start the missed layup counter for Paul Harris — taking place even earlier than usual (before the 5 minute mark). For a detailed look at how Jim Boeheim constantly rips on Harris, click here.
12:24 - It's 8-2 at the first media time out. If all goes according to plan, this may not be the most exciting game of the afternoon. Quick announcer note: Ian Eagle/Jim Spanarkel (as noted by commenter Johninho).
12:22 - It's 6-2 with 16:40 in the first half, and SFA is 0-5 from the field. SFA is now playing a 27-year-old senior.
12:20 - Kristof Ongenaet is dealing with "flu like symptoms." Not sure if that means the scrappy guy from Belgium will not be playing at all.
12:18 - Apparently this is a "major step up in weight class" for SFA. They do start a >5'3'' point guard.
12:17 (Pregame) - For those who took "before the game even starts" for the first mention of the six OT game, you win.
12:15 (Pregame) - Lumberjack coach Danny Kaspar has a very...distinct look. Maybe like a washed up magician. Thoughts?
Pregame - For those who are into this sort of thing, the current line is Syracuse -12, over/under 132 and Syracuse is 17-14 ATS this year vs. SFA at 1-0.