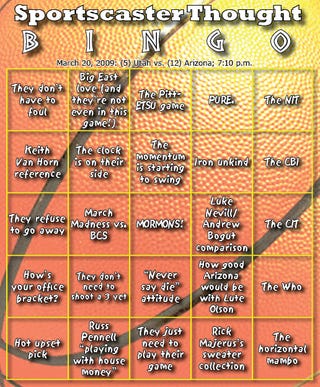 Your live blogger for this game will be Alex Resch, who contributed to KFFL. He is from Delaware and therefore is not betting on this game.
Hello everyone, I'd like to personally welcome all 10 of you without access to a TV or MMOD to the blog of Utah-Arizona. I, Alex Resch, will be your host for the evening. Just a quick background on me: I was a Hot Off the Wire analyst for KFFL.com for two years, and after writing for on a tight leash for a formulaic site, I would like to say… FUCK! Man, that felt great. Fucking great, some might say. Okay, enough of that. Currently, I write on occasion for The Review, the University of Delaware's school newspaper. And, since I'm not above a shameless plug, you guys should check out my upcoming fantasy baseball blog on The Review's website, udreview.com.
Quick thought about yesterday's action: excellent game between Memphis and Cal State Northridge yesterday had me shitting my pants on account of having Memphis in my title game. Nothing gets your heart rate going like having your entire month hinging on a lagging feed from a lack of internet connection in class. CBS' March Madness On Demand is on pace to rival fast food and the Philadelphia Eagles for most heart attacks caused.
Anyways, I'm sure you all know what has been going on to date, watching hours of basketball and maybe doing five minutes of work during halftime. Let's get to the preview of tonight's game.
Utah comes into town with 7'2" center Luke Nevill, a talented big man named Mountain West Conference Player of the Year, Defensive Player of the Year, and First Team All-Mountain West Conference. Nevill averaged 16.9 points, 9.1 rebounds and 2.7 blocks per game and has the ability to take over games. Guard Lawrence Borha was also named to Third Team All-Conference and the MWC's All-Defensive Team. The rest of the roster is talented as well, with forward Shaun Green named as the MWC's Sixth Man of the Year, and Green, and guards Luka Drca and Tyler Kepkay receiving honorable mention from the conference. Defenses are forced to pay heavy attention to the low-post play of Nevill, which frees up the guards to drain three-pointers. Borha and Green both shoot over 40 percent from three, and Drca and Kepkay have serious three-point range to boot. If the shooters are hot, this will be a tough team to beat.
Arizona, on the other hand, is a three-man show. Forward/center Jordan Hill has emerged this season as one of the nation's top players (Chad Ford on ESPN.com recently wrote he could be a top-five pick in the 2009 NBA Draft). He's been downright dominant, especially on offense, which makes for an intriguing matchup against Utah's Nevill. Forward Chase Budinger is a freak athletically and when he's not busy getting his face stomped, he makes a difference on the court. While his pro prospects aren't quite where they used to be, and he now is in the shadows of Hill's spotlight, he still averages 17.9 points and 6.3 rebounds a game and hits 41 percent from three-point range. Guard Nic Wise is also dangerous from three, hitting 42 percent from behind the arc, to go along with 15.1 points and 4.6 assists per game. Hill and Budinger were both named to the Pac-10 First Team All-Conference, and Wise earned Second Team honors. While these three players will give Utah a handful, no other player on the team averages more than seven points per game, and the bench is pretty thin.
It's a good matchup between the more team-oriented style employed by Utah against an Arizona teamed strapped firmly on the backs of three players. My gut tells me Utah wins, but the talent of the Wildcats' big three could certainly be enough to pull out the upset.
Quick thanks to Sussman, Daulerio and the rest of Deadspin for having me tonight. Let's enjoy the action and please, if you guys in the comments are going to do me like you did to the Dukie last night, lube up first.
PREGAME: I've got the jitters! I feel like I'm going on my first date with the Deadspin community. I might put out on the first date, but you have to buy me dinner first.
PREGAME: Notice how the Duke fan grabs the UNC fan's hand on the Sheraton commercial? What a homo! Right?
PREGAME: Damn, I was really hoping I'd get Gus Johnson tonight.
PREGAME: Drca is pronounced duh-rcha apparently. Let's see these guys have fun with that last name.
19:37 - Arizona comes out aggressive. Nic Wise gets fouled on a layup after a Jordan Hill rebound. And the free throw is good. 3-0 Arizona.
19:30 - Arizona is pressing and forces a travel right after the basket. Not a good first 30 seconds for Utah.
18:18 - Utah picks up a couple steals and Utah's Kim Tillie gets fouled and sent to the line. Makes both free throws, 4-3 Utah. Lots of foreigners on Utah. Lou Dobbs isn't happy about it.
17:15 - Hill backs down Nevill and is fouled on the play. Picks up one free throw and Arizona is up 6-4. This will be a good matchup to watch in the post.
16:53 - Budinger gets butter fingers and turns it over. Arizona's full-court press is giving up lots of open three point shots for Utah. Lucky for the Cats, the shots aren't falling yet.
16:22 - Nevill cleanly blocks Hill but the Cats rebound it. Budinger gets fouled by Nevill and now Nevill hits the bench with his second foul of the game. Utah could be in a little bit of trouble without their best player on the court.
15:36 - Hill picks up a dumb foul and we're heading to our first TV timeout. Let's enjoy some MMOD commercials!
Commercial - You would think with the amount of money it must take to get a commercial on the NCAA Tournament, the commercials wouldn't be garbage. You would think incorrectly. Thanks Cisco.
15:24 - Arizona is forcing the Utes to play uptempo and Utah can't handle the fast play. 10-4 Arizona after a three-pointer.
14:14 - Awesome steal and coast-to-coast layup by Arizona's Fogg. Utes call a timeout and are losing 12-4. They need to find a way to slow things down a bit.
Commercial - After being turned down by the Mavericks, Rome, Japan and every country on Earth, Milosh wants to play for Utah.
Commercial - Microsoft might think their software is usable by 90-year-olds, but my grandfather would put that theory to the test. You think they can teach a man who tries to keep meat fresh in a microwave how to use a computer? I think not.
13:55 - Another sloppy turnover for Utah. Are they aware this is a single-elimination tournament?
13:24 - Missed three-pointer by Utah and then turnover by Utah... I'm sensing a theme here. Utah is 1-for-8 for the game and Nevill is back in the game. A little bit of early desperation from the Utes.
12:03 - 16-6 Arizona. Nevill dunks it on offense, then gets a defensive rebound stripped on the other end by Budinger, who flew in from nowhere to get the rebound and layup. It's only a 10-point deficit, but Utah looks sloppy enough to be getting phone calls from Dion Phaneuf. Am I right, Sean Avery?
11:44 - 16-8 Arizona after a nice cut and layup by Brown for the Utes.
10:50 - Hill forces shot over Nevill and bricks.
10:15 - Borha decides against bricking another open three and opts for the patented "drive, spin-move, turnover" move these Utes seem to be so good at.
9:29 - Arizona's press forces a turnover before the Utes get it upcourt, and Wise hits a three for the Wildcats. 23-10 Arizona, and this one might be over before it even starts if Utah doesn't wake up.
8:26 - THREE!!! Green finally drains one for the Utes, but they're still back 10. 25-15 'Zona.
7:36 - Announcers tell me Utah has 11 turnovers already right as I'm thinking "How many turnovers do these scrubs have?" MMOD: Taking over your life and reading your mind.
Commercials - I feel like this game would be more entertaining with Gus Johnson. Then again, Gus just taught us that anything, including dinner, is more entertaining with Gus Johnson.
7:12 - Hill continues to have no success on Nevill. Kepkay knocks down a deuce and Utah is back 25-17.
6:43 - Arizona's Wise airballs a three. Is he auditioning for a Utes' scholarship or something?
6:16 - Nevill back off the court after a Budinger blocking foul. Now is the chance for UA to get Hill involved.
5:45 - Utah has already turned the ball over two more times than they did in the MVC championship. Way to step it up for the big stage guys.
4:39 - Hill uses some power down low with no Nevill on the court. 29-17 Arizona.
4:11 - Borha finally makes his first three from the left corner. He's 1-for-6 from three, let's see if that gets him going a bit. Arizona calls a timeout and is up 29-20.
3:40 - Borha drains a 3! Or a 2? Utah has thrown the red flag and the refs are reviewing the play. Looks like it was a three to me, but for right now it's ruled a two and the score is 29-22.
3:40 - And.... it's a three! 29-23 Arizona. Pretty nice camera work to get the final word.
3:12 - Hill again takes advantage of no Nevill and sinks an easy layup. 31-23 Zona.
2:43 - 3 in the key called on Hill while my roommate says "Take deez nuts in your mooouuuth" to no one in particular.
2:16 - Kepkay for three for the Utes! 31-26, they've cut the deficit to five and are heating up a bit from the arc.
1:50 - Following a Wise jumper, Utah's Borha settles for a three-point shot instead of attacking on a two-on-one fast break. Needless to say, the shot bricked.
:39.4 - It's 34-26 and Utah is still in a game they really have no business being in after how awful they've looked for most of the half.
:03 - Green nails a three with the clock running out and it's 34-29 Arizona.
Halftime - Budinger missed a three as the clock expired and the Wildcats only have a five point advantage after the first half. Really, that was the best case scenario for Arizona, as they got Nevill into foul trouble very early and Utah missed quite a few open three-pointers. It's a little disappointing for them to not have a bigger lead despite things going so well for them.
Halftime show - Kevin Willard, coach of Iona, has the worst on camera presence I've ever seen. How the hell did they find this guy to do the MMOD halftime show? He consistently has this look on his face like "Please don't ask me anything, pleeeeaasse don't ask me anything..... SHIT!" He looks so uncomfortable, like he has to fart but he's afraid to let it go because he might let a turtlehead go instead. Relax man, it's only millions of people watching.
Rant - While there's a break in the action, I'll share with you this nugget. My brother comes to me recently and wants me to join his fantasy baseball team since he hasn't played in awhile and doesn't know who's good anymore. Then today, he tells me he doesn't want to take Nick Markakis because he's never heard of the guy. Isn't that why you asked me to be on your team? That's right Jason Resch, you got served! Now the only way you can retaliate is to get a blog on Deadspin and defend yourself... I'll be waiting.
Halftime show - Did someone tell Kevin Willard that the only way viewers will listen to you is if you stick your elbows out as far as possible? Is anyone else bothered by this?
Halftime show - Does anyone else hope Sean Williams tries to get to the USC-BC game? Some serious comedy potential there.
Pre-second half thoughts - Utah has done well so far against Jordan Hill, even with their star big man spending most of the half on the bench. However, they need to figure out a way to stop Chase Budinger, who has 12 points. Arizona needs to get Hill involved offensively more and if I were Lute Ols— I meant, Russ Pennell, I would try to figure out how to limit the number of open threes Utah has been getting. It hasn't burned them yet, but only because Utah has been uncharacteristically off from behind the arc. I wouldn't bet on that trend continuing.
20:00 - And we're back! With Jim Spanarkel and Ian Eagle! Gus Johnson, oh how I miss you...
19:49 - That was quick, Utah turnover, Wise hits a layup. 36-29 Zona.
19:35 - This whole "Everyone wear Utah on the back of their jerseys!" might make for nice team camaraderie, but it's a pain in the ass for me.
19:05 - Hill finally gets the best of Nevill down low, 38-31 Zona.
18:27 - After a failed alley-oop attempt by Utah, Horn hits a three for Arizona. You would think Utah would just try to hit a shot before they start going Globetrotters with an alley-oop. 41-31 Zona.
17:05 - Kepkay hits a three for Utah, then the Wildcats get a layup at the other end from Budinger. 43-36 Zona. Zane Johnson (whitest name ever) picks up his third foul.
16:50 - SURPRISE!! Utah turnover on an attempted cross-court pass. Their coach Al Bundy isn't pleased.
16:20 - "Oh, reverse delivery from Wise!!!!" Thanks Mr. Spanarkel. 45-36 Zona.
16:10 - Utah turns it over before even inbounding the ball, then Nevill picks up his third foul on Jordan Hill. 46-36 Zona.
15:49 - Timeout. The Utes are looking just as ugly as they did in the first half. Thanks phillas for providing 4/9 of the comments so far. Since I have no other interest in the game, I'll pull for Utah for you.
15:49 - Russ Pennell played college ball with Scottie Pippen! If he played in college with Mike, I'd be interested.
15:15 - Nevill tips in a failed three attempt. 46-39 Zona. How have there been no Nevill/Bogut comparisons yet? Both big centers for Utah from Australia! Do I need to do your job for you Spanarkel!
14:38 - Budinger drives and Nevill gets his fourth foul! The risky play to keep Nevill on the court has clearly backfired and he hits the bench.
14:24 - "DENIED!!! He could not get there through the FOGG!!!" Utah's Kepkay blocked by Fogg and someone finally gets to take out the pun they've been saving up.
13:29 - 50-43 Zona and Utah's Kim Tillie picks up an easy dunk off an inbound after Jordan Hill's third foul. Timeout called by Pippen's old teammate.
Commercial - Guy eats almonds while skydiving! Then he catches the last one in his mouth and says "YEAH!!!" while giving you a DOUBLE THUMBS-UP so you know its EXTREME! Is this supposed to make me want to eat almonds? Or just catch things in my mouth that have been dropped from a plane?
13:00 - Okie silly dilly dokie-o. I'm an idiot.
12:28 - Jordan Hill dunks on the entire state of Utah while I have a sudden craving for almonds. 52-43 Zona.
11:45 - Nic Wise and Chase Budinger show Utah how to complete an alley-oop. The guy Budinger dunked over took out a pen and pad to take notes.
Commercial - I appreciate the gesture phillas, but you've already provided me with so much. Although if you're from Utah, you probably have one or two wives to spare.
11:29 - Nevill back on the court with four fouls after some Utah free throws. 56-46 Arizona.
10:45 - Nic Wise with an awesome floater for the Wildcats, followed by Nevill getting an easy layup at the other end for the Utes. 58-48 Zona.
9:48 - Nic Wise fouled and is on the ground in some pain in the mouth area. Utah got away with a foul that would have sent Nevill out for good. Wise took a 'bow to the grill and then landed on his face just for shits and giggles. Wise is on the sidelines getting some attention, replaced by Brendan Lavender.
8:15 - Wise re-enters the game and wastes no time with a "scoop to the hoop!" Wise has 20 so far. Borha hits a three for the Utes, then Wise answers back with his own three. 63-55 Zona. Not even giant elbows can stop Nic Wise!
7:18 - Utah's Green gets a steal and goes down court by himself with the announcer happily saying "This is gonna be a dunk!" He forgot Green is white, and was treated to a soft layup. 63-57 Zona.
Commercial - Beer man sees Southwest "Wanna Get Away?" commercial, laughs at people's misfortune, then spills entire case of beer on customers. Brilliant.
6:42 - Hill gets physical while the Utes' big man Nevill sits on the bench and earns a trip to the free throw line. He's been picking his spots more, and by that I mean, he's been waiting until Nevill is off the court to try to score. Hill goes 1-for-2 at the line and puts the Cats up 7.
5:12 - Nic Wise barely misses a circus layup that certainly would have made ESPN, then Budinger gets stripped before throwing down a monster dunk. Utah fouls for the eighth time and sends Hill to the line for a one-and-one. Hill misses the front end and Utah takes it the other way for a three! 64-62 Zona, and it feels like both teams are trying their hardest to not play in the next round.
4:32 - Jordan Hill auditions for the NBA with a monster putback after a Budinger missed layup. 66-62 Zona.
4:05 - Delay of game called on UA's Horn, proving delays of game aren't just for Eli Manning.
3:24 - Timeout Arizona. They're up 68-62, but they can't put Utah away. Pennell has Lute Olson on speed dial to see what to do after the timeout.
2:58 - Another break in the action. Zona goes up 70-62 on a Jordan Hill jumper off the inbound. Nevill gets fouled on a dunk attempt on the other end and will shoot free throws when the action resumes.
2:58 - The possession arrow is in favor of Utah, for anyone who was wondering. Utes have three timeouts and 10 fouls against, Arizona has two timeouts and eight fouls against.
2:58 - Joyce Nevill makes a "U" with her fingers while her son shoots free throws, and is promptly assaulted by University of Miami fans.
1:48 - Foul on Borha will send UA to the line in the double bonus. Arizona hits both free throws to take a 74-63. Zona is on a 10-1 run.
:51.9 - Hill takes a big dump on Utah's tourney run with an easy dunk. Nevill follows with a layup but this game is pretty much over. Zona is up 80-67 with under a minute to play.
:38 - Arizona's Horne dunks the ball and it pops back out of the net. The refs blow the whistle, and somehow the final ruling is Jordan Hill traveled, the basket didn't count, and it's Utah's ball.
:20 - Utah fouls, apparently unaware that the game is over. Arizona is up 82-71 and has silenced all critics saying they didn't belong in the tournament. At least until they get blown out by Wake in the next round.
GAME OVER - Arizona 84 - Utah 71
Nic Wise had 29 points, Budinger added 22 points and eight rebounds, and Jordan Hill got a double-double with 15 points and 12 boards. Luke Nevill, Utah's hyped big man, was held to only 12 points and six rebounds and Tyler Kepkay's 19 points weren't enough to keep Utah in the dance. Good game if you like watching sloppy play, lots of turnovers and missed shots. In other words, I hope for everyone's sake you were watching something else.
Thank you Deadspin once again for having me and thank you to phillas for keeping up with the game in the comments. And now, I'm going to stand up for the first time in 5 hours and hope my legs still function. Good night everyone!