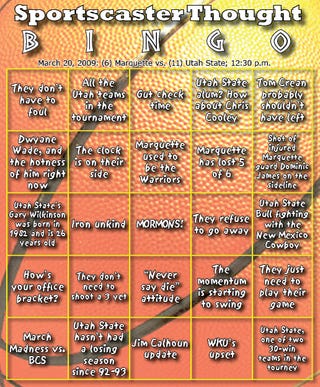 Your live blogger for this game will be the quaint Marquettian Christopher Cwik. As far as I'm told, he's no relation to the Nestlé family.
Like many of you, I lied about sleeping with Sussman's sister so that I could live blog a game for Deadspin. Keep in mind that I am a Marquette Senior and will probably cover this game as Leitch covered the Cards and AJ covers the Phils. Don't like that...I'm sorry. Let's get to it.
Marquette is in a free-fall heading into this game. The Golden Eagles have lost 5 of the last six games to close out the season after starting the season 9-0 in the Big East. The Golden Eagles collapse at the end of the season can be contributed to Senior PG, Dominic James, breaking his foot two minutes into the U-Conn game on February 25th. This ended his season as well as his Marquette career. Filling in for James will be 5' 8'' (give or take about 5 inches) Maurice Acker, who hasn't displayed the court awareness or game changing ability of James. However, James' injury has also had a profound effect on Senior (and All-Time leading scorer at Marquette) Jerel McNeal. McNeal hasn't been able to get open without James, and hasn't shot well since James' injury.
On the other side, the Utah State Aggies are looking to become one of the first teams to bust up a bracket this year. While Utah State is ranked as an 11th seed in the Tournament, they rank 25th in the nation (Marquette ranked 24) so this promises to be a close game. Utah State is led by Senior Gary Wilkinson who averages 17.1 PPG, shoots 58.6 from the field, and was born in 1982. Seriously, how do the Mormons do it? Anyway, Utah State won 30 games this year in the WAC and are led by a very grizzled veteran. The biggest question about this game: Will the Utah State mascot be allowed back on the sidelines? The answer, Hell Yes! After brawling with New Mexico's Pistol Pete, Big Blue was suspended for one game. Don't worry though, he will be patrolling the sidelines today.
Alright, that does it for now. Crack open a bottle of alcoh...or...soda and get ready to watch the game.
Pregame banter: Whenever CBS wants to throw me over to the Marquette game, we can actually start this.
Thanks, Mr. Gumbel. Let's get this thing started. I think now is as good a time as ever to mention that the Gumbels went to my high school. The more you know!
Is that a Tom Crean mention already? Mark it down on the Bingo card for those of you playing at home.
1st Half 19:17: Dominic James on the sideline. Do you already have a Bingo?
18:24 - Does anyone want to score? Hayward answers. 2-0 MU.
16:54 - Marquette's Dwight Burke has managed to draw an Offensive foul, allow an easy basket, and mishandle a ball already. We are only a few minutes in...
16:17 Hayward hits a three. Marquette leads 7-4. Hayward has all 7 MU points so far.
Commercial Break Now is a good time to mention that Marquette decided it would be a good idea to shave their heads for the game. Personally, I'm a fan of the playoff beard...to each their own.
15:42 Foul shots by Wilkinson and now I'm confused. High school dropout, 26, Mormon? What's happening here? How can he play? He hits one free throw 7-5 Marquette leads.
14:20 Finally, someone besides Hayward scores for Marquette. Jerel McNeal hits a 3. 13-7 MU.
14:18 Dwayne Wade reference. Mark it down!
13:02 So, Marquette decides to take out the guy with 10 points already. What's the strategy there?
12:11 Sounds like a pretty nice Aggies crowd showed up in Boise. Will they have the home team advantage?
Commercial Break As we head to the commercial, Marquette is out-rebounding Utah State 10-2. When the tallest player that sees the court is 6-8 and your team out-rebounds like that, good things tend to happen.

11:27 It's still early, but Wilkinson has been pretty quiet thus far. He must be worried about collecting his social security.
10:57 Ah yes, the old reach-around foul!
10:30 Wilkinson is alive. 13-9 MU.
9:36 Matthews answers Wilkinson and puts MU up 15-9.
9:03 Two free throws for McNeal 17-9 MU. Did they just thank D-Wade for bringing the Gold Medal to the US last Summer? I'm all for being Patriotic, but that was last year.
8:30 Overheard during the game: Marquette is playing Tenacious D. Where is the screen shot of Jack Black?
7:22 Let's take a TV timeout. Matthews hit a jumper to make it a 10 point lead for Marquette just before the commercial. Not a lot of offense from Utah State thus far. They are 0-5 from the 3 point line. Apparently, Marquette decided to play defense today. The early results are promising.

Commercial Break No comments on the game. Just proving that no one cares about anything from Utah or Wisconsin.
5:39 Utah State over-shoots there. They haven't been able to score in a while. Marquette leads 21-9.
5:15 Wilkinson answers with a jumper. Utah State is 2 for their last 11. 23-11 MU.

Commercial Break We are under 5 minutes in the 1st half. Marquette leads by 10. 23-13. Is it possible that half-time will be more exciting than the first half? Stay tuned.
Commercial Break I'm not sure how I feel about the Sonic commercials. Are they funny or are they just stupid? I open it up to the commenters.
4:05 Apparently, Hayward is making things difficult for Wilkinson because Hayward is capable of running around the court and Wilkinson can't move so fast without his walker.
Commercial Break Why am I watching a creepy Field of Dreams-esque NCAA commercial. So if a swimmer leaves a pool, they become a Doctor? Somehow, I find this notion less satisfying than Field of Dreams. I do appreciate the lack of Kevin Costner in the commercial though.
3:17 Marquette 4-4 from the line...way to jinx it. Marquette leads 26-13.
2:27 Aggies hit their first three in the game. David (Da-veed) Cubillan limps off the court. Interesting strategy by Buzz Williams...lets see if we can win without a PG.
2:00 A quick note about the 2 hour wait at the Milwaukee Sonic. If it's greasy or fried, and has cheese, Wisconsinites will come in flocks.
1:06 McNeal looks lost out there. Marquette is struggling towards the end of the half. 26-18 MU.
1:00 Wilkinson gets denied!
Halftime After the big fella misses a three, the game is in Halftime. Marquette still leads 26-18.

Question for the commenters: Where does Buzz Williams rank as far as famous people named Buzz? Let's run down the list.
Buzz Williams: Claim to fame- Guided Marquette to a 9-0 start in the Big East. Led them to the NCAA Tourney.
Buzz Aldrin: Claim to fame - Piloted Apollo 11.
Buzz Lightyear: Claim to fame - Went to infinity and beyond.
Buzz (The Honey Nut Cheerios Mascot): Claim to fame - Not having a retarded catchphrase like "Follow your nose" or "Tricks are for kids" or "Catch my Lucky Charms."
The choices are yours and yours alone.
Halftime Now would also be a good time to mention that my last name is Polish, not Swedish and is pronounced Swick. Kinda like stick, rhymes with dick...I know how much we all love our dick jokes around here.
Halftime Let's take a look at the stats. For MU, McNeal is 1-6 on FGs made and Matthews is 2-8. For USU, Jared Quayle is 4-7 and has 9 points. The big fella only has 5.
Halftime Son of a bitch...surprise Buzz entry. Buzz Bissinger: Claim to fame - Raped Leitch on live TV

Halftime For all of you Utah State fans, how about famous mormons?
Wilford Brimley: Claim to fame - Has diabetes. Sweet mustache.
Jon Heder: Claim to fame - Actually unsure on this one...was Napoleon Dynamite...
Ken Jennings: Claim to fame - Kicked ass on Jeopardy
Jacody Ellsbury: Claim to fame - Plays for the Bo-Sox. Hated by all Yankee fans.
This list is far from exhaustive...feel free to add your own submissions
Halftime How bout that Bolerjack?
2nd Half 18:54 "You can't match 3s with 2s." A simple math lesson for those of us who can't count. Thank you Mr. Wenzel.
17:32 Wow! Big dunk there by the Aggies. Marquette still leads but only by 4. 29-25. Where the hell does Jerel McNeal think he is right now?
16:32 Marquette really struggling at begin the second half. The Aggies fans are loud and on their feet. Aggies haven't held a lead today. Will that change? Aggies now down 1. Buzz Williams finally calls a timeout to stop the madness. 29-28 Marquette is slipping.

16:09 The Aggies have switched to a zone defense this half because they realized that only Hayward is capable to scoring today. He does it again and Marquette leads 31-28.

Commercial Break Alert Bill Simmons, THIS IS OUUUUUUUUUURRRRRRR COUNTRY!
15:15 The Aggies finally miss their first shot of the 2nd half. They also go back to man to man defense...yeah, that worked so well in the 1st half. Marquette leads 33-28. Hayward has 16.
13:12 Aggies playing some great D on that possession. Time for Marquette to start worrying. Wesley hits his fourth shot of the 2nd half and will go to the free throw line to tie it up. He does just that 33-33.
12:35 McNeal hits a circus shot and gets fouled on the play. He drains the free throw. MU leads 36-33.
12:09 When did Tai Wesley become Tyler Hansbrough? Down goes Wesley Matthews. Marquette up 1, but everything is looking down for them right now.
11:22 Tai Wesley is human. He commits his third foul there and we go to a commercial break.
Commercial Break What is this KGB madness? I can text any question to them and they will answer it. As a lazy man, I'm not sure why I haven't heard of this sooner.
11:01 Matthews gets back into the game for Marquette...and promptly gets his shot blocked.
10:12 Utah State is really making this a competitive game, but can't seem to get a lead. Hayward hits another 3, he has 19 points. Marquette up 4.
9:34 Matthews drains both free throws. Marquette leads 41-35.

Commercial Break Quayle hits a 3 to put Utah State down by 3. Question, does anyone actually watch 2 and a Half Men?
8:51 Jerel McNeal is playing like the NBA players in Space Jam after they lost their ability. I know McNeal is a great player, but he cannot be trusted to dribble at this point.
Commercial Break I cannot stand those stupid Nextel direct connect conversations. I don't really want to hear your conversation, you are not that important.
6:33 McNeal can't make the contested layup. He is now 2-13 shooting today.
5:27 Quayle hits a 3. Utah State takes their first lead of the game. Then, they hit another three 49-43 Utah State. The wheels are falling off for Marquette.
3:42 Marquette gets fouled down by 4. This game could get interesting in the last remaining minutes.
Commercial Break Taco Bell Ads while the game is being played at Taco Bell Arena? It's just all tacos all the time this morning. On a related note, I'm now hungry.
3:42 Matthews hits one free throw. 49-46 Utah State.
3:05 Matthews at the line again. Drains both. Marquette down 1. 49-48 Utah State. Who gets the game deciding shot for either team if it comes to that?
2:36 Down goes Wilkinson, I think the arena just shook. Hayward takes an off-balance shot and gets fouled. Marquette has a chance to take the lead again.
2:05 Marquette takes the 1 point lead. Wilkinson gets fouled. This one is going back and fourth. Jimmy Butler just fouled out for Marquette.
1:47 Wesley tells Hayward to get that shit out of here. Marquette ball, down 1.
1:37 Quayle fouls out. What the hell is happening here?
1:20 Marquette up 1, 52-51. CBS wants to show me Tennessee, I want CBS to fuck-off.
34.1 MU up by 3. Tai Wesley fouls out.

34 seconds remain Acker makes both free throws. Utah State needs to get desperate. Huge back off the glass for Utah State. 56-54 Marquette. This one is going down to the wire.

23 seconds remain A Marquette score here could put things out of reach.
18 seconds remain McNeal gets Pooh-ed on and will go to the line.
5.1 seconds Wilkinson tries for a three. Can't get it. Marquette gets fouled again. Hayward at the line up 3.
Final The last second three is not enough for Utah State. Marquette eeks this one out 58-57.
Next up, they face Missouri. Thanks for sticking around with me while blogging the game. It was a good time. Now go get drunk.