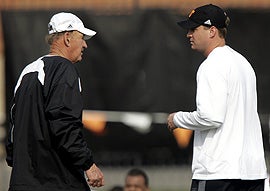 Lane Kiffin gave a rather lengthy interview with CBS Sports, where he attempted to make it perfectly clear that all that crazy behavior he's been engaged in lately is just part of his master plan.
All the bizarre recruiting stories—like the shirt ripping and the fake texting—plus all those insults to everyone in the SEC and those huge assistant contracts are just part of Kiffin's plan to get Tennessee's name in the paper. His theory is that when it comes to recruiting, there's no such thing as bad press.
It seems like the joke is on everybody else. Shortly before the spring presser, someone showed Kiffin a cell phone picture of one of his famous quotes now hanging in the Gators' new Heavener Football Complex.

"I'm really looking forward to embracing some of the great traditions at the University of Tennessee," Kiffin said the day he was hired, "for instance the Vol Walk, running through the T, singing Rocky Top all night long after we beat Florida next year. It will be a blast."

Glancing at the phone picture, the coach smiled and said, "Beautiful. Awesome. Wonderful. They even put our logo on it. Free advertising and we didn't have to pay for it."
I'm not sure how much "reach" advertising in the Florida locker room gets you, but I guess I see his point. Of course, the crux of this strategy depends on the fact that top players will want to play for a coach who seems a little off-kilter—and that the kind of player who seeks out instability and chaos is the kind of guy you want to recruit in the first place. I just can't believe this guy didn't fit in better with the Raiders...
Just Lane crazy? Actually, there's method to Kiffin's madness [CBS Sports]
Lane Kiffin boasts about success of Tennessee's topless recruiting [Atlanta Journal-Constitution]