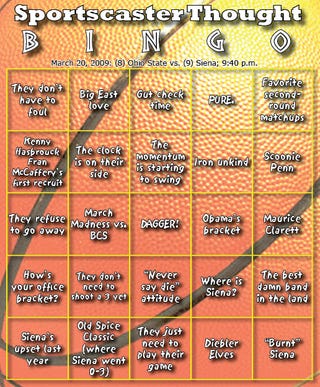 Your live blogger for this game will be young Kevin Whitaker, who blogs high school sports at the Albany Times-Union and said he wanted "an opportunity to swear more." Here's your fucking opportunity.
Ha, thanks for the introduction Suss, though I will disappoint you all from the start and say I'm not sure exactly how much I will take advantage of that opportunity. After all, I do have a reputation to uphold, and you never know who's watching. (Possibly being paranoid here, but my guess is most colleges I have active applications to aren't as appreciative of dead baby jokes as most of the Deadspin readership.) Anyways, I don't quite fit into the mold of your typical sports blogger. I'm not a 33-year-old male who lives with his parents, spends all his time surfing the internet and watching sports on TV and wishes he could play like they do...I'm actually a 17-year-old male who lives with his parents, spends all his time surfing the internet and watching sports on TV and wishes he could play like they do, which apparently makes it all cool.
So, let's do this thing. I live in the Albany area, so I'll be pulling for my hometown Siena, fulfilling the "without discretion" tenant of Deadspin. I may not be able to do the same work as the four people did at the last game in this region, but damn it, I'm going to try.
Siena went 26-7 and won the MAAC* regular-season title, then clinched the NCAA berth in its home building, the Times Union Center in Albany. Call it karmic justice if you will, but they now have to more or less go on the road and play Ohio State in Dayton; the Buckeyes went 22-9 and lost to Purdue in the Big 10 championship.
*The "M-A-A-C", according to Dick Vitale (he says each letter like that). I get why he does it, since the MAC has been more nationally relevant recently, but Albany-area fans might be able to back me up on this: They played a radio commercial locally for the MAAC tournament, which involved Vitale for some reason, and he still did his "M-A-A-C" thing, which annoyed the crap out of me...if you say "MAAC" (one word) around here, we're definitely thinking of the one with two a's.
You'll hear plenty tonight about Siena's nonconference schedule, which was brutal...they played Tennessee, Oklahoma State, Pitt, and Kansas, all on the road or neutral, though they lost all four games. You'll recall that this team beat Vanderbilt in the 4-13 game last year; Vandy was terribly overrated, but Siena has everybody back except for sixth man Tay Fisher (who did play a big part in that game).
A couple stark contrasts in this game. Siena plays at the 16th-fastest pace in the country, averaging 71.9 possessions per game, while Ohio State is #289 with 63.4. And, according to some neat graph I found yesterday, Siena is the most consistent team in the tourney, while OSU is the third-most inconsistent.
Siena tries to force the issue defensively to get into transition; they'll run off turnovers, missed baskets, made baskets, timeouts, and anything else they can. When forced to play a halfcourt game, they generally eschew playcalling and run a freewheeling motion offense. Ohio State's offensive philosophy is to have the player with the ball curl up in the fetal position for the first thirty seconds of the shot clock. At least that's what I'm told. Big 10 pace jokes aside (don't worry, there are more coming), OSU runs their entire offense through top scorer Evan Turner in crunch time, though he isn't their nominal point guard, and goes with four guys on the perimeter around first-team all-Atlas Dallas Lauderdale or B.J. Mullens.
Looks like I'm leading off among the late games...
For whatever it's worth, I picked Siena in my bracket, but mainly because I didn't want to be that guy who picked against the hometown team and was wrong. I probably would have picked OSU if I lived in any other region of the country.
18:52 More than a minute gone, and still only one possession for each team...good news for OSU. Neither team on the board yet after a shot clock violation.
18:23 A Ryan Rossiter putback for Siena opens the scoring; Rossiter is the one key guy that wasn't a big part of last year's team but has really broken out as a threat this season.
17:29 Siena finally gets to run, but Kenny Hasbrouck gets fouled before he can finish. One of two FTs give Siena a 3-2 lead.
17:00 Siena gets a rebound and pushes the ball up, but OSU gets guys back and turns it into a transition opportunitiy, which William Buford finishes with a vengeance.
16:15 Ouch, the Saints are just getting killed inside right now. They're not very deep inside, either, with hometown boy Josh Duell limited to probably just a small amount of playing time due to a partial tear in his calf.
14:05 Finally, Siena gets an outside shot to fall. OSU 8, Siena 8.
13:40 Someone should tell Siena that they're great in transition. Because right now they sure aren't looking like it.
13:40 Fun Fact: Ohio State does not have a senior on their roster.
13:40 Six minutes in and you can officially cross "Siena's upset last year" off your bingo card. I knew that was a gimme.
12:00 Ohio State also has a white big man who grew up in their area, B.J. Mullens. He gets an easy basket inside, and it's OSU 13, Siena 8.
10:43 Cleveland State's up ten on Wake already? Siena keeps missing shots (4/17 at this point)...
9:38 And cross off "Where is Siena?" as well. Another big difference between the teams: Siena is the smallest school (by enrollment), while OSU is second-largest. The game seems to be going that way right now too.
9:07 Sharpshooter Clarence Jackson, playing the role of Tay Fisher this year, hits a three, followed by a very tough and awkward shot by Rossiter that somehow falls. OSU 17, Siena 15.
7:59 Buckeye sighting. Very intimidating. At least a Saint Bernard could, like, jump on top of you and suffocate you, and stuff...
7:17 There is a lot of red in that arena. Um...CBS just cut away from the Siena game...do you know where you are? It's not even on the CBS2 that Time Warner gives me. They claim they're going back soon, but I'm loading up MMOD just in case (man, I love being a 21st century kid).
5:05 Thank you, Robert Greg Gumbel (no idea where that came from), for graciously sending me back to Dayton. One mysterious bucket for each team, but the way these teams are shooting, we could go away for the final five minutes and not miss much.
4:15 I have seen more missed dunks in this tournament than I can ever remember. These goshdarn kids these days ain't got no fundamentals! Lew Alcindor, now there was a REAL basketball player! Alex Franklin misses a putback off a missed Rossiter layup, and Siena misses a golden transition opportunity.
4:00 Alley-oop to Edwin Ubiles makes up for it somewhat. OSU 21, Siena 19.
3:03 One effect of Siena's transition game that does not show up directly in the box score: They're forcing OSU to get back early, and as a result the Buckeyes only have one offensive rebound. Of course, on the next possession, their second leads to a Jeremie Simmons three.
2:02 Ubiles misses a three-footer, but Simmons is called for traveling in the backcourt. The NCAA Tournament - where the best basketball players in the nation come to shine!
1:41 Yeah, I'd probably be asleep now if I didn't have a rooting interest in this game. Pretty sure most of you are over at the Cleveland St-Wake liveblog now (or, even better, actually out doing something).
1:10 Mullens scores, then Hasbrouck misses another shot right under the basket. Can't wait to see Siena's first-half shot chart - a row of X's in a three-foot circle around the basket.
:26 I know I'm not the first nor the last person to say this, but...can we please get a no-charge circle in the NCAA already? Like, yesterday?
Halftime: Ohio State 28, Siena 23. An absolutely ugly end-of-half possession for OSU...there's no way that the "by the book" strategy is the most effective one there, right? Like, whatever teams usually do, it never works. I think the halfcourt shot is just about as effective.
The Big 10 really needs to be excommunicated from college basketball...I'm blaming them for this slopfest just because it's easy. (Not like Siena's the one shooting 20ish percent or anything.)
One of the live-bloggers brought this up yesterday, and I regret that I cannot give credit where it's due because I'm too lazy...can Sonic please start opening up in the northeast? Like, I don't think there's one within ten hours of here. I know their food's probably crap, but damn it, I want to find out for myself, and they advertise all the freaking time.
I guess I've always taken this for granted, but Storming the Floor has this to say about the Saint Bernard:

Best Mascot: This one's not even fair. The nod easily goes to the Siena Saints, who boast perhaps the best logo in all college sports.
Really, 51 points? The over-under on this game was apparently 141.5 or thereabouts...well, we're almost a third of the way there. Maybe a 24-second shot clock is in order? Or, you know, a basket that's three times the normal size?
19:38 And we're back...Ubiles starts the half off with a made layup, giving us all hope that we might see some points in the second half.
19:09 Quick scoreboard check...Wake Forest is down nine, Wisconsin down twelve. Bracket-picking, I wish I knew how to quit you.
18:40 Lauderdale wide open for a dunk. Glad he didn't go to school where I live...if I were writing about him in high school, I can't imagine how many "putting his team on the map" puns people would have been subjected to.
17:33 Off-topic but...that Arizona win is really pissing me off. They didn't deserve to be in the tournament (lost five of their last six, 2-9 on the road with the wins over the worst teams in the league), so I picked against them out of spite, even though they're obviously more talented than Utah.
16:53 Buford hits a baseline jumper, and Ohio State has what I think is their biggest lead of the night. OSU 36, Siena 27.
16:25 Rossiter gets fouled twice on the floor on one possession, paving the way for Ubiles to hit a three. Hasbrouck's still been remarkably quiet.
16:25 Exciting news, according to this commercial: If you buy Degree deodorant, you can go 90 mph down the freeway the wrong way between two trucks on a shopping cart. Since we're still talking commercials (no idea how many of you are watching on TV or if you're seeing the same things I am), did everybody really hate that Polamalu/Joe Green commercial at the Super Bowl (just on again)? I thought it was kinda funny, better than you could say about most of them.
15:42 Important news from the CBS graphic people: "Eye of the Tiger" has been played 98 times so far this tournament. How badly would it suck to have that job? I guess it would be cool to be at the tournament and stuff, but if it means listening to twenty different bands play the same song a hundred times (and counting), it might be hard to swallow.
14:27 Turner hits a three, and all of a sudden it's OSU 41, Siena 30. This is getting out of control fast.
14:27 Does this count?
14:27 Siena's FG% has inched up to 29%. More importantly, they only have four points off turnovers (the plodding Buckeyes have 15). Hasbrouck jacks up an NBA three, which is, um, not exactly what the coach means when he says be patient. More like the opposite.
13:19 Ubiles on a break, nobody in front of him...and he misses a dunk spectacularly. CBS may have to dump the "One Shining Moment" this year and replace it with a blooper reel instead, to the tune of William Hung.
12:26 And yet, Siena's finding a way to come back somehow. Ronald Moore makes some fancy moves and finds Alex Franklin under the hoop; one of two free throws makes the score OSU 41, Siena 35.
11:37 Franklin cuts the lead to four with a tenacious drive, and OSU has got absolutely nothing going on offense right now.
11:12 I see OSU's trying to break the 7-0 run with their "pass the ball around 30 feet from the basket" play. Gutsy call. It ends somewhat predictably, with Turner forcing a shot late in the clock and missing.
10:39 Rossiter is wide open on the opposite block for about a decade, finally receives the pass from Franklin, and finishes to cut the lead to OSU 41, Siena 39. Saints force a turnover on the other end, and can tie or take the lead here.
9:40 DJ Hill hits a three to finally break the streak. Other scores, in case you're too lazy to click over to somewhere else: Wisconsin opened the second half on a 13-0 run to take a one-point lead over FSU, Cleveland State continues to have a nine-point lead on Wake, and Michigan State is running away with their game.
9:00 Hasbrouck drives but is called for a travel...sure hope he gets another chance, because this is not the way you want a senior as great as he has been to go out. Moore misses a layup in transition, may have been deflected.
8:10 But OSU seems determined to give them opportunities; a pass directly to Moore, who makes the uncontested layup this time, then a traveling call in the backcourt. Either way, Louisville is licking their chops right now.
7:45 Timeout. Score remains OSU 45, Siena 43.
6:39 Won't somebody please think of the children? Dumb travel by Hill as the game's lack of fundamental play is moving past humorous sportswriter cliche and into legitimately embarrassing territory.
4:55 Jon Diebler finally connects on a three-ball, this one from NBA range, and it's OSU 49, Siena 43. Hasbrouck misses a trey on the other end and Siena is called for a rebounding foul.
4:30 Siena needs a bucket here...and they go to Hasbrouck, who creates a midrange jumper from the wing and connects.
3:51 Moore finds Franklin with a sweet dish and finish to cut the lead to two...the basketball gods decide to smite Buford on the other end, as his shot goes in and out of the bucket.
2:55 Rossiter all alone inside...and we're tied! 49-all.
2:35 It's Turner time...the Buckeye star hits a pull-up jumper from the elbow to retake the lead. Moore misses a three on the other end. Neither team really wants to take this game, giving away just enough momentum at just the right moments.
1:51 After two free throws from Turner, Hasbrouck misses a shot from the baseline, but Ubiles is there to clean up. OSU 53, Siena 51.
1:20 Two more freebies for Turner after an odd foul by Moore, but Hasbrouck answers with one of his own. Rossiter and Hasbrouck fight with Buford for a loose ball after the second, but get charged with a questionable foul instead.
:56 One of two for Buford; bad possession for Siena on the other end. OSU ball with under a minute left; Buckeyes lead 56-52.
:47.0 Mullens misses two FTs for OSU. Hasbrouck finally connects with a three, fed by Ronald Moore, and yet again Siena's made things interesting. OSU 56, Siena 55.
:8.0 12-second difference between game and shot clocks...wonder who's taking this shot. Turner misses, Moore finds Hasbrouck on the other end, who is fouled hard. Biggest two free throws of his life.
:8.0 First shot...off the back iron. Seriously, no pressure. Second one is good, OSU has eight seconds to put the ball in the basket or else we're headed to overtime. Rooting for OT, but even if not we'll see the tourney's first legit buzzer beater, so we'll at least get an exciting ending to what has been a less-than-stellar game.
End 2nd Half: Siena sticks with the trap, which OSU hasn't been breaking quickly the entire game...Turner gets the ball on the wing, drives through a couple defenders, and actually gets a decent, albeit off-balance, look, but can't get the ball to fall. The ball winds up in Hill's hands with less than a second left and he gets off another shot, but doesn't connect and you're stuck with me for at least another five minutes.
Siena has to be feeling pretty good going into OT...they clearly have the momentum, Hasbrouck's finally starting to get hot (though he does have four fouls), and their press may be wearing OSU down.
4:42 Hasbrouck gets things started right, making a drive look easy. Saints have their first lead since the second minute of play. Siena 58, OSU 56.
3:44 Buford settles for a leaner instead of waiting for help in transition, but misses and Hill gets called for a rebounding foul; Rossiter hits both free throws. Four-point game.
3:09 Diebler hits his second three of the contest (2/10) to bring the Buckeyes within one. Rossiter called for his fourth foul chasing down a loose ball on the other end. Both free throws are good. OSU 61, Siena 60.
1:50 After a bunch of passing down low, Buford fouls Ubiles (his fourth). The junior makes both free throws to regain the lead. Siena 62, OSU 61.
1:40 Wisconsin and Florida State are going down to the wire as well right now. Wake is done, Michigan State won. Coverage just switched to the FSU game during the timeout, hopefully will go back.
1:20 Lob ball to Mullens on an inbound play, and OSU is back ahead. Hasbrouck stripped on the other end.
:30 Not sure of everything that happened, because CBS cut away to the Wisconsin game to see the last shot, only cut back about three seconds too soon (it wasn't good). OSU holds till the end of the shot clock (:14 difference), misses, but Mullens gets a huge rebound; Hill gets fouled with :9.1.
:9.1 Damn, this is intense. Basketball is the best.
End 1st OT: Hill hits both...but Moore takes the ball down the court, pulls up, and hits the three with :3.5 to play. Diebler actually gets off a good look from 28 feet or so on the other end, but the ball bounces off the inside rim. We're headed for (yet another) overtime. Damn Syracuse for cheapening this whole experience.
What a shot by Moore...now that's what this tournament is made of. First 2OT game since the first round in 07 (Vandy over Washington State), for those of you not watching CBS.
4:08 OT2: Neither team scores on their first possession. Ubiles drives for Siena and is fouled; he makes one but the Saints control the rebound.
3:43 Franklin in the post gets fouled (Turner's fourth). Hits two of two. Siena 68, OSU 65.
3:35 OSU's been doing some strange stuff to break the press, but over the past eight minutes or so, it's generally been working.
2:18 Ubiles and Hasbrouck both have opportunities to make it a two-possession game, but neither connects. Turner hits a big jumper on the other end when Ubiles gives him plenty of space...after plenty of deliberation, it's ruled a three.
1:40 Since CBS is taking me here...hell of a drive and shot in the Wisconsin game - bucket and one by Hughes with :2.0 to go up two.
:35 Missed a lot in the Siena game...bucket for each team (Ubiles for Siena, didn't see a replay of the OSU bucket). Hill called for a touch foul on Moore, who makes one. Siena 71, OSU 70.
:17 Turner with a huge, huge drive. 72-71.
3.9:McCaffrey lets his guys play, the ball ends up in Ronald Moore's hands with five seconds left, he shoots from beyond the arc again and...swish! Moore's second huge three at the end of an OT gives the Saints a two-point lead. Siena 74, OSU 72 (3.9 remaining)
End 2nd OT: Turner goes the length of the court and takes an off-balance 19-footer...hits off the rim. Siena is into the second round for the second time in as many years. Huge win for the program, huge night for Ronald Moore, and Ohio State has to feel bad about this one.
If you told the Buckeyes they could force Ronald Moore to hit two threes to win the game, they certainly would have taken that...Moore didn't hit a single trey in the four games before this one (and missed his first four tonight). But he came through when it counted, to say the least, and will be one of Saturday morning's biggest heroes. Certainly not a great game overall, but you can't complain about the way it ended.
For Ohio State...you were Big 10 tournament finalists, you're a power-conference team, and you held an 11-point lead on a mid-major in the second half, playing essentially at home. Siena could not make a shot early in the game, but OSU could never fully take advantage; each time it seemed they were close to ending the game they would let Siena get on a run. Good teams have to do better than that. They turned the ball over way too many times late in the game, and let the game go to overtime, where crazy things can happen.
On the other side...Siena goes almost on the road and beats a favored BCS squad. They played awfully in the first half, at least offensively, but for now they have to be considered right up there with the best mid-major schools after winning tourney games in consecutive years. They played from behind the whole game but fought back well, and got the right shots at the right time. They obviously won't beat Louisville playing like this, and probably won't no matter what, but I'm looking forward to seeing them try.
Guess I'm closing up shop here. Thanks to Suss for giving me this opportunity, and thanks to both teams for playing a very exciting game. If you enjoyed it, glad I could help, and if you didn't, screw off. Now, back to your regularly scheduled Deadspin...