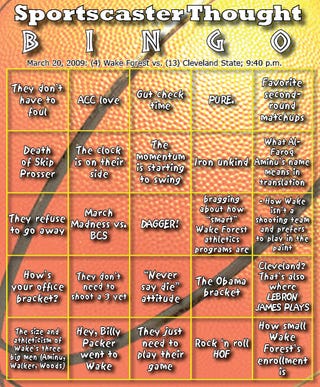 Your live bloggers for this game will be 3:10 to Joba. Like the actual Joba, he will be relieved halfway through by longtime Deadspin commenter chilltown.
(stumbles in)
Hey, Deadspin people. Sussman was kind enough to whore for my site already so I'll refrain from linking to my side project for the rest of the evening. Actually that's a total lie, expect many more references to my other projects on the interwebs because I need the page views to feel important. I'm with you throughout the first half and I promise that this will only be slightly less awkward than Cramer on The Daily Show.
I am a "licensed" commenter at this fine corner of the Internet, although I don't weigh in too often. I probably should start doing that, though, if for no other reason to alleviate a serious amount of stress on the servers of porn websites across the United States. So since you may not see me around these parts as often as some people, what is there to know about me? Well, I'm in college, I run a baseball blog as well as a contributor to another fine site that has been represented in these live blogs already yesterday and today. By my count, the whoring total is up to three and the game hasn't even started!
I'm going to take a page out of friend Shakey's book and answer any and all questions you might have for me during the course of this game. Ask away, folks, and believe me when I say that there are no limits because this night can only be a success if my lawyer is totally exasperated with me by tomorrow morning.
As Sussman also mentioned, I'm only with you for the first half of tonight's action so that Chilltown could get in on the fiasco as well. You'll be made well aware when the switch is made, most likely by my incoherent sobbing. We've got limited time, but I'll try to be fun. As a wise man once said, "Let's let these ponies roam." I'll be updating from the top down. All times are Eastern. Get some!
*************************
9:38 - Tip time is at 9:51, so get those brack, oh wait.

9:51 - Just the tip, Vikings win it.
9:52 - Vikes open with a 3 right off the bat, Wake turnover and then a TRAVELING CALL on the Vikes? Can that be right? They do that? Oh right, it's not Duke...zing!
9:55 - Cleveland buries 2 threes, and it's already 9-0. Upset alert!
9:56 - Jeff Teague gets rejected hard by some dude from the "Horizon Conference." If you can name 4 other teams in the Horizon Conference without cheating, you have no life.

10:00 - First TV timeout, it's 14-4 in favor of the team that shouldn't be winning. In other news, Howie Long still makes me want to buy fewer cars.
10:03 - Our nameless commentators are bringing a lot of enthusiasm. "Drives to the bucket. Doesn't get it." Read that as if you were giving a eulogy and you've got it down.
10:07 - Fun fact about Wake Forest big man Chas McFarland, yes his parents are huge tools for spelling his name that way. According to his biography, he is from Illinois. Leitch-gasm! He also said he chose Wake Forest because he liked the Winston-Salem area. You tell me when that doesn't sound like utter horseshit.
10:12 - Question from the irascible Pini3llasPinata: We've all heard Posada pisses on his hands. When you're giving him his daily rimjob, does he also piss on you, a la R. Kelly? .
He sadly won't return my phone calls, I've never had the privilege. Wake still losing as we go into a commercial break on a goaltending call. This might not be the best game of the night, but goddamnit, we will have the sloppiest.
10:16 - Our announcers are showing their genius, Wake Forest's Ishmael Smith's nickname is "Ish." Oh you slay me, as some guy with a name I can't spell buries ANOTHER three. It's now 27-12. Wake can get nothing going on offense. They also said the Vikings are "sailing" as we go to a commercial. Let The Lonely Island jokes commence!
10:20 - COMMERCIAL GAITY: Showing erectile dysfunction medication commercials during a college game... Logical disconnect much?
10:22- Question from Samer Ocho Cinco: Samer Ocho Cinco: great blogger or the greatest blogger?
If you want an ego boost, go hire a hooker.
10:23 - "Cleveland State is making a STATEment!" CBS announcers got puns, yo. How was this not on the Bingo? By the way, you could easily have Bingo right now.
10:28 - Wake Forest senior Harvey Hale has checked in. This may be a white flag. 37-23, Vikes, as Johnson on Wake buries a three.
10:31 - COMMERCIAL UPDATE: Buy Resident Evil 5. Slogan:" Release your inner KKK and kill some black guys... but they're zombies so it's not racist!"
10:35 - Pun total: 3. Add a "Cleveland Rocks!" and a "Cedric the Entertainer" reference. Be still my beating heart. Wake cuts it to 11 as Cleveland State calls a timeout to remind themselves that they really are beating a 4 seed handily.
10:40 - We're under a minute. Announcers are commenting about the pursuit of loose balls by seniors. Eh, you can fill the joke out yourself. Big three from Johnson to cut it to 39-30 to end the half. It ends with a wild heave.
10:45 - Alright folks, I'm out for the evening. Time to go support my team. I go to the losing school, in case you didn't realize. Thanks for having me and check me out at my other site if you feel like being particularly masochistic one day. Let's do this again sometime. Don't call me, I'll call you. This ship is now in the hands of Chilltown. Do try to contain your celebrations, I have such delicate sensibilities.
10:48- What's up, fellow Spinners? This is Co-pilot Chilltown stepping to the controls. Hopefully this flight ends better than those piloted by Frank Lapidus. The story of the first half? Wake's awful defense. J'Nathan Bullock has been living up to his last name, backing down his smaller guard defenders and scoring at will for Cleveland State. Apparently word has not yet reached Dino Gaudio of the new innovation of double teams.
10:51- Interestingly, two of the worst three-point shooting teams in the country (252nd and 276th, respectively) have combined to shoot very well from behind the arc. In fact, Wake's three-point shooting helped them cut the Viking lead to single digits.
10:57- The other story of the first half? The awful announcing (no pun intended). The internet tells me (since they sure didn't) that its Ian Eagle and Jim Spanarkel. Boy have they sucked.
11:00- COMMERCIAL UPDATE: What I really want out of my deoderant is a smell that will send me in a shopping cart onto the freeway. Congratulations, Degree, you win my business!
11:07- The second half begins the same way as the first, Wake Turnover (number 11), J'Nathan Bullock beating a Deacon defender down low.
11:10- For a Wake team that relies on transition buckets, the 17-0 points off of turnovers stat tells the story behind the 47-39 deficit. And to answer Sex Fabregas, its a combination of terrible defending, poor managing, a rotating door of forwards, and transitioning into a new team. Its very frustrating, but unsurprising. Hey, maybe we win the UEFA Cup.
11:15- James Johnson single-handedly keeping Wake in this game, but Wake turns it over yet again. 49-42 Vikes.
11:19- A block on the 3-point line gets a "that just happened!" from the announcers. The only thing more hackneyed? Boom goes the dynamite. Expect that soon. 53-44 Cleveland St. Spanarkel's new nickname for Cedric Jackson? "Action Jackson". I know its the 4th game of the day guys, but come on.
11:26- Wake switches to 1-3-1 zone, announcers switch to yelling. Both are ineffective. 60-51 Vikings.
11:30- Not a good time for Wake to go cold from three (or, as it should be called, revert to expected average).
11:33- Another Wake turnover. 15 point lead for Cleveland State. This is reminiscent of Siena Vandy last year.
11:37- Wake finally gets its first points off of turnovers with 6 minutes left in the game. Too little too late? Looks that way.
11:40- Go watch the end of Ohio St-Siena. I'll still be here. J'Nathan Bullock gets the and-1 to go up 14 under 5 minutes left.
11:45- Cleveland St. hits the under-4 timeout up 15. Chilltown writes game over in notebook, then slaps himself for using TMQ gimmick
11:49- Cleveland St is not folding, and is in fact extending their lead out to 17. Cedric Jackson and J'Nathan Bullock have simply outworked a sloppy and disinterested Wake Forest team tonight. Looks like at least 1 double-digit seed (Arizona or Cleveland St) will make the Sweet 16.
11:53- NOW Teague decides to drive at will. This makes no sense at all.
11:57- Wake has decided to draw this game out by fouling from 3 minutes left. Hint: its not working. Vikings up 16. Screw you Dino Gaudio, I want to watch other games! Aw, screw it, I'm doing it anyways.
12:01- And Cleveland St. takes it, 84-69! It wasn't even that close. Wake was that flat, and the Vikes played that well. Thanks a lot for having me and Joba tonight. Enjoy the other overtime games. Chilltown, out.