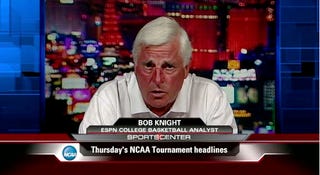 So that's it for the first 75% of today's NCAA not-so-craziness. Sussman told me can't type any sentence that doesn't fit onto a bingo card and he's beginning to hallucinate.
Please stick around later and remind him that, no, Matt, Greg Gumbel is not speaking Spanish and did not just rip off his own face. Take care of him.
Thanks for suffering through this tortuous last couple days with us. Back to normal on Monday.
Tomorrow: Pete Gaines will be your dancing monkey.
Sunday: The Molson Golden typing motion of Gourmet Spud.
Thank you for your continued support of Deadspin and Little Miss Broward County.