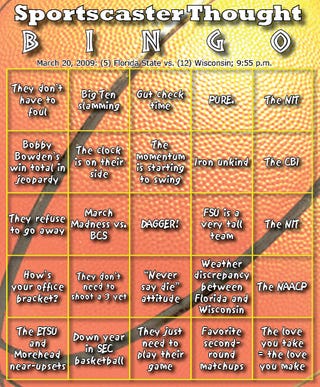 Your live blogger for this game will be former part-time Wisconsonite Nick Pazoles, who tweets in his spare time. Don't we all?
Pre-game: This is the last of the always exciting 5 vs. 12 seed games which have become the perennial upset game. The 5 seeds are 1-2 so far, so another upset is possible. The stat is that at least one 12 seed has one in 9 straight years.
Florida St. went into the ACC Tournament seeded 4th and pulled off an upset of top seeded North Carolina to advance to the finals, where Duke topped them by 10. Senior guard Toney Douglas was named to the all tourney 1st team and freshman center Solomon Alabi was named to the 2nd team. Florida St. finished 4th in the ACC (25-9, 10-6).
Wisconsin also go the 4th seed in their conference tournament but were beaten in their first game by 5th seeded Ohio St. They are coached by Bo Ryan, who is in his 8th year as head coach in Madison. Ryan has been to the tournament every year at Wisconsin, winning at least one game in all but one of those trips.
Ryan may be the difference in this one. These teams are separated by 30 spots in ESPN's RPI so the 5 and 12 seeds don't seem that far fetched. But Ryan is a good coach and will have his guys prepared to play.
More Pregame: So I don't yet know if we are rolling with Comcast or CBSSports.com for this game. Not sure what they are going to show in Chicago. Looks like we will get the Badgers.
Winner plays Xavier on Sunday. The requisite 3 white guys for Wisconsin in the starting lineup. I have been informed that no #12 won in 2007. Not sure if that is true.
Craig Bolderjack and Wenzel are doing this game. Yea I have no fucking idea either.
Final - 61-59 is the final. Madison is going to be rocking tonight. Fish Bowls at Wando's!!!! Great 2nd half by the Badgers. Good coaching gets you far, almost remember that when filling out your bracket. See you all in the next round.
0:00 - Baseball pass not completed! Badgers win! Wow! Ended with being an exciting game. And the Big 10 win again. Thanks for joining us!
0:02 - BTW, we all know Douglas is taking the last shot, right?
0:02 - Trevon Hughes gets the call. Drives the lane and makes a sweet shot after a spin move AND ONE!!!!! Badgers get the free throw, up 61-59. Timeout Noles!!
0:07 - Douglas bricks a dagger 3. Badgers get the rebound and break the other way, Bohannon jacks up a 3 but Bo called a timeout. The shot went in too!!! Ouch. Badgers are down one with the ball. I like their chances. It could go to anyone on this play.
0:47 - Great back door pass and a quick layup. That was a set play out of the timeout. FSU will run it down.
1:02 - FSU finally wises up and gives the ball to Douglas. He buries the 3. He has a game high 26. Badgers take a timeout. It will be interesting to see what the do here. They aren't a go to the hoop kind of team so I expect them to go for a three.
1:20 - FSU travels. The Badgers slow it down. Miss the shot as shot clock winds down. Still tied.
2:30 - Another FSU foul. Some awful free throw shooting by Wisconsin. One trickles in. Tied again.
2:53 - FSU gets down in the low block and scores to take the lead by 1.
3:29 - Siena and tOSU just went to OT #2. The Big Ten is going crazy!!!! Is anyone still awake for these games? FSU gets the basket to cut it to one. Badgers airball a jumper. 44-54 Badgers.
4:19 - Bohannon with a quick 3 to start OT. FSU is still going with three guards and Wenzel let's us know for the 100th time tonight. FSU foul. Badgers up 2 and shooting free throws.
End of Regulation
0:00 - Jordan Taylor misses the jumper with 2 to go and we head to OT!!!!! I don't know if that's a good thing or not.
0:17 - Douglas made both free throws. Tied at 52!!!!!!!! Badgers take a time out and will hold for the last shot.
0:36 -Badgers are 7 of 13 in the 2nd half from downtown. That is how you do it I guess. Douglas gets fouled going to the hoop. Free throw time.
0:45 - Bohannon for 3 with 1 on the shot clock!!! He was way outside, I don't know how he go that off. Badgers 52, Noles 50. TO for the Noles. The white guys have come to play!
1:29 - Kitchen left his feet and tried to call a timeout as he was going out of bounds. They call him for traveling. Wenzel says this was the right call by "new" rules. Whatver. Nonsense. Badger ball, down 1.
1:54 - The Badgers hit another 3, their 7th of the night. Noles answer with a bucket. 50-49 FSU.
2:51 - Douglas draws the foul and hits two free throws. Wisconsin subs white guy for white guy.
3:12 -Wenzel just said "if you like defense, you will like this game." Apparently he equates crappy shooting with good defense. Hughes responds with a trey. Tied at 46. We got ourselves a game.
3:48 - MMOD is getting crappy. So much buffering. WTF? How many people could be watching this shitty game right now. I just lowered the quality. Let's see if it helps. Hughes finally hits a free throw. Two actually. 46-43 'Noles.
3:49 - Under 4 timeout. FSU is up 46-41. 100 is no longer looking like a lock. Sienna is at the line for the go ahead with 8 seconds left.
4:38 - Chris Singleton just hit a jumper for FSU. First points by anyone since 8:28!! 4 minutes!!! What a crapfest.
5:00 - There is a guy on FSU named Uche Echefu. It's like I just banged on random keys but that is actually his name. Trevon Hughes misses two free throw. Still 44-39.
5:43 - Timeout FSU. Badgers look tired. Douglas could take this game over and put it away if he wants. The commercials on MMOD are even worse than TV. In the meantime, read this to get a feeling for Big Ten Country (NSFW) http://www.thesmokinggun.com/archive/years/2009/0318091dog1.html
6:07 - In case you were wondering, Michigan St. and Cleveland St. are both in control. Biggest upset of the first round comes on one of the last games. tOSU up 4 with under 2 minutes left. Meanwhile, our game has screeched to a crawl. Still 44-39 'Noles.
Commercial - I just saw that Nike Illinois ad for at least the 19th time during this game. Even I am sick of it. By the way, we have moved over to MMOD.
7:34 - Under 8 timeout. Same score. This game is pretty close. We should break 100 too. Neither team really deserves to win. I am so spoiled since I usually watch sports on a 20 minute or so delay I usually don't see commercials. I can't believe how many just repeat over and over. Miller Lite and Resident Evil 5 for like the 10th time each.
8:14 - I am anticipating them cutting over to Ohio St./Siena shortly, so we will have to move to MMOD. Badgers get first basket in a while. 44-39 'Noles. Marcus Landy's goggles do nothing!
9:18 - Toney Douglas has put the 'Nole up by 7. He is taking over this game. He has 19. The power of a star in this tournament should not be overlooked.
11:14 - There are a lot of empty seats. I mean It's only 8:30 or 9:30 there. How many other things could there be to do in Boise right now? FSU makes free throws. They lead 39-37. Mich St. is rolling. Paulas must be having a blast live blogging that.
Commercial - I have to admit, I do like the Nike commercial with the cop in Illinois giving the car a ticket for 1 MPH over because they have a Tarheels sticker. Then the flashback of UNC beating Illinois in 2005, which was by the way, my best sports year ever.
Cleveland St. - Is still up 9! I guess we knew that we needed a 13 seed to pull an upset. Wake Forest seemed like a trendy pick though.
11:47 - Badgers got blocked twice on same possession and still scored. Tenacious white guys! 37-35 Badgers, under 12 timeout.
12:36 - Both teams are playing a bit out of control. FSU freshman Luke Loucks is down with an injury. His left arm. Turnovers and offensive fouls the last couple trips. Loucks is in a lot of pain.
13:01 - In case you aren't watching, this crowd is pretty mediocre. It has to be a bitch to get to Boise from anywhere. It seems like a pro-Wisconsin crowd. You would think after an 11 year drought that FSU would travel better. Although maybe they just assume they will forfeit the wins in 5 years anyway. 35 all after a Badger 3.
13:51 - The 'Noles get their first basket of the half to retake the lead after 13 straight points to start the game for the Badgers.
14:45 - 11-0 run for Badgers in the 2nd half. 31-30 'Noles. It's getting tight. Another FSU turnover.
15:56 - Under 16 timeout. All of the sudden it's a new game. Halftime turnarounds are usually the responsibility of the coach. And as I said before, Bo Ryan is a good coach. He must have passed on the cigs at halftime.
16:37 - I just found out that Toney Douglas is the brother of former Louisville and current Atlanta Falcon WR Harry Douglas. The Badgers are making a run after some sloppy FSU play. Just buried a 3 to make it 31-26 'Noles.
17:55 - FSU is giving new meaning to sloppy seconds. Douglas with the charge. Throwing up bricks. Badgers turn if right back over. This is how the first half started. Timeout.
18:54 - Xavier has to be sitting at home loving this game. I doubt they seem concerned about either team at this point. Krabbenhoft hits a 3!! The Badgers are alive.
20:00 - About ready for the 2nd half. The John Deere commercial seems like focused advertising. That's some nice work. A couple of FSU's cheerleaders looked over 30. WTF is that? Were is Jenn Sterger when you need her.
Halftime - The Badgers shot an atrocious 1 of 10 from three point land. Marcus Landry is their leading scorer with 6. No one has more than 2 boards. They are also shooting 26% from the field. FSU is shooting 50% from the field and 3 of 6 from outside. Douglas has 10 points. Kitchen has 6 boards. Michigan St. only has 9 less points than these two teams combined in the first half. Your nonathletic Badger stat of the half, 0 blocks to FSU's 3.
All joking aside, FSU has this game in control. Wisconsin will have to get hot from outside to have a chance. It's unlikely they will continue to shoot as bad as they are so the game isn't OVER. But as I said before, when you are a Big Ten team and can't hit a jumper, you are in trouble.
0:00 - Toney Douglas took a knee to the thigh. He sat out the last 30 seconds. Wisconsin needs to pull a Tonya Harding ASAP. 31-19 'Noles at halftime. Stats coming your way...
0:36 - Cleveland St. is up 9 at the half against Wake. Ohio St. is up 5 on Siena at the half. And we are stuck with this crapfest?
1:33 - Wisconsin is really not playing bad, they just can't make shots. That is what happens when you are a Big 10 team. You live and die by the jumper. FSU is up 29-19 and really extending this lead before halftime.
2:33 - Another timeout. This is the under 4 TV TO. Bo Ryan is going to go for a whole pack of cigs at halftime. I think Toney Clemons said before the game that he was glad this game was in Idaho, because the only way he would sleep with a Wisconsin female is if she was wearing a potato sack over her head. *whew* finally got that Idaho joke in....and it sucked
3:02 - Timeout. FSU is getting hot. Singleton hit a 3. 'Noles lead 26-19. Tomahawk chop going on.
3:23 - FSU has a guy with the last name Kitchen. That really isn't important. Both teams just exchanged baskets. 23-19 'Noles. We may break 100 yet!
4:56 - Wow, FSU player grabbed the defensive board, sprinted the other way past the entire Badger team, missed the layup and Xavier Gibson slammed it home. FSU is trying to get in a rhythm.
5:58 - This is FSU's first tourney appearance since 1998. Since then, they have had a Rhodes Scholar, the original MySpace Whore and Bobby Bowden's sons have run his good name into the ground. Oh yea, tied at 17.
7:06 - FSU has gone to a 3 guard lineup. They are just blowing by the white guys. I mean seriously, I am white. We are slow. The way to beat us to run by us. Although, against Wisconsin FSU could just hope that after a long winter of seeing Madison girl's post hibernation bodies that they might be distracted by the FSU cheerleaders. Under 8 TV timeout. Seminoles by 4. Badgers are 0 for 5 from downtown. If the Badgers aren't hitting threes the best they can hope for is a cheese curd eating contest.
7:24 - Man, if I see that stupid Domino's commercial with the CEO again I am gonna punch a hole in my TV where his face is. The Badgers grabbed a loose ball and called a timeout.
7:30 - Bo Ryan stepped out for a cig and the Badgers are slipping. Douglas hits a 3 and FSU has the lead for the first time tonight?
9:00 - Douglas gets his first FG on the best FSU possession of the night. 12-11 Badgers.
9:45 - Alabi looks good. He is a redshirt freshman and is leading FSU with 6. That guy could be a beast in the ACC next year.
10:30 - Toney Douglas is out of the game right now. Guess that is what happens when you average 20+ and only have 1 so far.
11:26 - TV Timeout. 10-5 Badgers. Seriously? 15 points in 8+ minutes? Ladies and Gentleman, Big Ten Basketball!
Does anyone think Bo Ryan looks like he smokes 10 packs a day? He also looks like the dad of some hot girl who you date and when you finally meet him he pulls you aside and says "Don't fuck my daughter. I have a shotgun and I know every cop in town."
12:01 - Clemons finally gets his first point. Nice Hoosiers reference in the comments. This game is definitely missing a drunk Dennis Hopper.
13:00 - Another FSU turnover. Sloppy. If this game is in Boise, why don't they play it on the Smurf turf?
13:35 - 8-4 Badgers. We have a barn burner going. Bohannon just picked up his 2nd foul. One player from each team with 2 fouls.
14:00 - Wisconsin is using the entire shot clock repeatedly. And FSU just got called for their 2nd OFFENSIVE foul.
15:00 - The announcers gave us Toney Douglas' point totals recently. He has been lighting it up. 10 points for both teams in 5 minutes so far.
Under 16 timeout: - As expected Wisconsin is really slowing it down. FSU probably has an advantage in a track meet.
16:00 - We are expecting our first Bobby Bowden reference anytime now.
17:00 - The Badgers have added a 4th white guy. It's like they want to be a stereotype. And the lone African American Trevon Hughes scores.

18:00 - Four all. Both teams have scored all all their possessions.
19:00 - Monster dunk by Alabi to start the game. Wisconsin answers. No much defense so far. Announcers seem surprised.