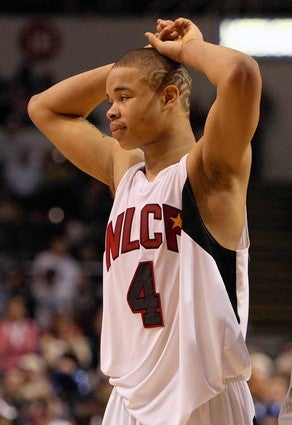 North Lawndale College Prep can't catch a break. Just this season, they've had players shot, academically ineligible and accused of cheating, and now they've lost a state semifinal game because of a uniform stripe. Cripes!
Just before North Lawndale's Friday semifinal game against Champaign Centennial, an Illinois High School Association administrator noticed that North Lawndale's uniform was, well, not uniform:

The uniform violation broke a National Federation of State High School Associations rule that states the torso of the jersey - the area from an imaginary horizontal line at the base of the neckline extending to each armhole, down to the bottom hem and from side seam to side seam - must be a single solid color. Also, the side inserts (stripes) must be centered vertically below the armpit, and those stripes can't be more than 4 inches wide.
Sure, whatever you say. Basically, the stripes on the jersey can't wrap around the front or back of the jersey. As you can clearly see in the picture of the young man to your left, North Lawndale's stripe has chosen to wrap itself around the front of the jersey. The end result is that North Lawndale was assessed a technical foul at the beginning of the game and then, of course, lost by one. Thing is, North Lawndale had worn the jerseys all season and claimed they knew nothing about no "uniform violation". The IHSA, however, calls shenanigans:

Kurt Gibson, the IHSA's assistant executive director in charge of boys basketball, said he had warned the team of the violation several times over the last two years, including at the team's shootaround Thursday at Carver Arena.
Sounds like North Lawndale should've just scored 2 more points if they thought this was going to be a problem.
North Lawndale penalized for illegal uniforms [Chicago Tribune]