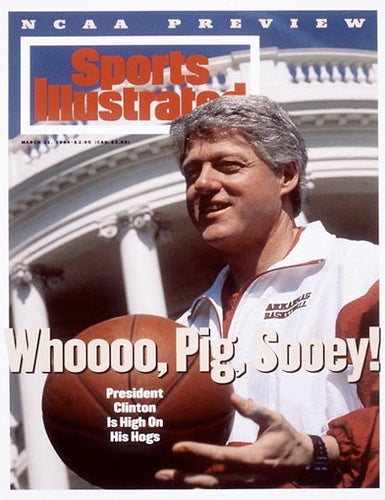 It's now been well established that President Obama likes college basketball. But did you know former President Bill Clinton likes hoops, too? It's true, and Clinton would like to share his picks with you, kinda.
Possibly because Bill Clinton's personal assistant is not a former Duke basketball star, Clinton didn't get into as much detail as Obama did with his picks. However, he did prove that the political instincts that have gotten him into and out of much trouble over the years are alive and well, despite the fact that Clinton isn't, as far as I know, running for any political office.

Clinton, college basketball fan, and Carville, political strategist, went through the lineup.

"Who have you got in the Final Four?" Carville asked Clinton.

""Louisville, Memphis, Pittsburgh and North Carolina," Clinton said. "Or Louisville [versus] Connecticut. I can't tell. Memphis may have a good enough defense, but they're skinny, so U Conn can probably match up against them and I think they'll get by."

Clinton went on to predict a Louisville-North Carolina final, with the Cardinals emerging from a tight contest as National Champions.

"Louisville was so good to us the last go 'round I kind of think Louisville will win," the former president said. "But North Carolina I still believe, you know, they sort of show up sometimes and sometimes they don't.
Seriously, Prez, you're not in office anymore. It's OK to take a stand one way or another. But then again, President Clinton's been saying wacky things for years.
Former President Clinton Weighs In On The NCAA Tournament [Not Qualified To Comment]