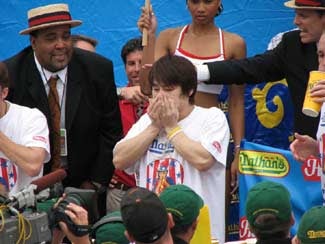 We haven't been to McAfee Coliseum this year — and judging by the attendance figures, few of you have either — but much ado has been made about the upper deck's All You Can Eat package, which is $35, not counting medical bills. How much could you eat?
Much credit to the ink-stained wretches of the Bay Area, many of whom have stepped up to give it a shot. So far, the winner, from the Oakland Tribune, is Pat Craig. His booty:
Four dogs, one order of nachos, a bag of peanuts, an ice cream sandwich and a bag of popcorn
(Actually, Eric Louie of the Contra Costa Times did knock down 12 hot dogs.)
Not bad, but surely, someone out there can do better. Though eating a full bag of peanuts is quite the underrated endeavor. We salute all those who undergo such a physical challenge.
Top Dog! Journalism All-You-Can-Eat Leaderboard [Busted Coverage]