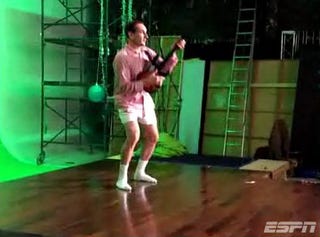 It's not so troublesome that Mike Krzyzewski was in this Guitar Hero commercial; it seems he's spent all season with his pants around his ankles, as other teams run off with his lunch money.
Likewise Rick Pitino and Roy Williams, who probably spend every Friday night recreating that scene from Risky Business (which, at 26, is older than any of their players). But Bobby Knight? The WWL, and spots like this, have succeeded in doing what the media could never do when he coached: Make him a parody of himself. Get back into coaching soon coach Knight, before the video below becomes your legacy.
Thanks for your continuing support of Deadspin. Handy tip: If you fold that NCAA bracket sheet into quarters, it makes a nice coaster for your drink ... or something to wipe away your bitter, bitter tears.
Coach K, In His Skivvies, Shoots Guitar Hero Spot [Duke Chronicle]
Guitar Hero: College Basketball Edition [ESPN]